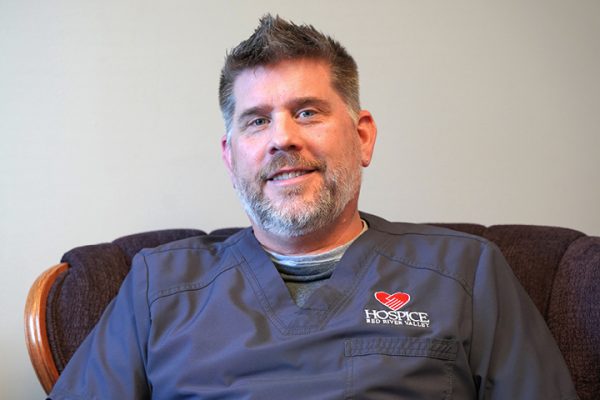 Corey Knauss has served people his entire life. His passion for caring for people eventually lead him to obtain his registered nurse (RN) degree, which brought him to hospice care. Corey offers his patients individualized, holistic care and builds lasting relationships. Corey began working at Hospice of the Red River Valley because of the care and attention focused on patients —improving their lives and allowing them to have the power to decide what the right level of care is for themselves.  
"There's a lot of freedom in the care here that makes it so individualized," Corey shared. "You're not just providing care that helps someone live their best life until the end, but you also get to nourish someone's spiritual and social needs outside of medical care."
Learn more about Corey and his role as a RN at Hospice of the Red River Valley.
Share your background, and what brought you to Hospice of the Red River Valley?
My background is servitude in nature. I had my own massage practice for 20 years, and I transitioned into nursing as a natural progression. I worked at a skilled nursing facility and discovered that hospice care was truly my passion. After seeing Hospice of the Red River Valley's staff give excellent one-on-one care to their patients, it was so obvious to me that I belonged there, and I joined the staff.
Before working in the facility-type setting did you have any experience or knowledge of hospice care?
Prior to going through nursing school, I thought that once people got on hospice care they died. I've since found out how compassionate and holistic hospice care is and how it lets people live the best life possible. I've seen several instances when a patient comes under our care and isn't in the best shape, but through our one-on-one attention and care, the patient can get off of our services because they're doing so much better.
Share the role of a hospice nurse and how it works with the rest of the patient care team.
Each patient has a care management team who works together to create an individualized care plan for the patient. A hospice nurse helps lead the team and ensures proper care is delivered. During a nurse visit, the patient's vitals are taken, and the nurse makes sure the patient has all the proper physical, mental and spiritual support they need or want. The nurse also checks on equipment and medications before leaving to make sure the patient has everything they need until their next visit.
In what ways to you see yourself making a difference at HRRV?
There's a lot of freedom in the care here that makes it so individualized. You're not just providing care that helps someone live their best life until the end, but you also get to nourish someone's spiritual and social needs outside of medical care.
Can you talk more about the family element and helping them through the journey along with the patient?
In many cases, a patient's family is giving them around-the-clock care, so we do a lot of teaching and coaching to make sure families can property take care of their loved ones without getting hurt or burnt out. It can be overwhelming to care for someone you love. When we teach them certain skills and methods of care, it helps take away a lot of anxiety and hesitation. I like seeing how different family members are from my first visit to later visits—how confident the caregivers become.
What do you wish people knew about hospice?
Hospice isn't a death sentence. It's better to call sooner rather than later, so we can get symptoms managed and help the patient enjoy the life they have left. Families often say they wish they would have called us sooner.
Death is still a tabooed word, but it is so important to plan and have your wishes expressed in an advance care directive, so your family doesn't have to guess or scramble to decide on what kind of care you would have wanted to receive. This is particularly important when someone is no longer able to communicate their needs or wants.
Can you share an impactful patient and/or family care story?
I had a patient in an assisted living facility who was adamant he didn't want to pass there. We were able to help him get to his lake cabin. He was singing and dancing the day that he passed. It was amazing to be able to bring him someplace where he was the most comfortable and was able to pass with a heart full of love instead of fear. He was in a place he loved.
What lessons have you learned from our hospice patients?
I've learned to not be afraid, be prepared and enjoy life. There are many people who get a new lease on life once Hospice comes on board and can live their lives to the fullest.
What would you say to someone considering working for Hospice of the Red River Valley?
It is truly an amazing opportunity. Working here helps you see just how big an impact you can make in someone's life through the holistic, compassionate care we give our patients. We have an amazing culture, and you have access to all the knowledge and expertise of your teammates.
Death is sad, there's no way to negate that, but as a team, you can help families prepare for the sadness and give them pure, honest care. I like to get people to the point where they're celebrating life instead of concentrating on and worrying about death. As staff members, we get to celebrate with them, but we also understand that losing someone you love is sad. We take solace in the fact we were able to help a patient live in comfort for as long as they can.
What do you do to take care of yourself?
When I'm not at work, I stay busy. I love to fish, hunt and be outdoors. I love spending time with my kids and visiting our family and friends.
Are you looking for a job that will enable you to make a real difference? Begin a career with Hospice of the Red River Valley to serve patients and families wherever they call home. Become part of an interdisciplinary team that has been trusted by physicians, health care professionals, patients and families since 1981.
About Hospice of the Red River Valley
In 1981, Hospice of the Red River Valley was founded on the belief that everyone deserves access to high-quality end-of-life care. We fulfill our nonprofit mission by providing medical, emotional, personal and spiritual care, as well as grief support to our patients, their families and caregivers during a tender time in life. Our staff helps those we serve experience more meaningful moments through exceptional hospice care, 24 hours a day, 365 days a year, wherever a patient calls home. The organization serves more than 40,000 square miles in North Dakota and Minnesota, including in and around Bismarck, Detroit Lakes, Devils Lake, Fargo, Fergus Falls, Grand Forks, Lisbon, Thief River Falls, Valley City and many more communities. Hospice of the Red River Valley offers round-the-clock availability via phone, prompt response times and same-day admissions, including evenings, weekends and holidays. Contact us anytime at 800-237-4629 or hrrv.org.