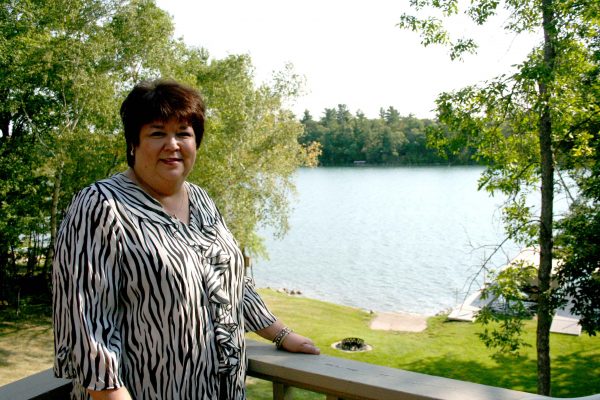 For most people, calling Hospice to care for a loved one is a decision fraught with emotion. For Loretta Olson, it was a decision she faced twice in one year.
Loretta describes her father, Herman, as a determined and independent man. When he received a cancer diagnosis, it was understandably devastating. As his health deteriorated, Herman understood he could no longer stay on his farm alone, and agreed to move in with Loretta.
"I told him I wasn't a nurse, and I knew we needed additional help. That is the main reason we decided to call Hospice."
Soon after making the call, Loretta found herself sitting around the table discussing end-of-life care with her father and a Hospice staff member. "Although I had asked my father some questions about his wishes for care at the end of life, the representative from Hospice knew all the right questions to ask," Loretta shares. "She got all of my father's answers in writing." For Loretta, it was reassuring to have her father making his care decisions and signing his name to the documents.
Loretta remembers the comfort her father found in the special care he received. She recalls her father talking on the phone with friends, asking if they had a nurse or a hospital bed, because he did.
"'I got 'er made,' Dad would say," recalls Loretta, "He never complained."
Loretta remembers how the Hospice nurses bonded with her dad, even taking special care to talk slowly and loudly because he was hard of hearing. It was comforting to have them care for her father.
Prior to her father's experience, Loretta admits she did not know very much about the depth of services provided by Hospice. "They do so many things you may not think of," Loretta says. "It's just unbelievable. I can't say enough good things about it. They treat people with such decency." Loretta was grateful for the chance to care for her father in her home. However, as her father's condition declined, the family decided her father's around-the-clock personal care needs necessitated a move into a nursing home.
"So many people I speak with don't realize Hospice provides care in a nursing home or other facility," says Loretta. "With my father, Hospice was there for us in both settings in equally important ways. I was so glad to have a seamless transition between the care he received at home and the care he received in the facility." After six weeks in the nursing home, Herman passed away in September of 2010 at the age of 89.
Just as the anniversary of her father's death approached, Loretta and her family faced another tragedy; her mother, Donna, was diagnosed with cancer in August of 2011. Soon, doctors told her the disease was at an incurable stage. This time, Loretta had no hesitation about calling Hospice.
"At the time we called Hospice, Mom was in the hospital in Fargo," explains Loretta. "Just as they had been there for Dad in both the home and nursing facility setting, they were there to care for Mom in the hospital." Donna spent the following month in and out of the hospital, but, as Loretta recalls, "Hospice was there every step of the way." Eventually, Donna was able to leave the hospital and enter a nursing home under the care of Hospice. She died in September at age 80.
Besides helping her parents in those last few months of life, Loretta was also impressed with the services Hospice of the Red River Valley provided for the family. In addition to one-on-one education from the Hospice staff, the family received a handbook explaining the different occurrences during the last stages of life. "They have it down," Loretta says, impressed by how Hospice communicated what her parents would experience until they took their final breaths. They also prepared the family for life after their loved one's deaths by providing grief support and resources. Her granddaughters even participated in a special bereavement program for children.
Reflecting on her family's experiences, Loretta now finds herself educating others about the care Hospice provides in so many different settings—the home, the hospital or the nursing home/assisted living facility. "I tell everyone—don't hesitate, just make the call. Hospice is there to help."
If you have questions about hospice care, please contact us at 800-237-4629 or questions@hrrv.org, or visit our website.
About Hospice of the Red River Valley
In 1981, Hospice of the Red River Valley was founded on the belief that everyone deserves access to high-quality end-of-life care. We fulfill our nonprofit mission by providing medical, emotional, personal and spiritual care, as well as grief support to our patients, their families and caregivers during a tender time in life. Our staff helps those we serve experience more meaningful moments through exceptional hospice care, 24 hours a day, 365 days a year, wherever a patient calls home. The organization serves more than 40,000 square miles in North Dakota and Minnesota, including in and around Bismarck, Detroit Lakes, Devils Lake, Fargo, Fergus Falls, Grand Forks, Lisbon, Thief River Falls, Valley City and many more communities. Hospice of the Red River Valley offers round-the-clock availability via phone, prompt response times and same-day admissions, including evenings, weekends and holidays. Contact us anytime at 800-237-4629 or hrrv.org.