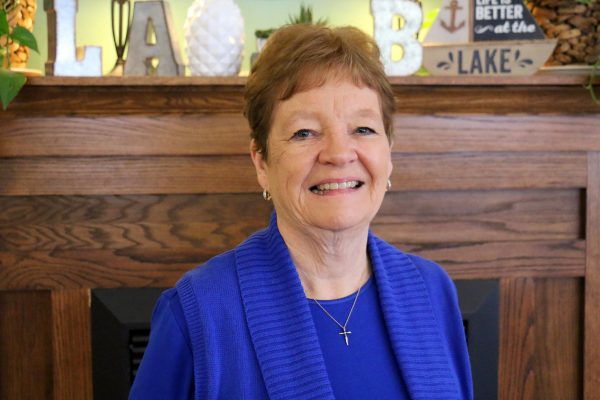 The patient sleeps most of the time, even when she has visitors. But Julie Aanenson heard her singing, just a little bit, the last time she visited. As a Hospice of the Red River Valley volunteer, Julie sings and plays music for the patients she sees. "The patient was otherwise nonresponsive," Julie said. "I can say goodbye to her, and she doesn't respond. But something provoked her to sing."
Whatever it was that made the woman sing can likely be explained by scientists who study the impact of music on the brain. Julie recalls studying music therapy years ago and reading different theories about how and why people who are nonverbal or nonresponsive might respond to music. "It stimulates their minds," Julie said. She believes that music brings back memories and stimulates creativity, and that for some people, it stirs something deep within them. "That's what music does for me, too," she said.
Julie's life has always been filled with music. She sings, taught piano lessons and rings bells in the bell choir at church. After raising a family and enjoying a career in social/human services, Julie retired in 2008 and jumped into volunteer work. As a volunteer she does everything from stocking shelves at the food pantry to helping out at the local Rotary club.
She felt drawn to volunteer with Hospice of the Red River Valley despite not knowing a great deal about the organization or the full scope of services hospice care provides. On a whim one afternoon, Julie stopped into the Hospice office in Detroit Lakes, Minn., and applied. After going through training and getting assigned to her first patient, she quickly discovered that her love of singing and playing music was a talent she could share during her visits.
During her six years as a patient care volunteer for Hospice of the Red River Valley in the Detroit Lakes area, Julie has been matched with a dozen patients. Some of them are able to share stories about their background and lives—"that's so interesting," she said—but with many patients, there is very little conversation or back and forth dialogue due to their health and where they are on their end-of-life journey.
Julie said that many of her patients don't get much company. "They're lonely, besides just being ill," she said. Julie finds fulfillment in being able to provide companionship, conversation and mental stimulation through music with her patients.
Julie visits each patient once a week, and information provided by the Hospice of the Red River Valley volunteer coordinator in Detroit Lakes helps Julie tailor her visits to each individual: she finds out a bit about what they like and what they don't like, their religious preferences—"because that would make a difference on the kind of music I play," she said—and their background.
Julie may read to the patient, play BINGO or participate in other activities going on where they live. Whenever she is able, Julie incorporates music into her visits. "I sing to them, I play the piano. It's an awesome thing to see what music can do," she said. "Sometimes they will join in with me, and tears will run down their faces."
One patient spends most of her time in a wheelchair, and Julie usually walks her around the facility during their visits. Recently she took the patient into the piano room and played 'Home on the Range.' Julie said the patient began to cry. When asked what was wrong, the patient said, "It just brought up some memories."
The most powerful interaction Julie has had as a hospice volunteer occurred during a recent visit with a patient who is mostly unresponsive. "I took her down to the room where there's a piano, and I thought, 'I'll just see what she does,'" she said. "Oh my goodness … I played 'Jesus Loves Me' and 'You Are My Sunshine' because I was told those were her favorite songs. She started to sing along! She had not responded much at all before that, and she started to clap. That was amazing! That was probably one of the best moments I've had."
Julie said that volunteering has made her think about death differently. She said she's never been afraid of death, but several patients have had an influence on her. "They're working through that process and pretty accepting of it, so they're pretty peaceful," she said. "They give me peace." Volunteering also gives her a real sense of satisfaction. "It just feels so fulfilling," she said. "When I come home, my heart's just full."
"It's a wonderful feeling to give patients an experience that impacts them in a profound way," Julie said. In fact, it's music to her ears.
About Hospice of the Red River Valley
In 1981, Hospice of the Red River Valley was founded on the belief that everyone deserves access to high-quality end-of-life care. We fulfill our nonprofit mission by providing medical, emotional, personal and spiritual care, as well as grief support to our patients, their families and caregivers during a tender time in life. Our staff helps those we serve experience more meaningful moments through exceptional hospice care, 24 hours a day, 365 days a year, wherever a patient calls home. The organization serves more than 40,000 square miles in North Dakota and Minnesota, including in and around Bismarck, Detroit Lakes, Devils Lake, Fargo, Fergus Falls, Grand Forks, Lisbon, Thief River Falls, Valley City and many more communities. Hospice of the Red River Valley offers round-the-clock availability via phone, prompt response times and same-day admissions, including evenings, weekends and holidays. Contact us anytime at 800-237-4629 or hrrv.org.