If there's one topic that's generally avoided in casual conversation, it's death and dying. The lack of conversation and planning before end-of-life can lead to confusion within families, missed opportunities to honor final wishes and a general sense of discomfort. Still most people will purposefully avoid talking about death. Not Steve Anglin. Steve, a volunteer with Hospice of the Red River Valley, is committed to being open and vocal about his wishes with his family, and he credits the organization and a family experience with shaping his mindset.
Growing up in a small South Dakota town, Steve spent most of his time with people much older than himself. "My parents were older, and the rural area where I grew up is aging," Steve shared. His father was diagnosed with Lewy body dementia and moved into a nursing home around the same time that Steve married and moved to West Fargo in 2012, and his father passed away several months after the move.
Despite having opportunities to do so, his parents didn't talk with him about death. "That generation, especially the men, they weren't raised to share a lot and to be open," he said. "Sometimes you learn the things to do, and sometimes you learn what not to do, and from this experience I wanted to be the exact opposite. I wanted to face it head on and handle it the best that I could."
With his father's end-of-life experience on his mind, Steve's interest was piqued when he saw an advertisement for Hospice of the Red River Valley's volunteer program. His father hadn't utilized hospice care, but Steve recognized the need for the program, was impressed by the services it provides and wanted to be part of it. "Some patients are blessed with visitors, and some of them are like me and family is a long ways away. It's nice to have somebody," Steve said. He began serving as a patient care volunteer in January 2013.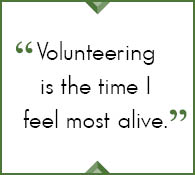 Steve was nervous before meeting with his first patient—a good sign, in his opinion, because it meant he wanted to do a good job. He quickly became more comfortable in the role. Throughout four years of volunteering, he's visited several patients and has been paired with his current patient for more than a year. The bonds they form are real and lasting. "I wish I'd known the patients longer," he said, "but the way I look at it, I'm their last best friend or in some cases the last friend they make. What a gift that is."
Steve credits the volunteer coordinators with their skill at matching volunteers with patients they think will be a good fit together. He believes this has made it easy for him to find a comfort level and build a relationship with his patients.
"I let them lead the way," Steve shared. "You'll know right away if that person wants to talk or not, if they need a little more time … every perspective is different." And because each patient is unique, he tailors his visits to fit them: providing a quiet, comforting presence for some, and having involved conversations or playing BINGO with others.
Food, politics and the NDSU Bison are common topics of conversation during Steve's weekly visit with his current patient, a 90-year-old man who lives in a Fargo nursing home. The two men got along well from the beginning and now feel like old friends—so much so that sometimes their conversations focus, however briefly, on more serious topics. But more often than not, patients aren't interested in talking about the end-of-life. "I think they are probably thinking about it all the time," he said. "Our visits are a diversion [for them]."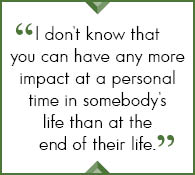 Volunteering with Hospice has impacted how Steve views death and has given him a sense of appreciation for many things in his own life. It has also made him consider how he wants to spend the end of his life: how much of the experience he would want to share with his loved ones, how to have important conversations before it's too late, what type of living situation he'd prefer. Most importantly, he now feels comfortable talking with his loved ones about his preferences, and he hopes his openness will have an impact on his own children and others in his life.
Aside from helping Steve become more comfortable with his own mortality, volunteering helps him feel like he's making a real difference for someone else. "It [volunteering] is the time I feel most alive. When I'm doing this, it's the most direct impact. I don't know that you can get any more direct … maybe delivering babies?" Steve laughed. "But other than delivering babies, I don't know that you can have any more impact at a personal time in somebody's life than at the end of their life."
For more information about volunteering with Hospice of the Red River Valley, please visit our website or call 800-237-4629.
About Hospice of the Red River Valley
In 1981, Hospice of the Red River Valley was founded on the belief that everyone deserves access to high-quality end-of-life care. We fulfill our nonprofit mission by providing medical, emotional, personal and spiritual care, as well as grief support to our patients, their families and caregivers during a tender time in life. Our staff helps those we serve experience more meaningful moments through exceptional hospice care, 24 hours a day, 365 days a year, wherever a patient calls home. The organization serves more than 40,000 square miles in North Dakota and Minnesota, including in and around Bismarck, Detroit Lakes, Devils Lake, Fargo, Fergus Falls, Grand Forks, Lisbon, Thief River Falls, Valley City and many more communities. Hospice of the Red River Valley offers round-the-clock availability via phone, prompt response times and same-day admissions, including evenings, weekends and holidays. Contact us anytime at 800-237-4629 or hrrv.org.