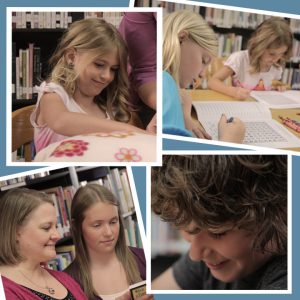 Through creativity and imagery, Hospice of the Red River Valley Chaplain Tom Holtey shapes a safe and warm environment for youth to explore their grief emotions during Youth Journeys, a day-long grief workshop offered by Hospice of the Red River Valley for young people, ages 7-18, who have experienced the death of a loved one.
"I've been with Hospice for almost nine years now. During this time, I've discovered I need weekly group reflection, and daily personal reflection, to process my thoughts and feelings," Holtey explained. "I believe reflections on thoughts and feelings—in a more physical way—can be a great way for youth to express their emotions, too."
The Labyrinth
For many, the thought of reflecting on your thoughts and feelings might sound boring, especially for children. But at Youth Journeys, Holtey used a labyrinth—an elaborate combination of paths—that children walked on, or a finger labyrinth. He said, it's helpful, and can be fun, for children of different ages and personalities to process their thoughts and feelings in a group setting and in individual ways.
"The labyrinth's roots, in a large sense, can be traced back to hospice because hospices were places of rest for pilgrims traveling to the Holy Land," Holtey explained. "For people unable to make the pilgrimage, a labyrinth was built in Chartres, France, at the Cathedral, to simulate the journey. I love that labyrinths have this hospice connection." 
In addition to his personal life, Holtey has put labyrinths to good use in previous positions where he worked with youth as a camp director and pastor. "I've used it [labyrinth] to help redirect the energy of active kids and provide a connectedness, while harnessing creativity at the same time," he shared. Whether he combines his musical talents—singing and playing instruments—while children march along the labyrinth, or they simply sit in a circle around it, Holtey finds this tool resonates with young people.
Youth Journeys
"All of the chaplains at Hospice of the Red River Valley are always looking for ways to assess and track the needs of those we work with," he explained. "Using a labyrinth to help express emotions seemed like a natural fit for use at Youth Journeys," he explained.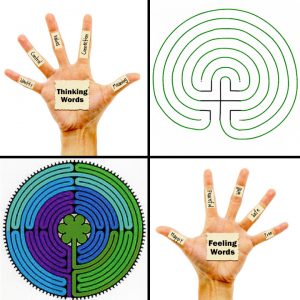 During last spring's Youth Journeys, held in April, Holtey used a very large labyrinth "map" that covered the floor to engage and interact with youth, ranging from grade school to high school age. "I wanted to create a comfortable place where kids could be themselves and participate at their own pace," he said. "I also wanted to create a foundation for the Hospice social workers and bereavement specialists who worked with the kids later in the day."
Holtey encouraged participants to walk around the labyrinth at a pace comfortable to them. "I sat down in the middle of the labyrinth, and invited the kids to take a seat anywhere on it," he described. "I expected them to either sit near the edge of it or not at all. And surprisingly, almost everybody immediately came right to the center."
While the kids claimed their spot on the labyrinth, Holtey played his ukulele and gently discussed different emotions and how there are times we feel happy and other times we do not, and it's OK to be yourself. "Similar to the different stages of grief, there's no rule on what you should be feeling, and just because someone else is feeling a certain way, doesn't mean you have to as well," Holtey described. "A sense of community started to develop as kids began interacting with me and each other. You have your own space on the labyrinth, yet you are together."
The conversation continued to flow into discussions about finding meaning in life's events and how everyone has their own way of looking at and dealing with experiences based on his or her own system of values. "I wanted to convey the message that however each person handled the grief and loss of a loved one, it was OK and not a reflection on how much we loved the person who passed away," he said.
As the group's talk evolved, Holtey used a handout depicting a finger labyrinth and using feeling and thinking words to help assess the needs of each participant. "We talked about wellness and the different types: physical and spiritual," he said. "And, how we [Hospice staff] wanted this to be a safe place for each child to share and feel."
 The labyrinth activity helped set the tone—a comfortable environment where it's OK to cry, smile and even laugh—and guidelines for the rest of the day, while providing a tangible metaphor for the grief journey. It is just one example of the types of activities that take place at Youth Journeys.
Looking Ahead
From season-to-season, the activities at Youth Journeys may change and evolve, but the dedication to helping youth explore and work through grief remains the same. "Youth Journeys is really all about kids; they get to be with peers and hear their stories," Holtey said. "And our [Hospice's] grief team is so good and in-tune with kids. They provide them with a safe place to be wherever they are in the grief process. It's wonderful."
Hospice of the Red River Valley will again offer Youth Journeys in the spring and fall. Contact us for more information.
Youth Journeys is just one of many grief-related offerings that Hospice of the Red River Valley provides to our communities. In addition to this workshop, we also have support groups and classes and a grief resource library. If you or someone you know could benefit from grief support and resources, please contact us.
Tom Holtey is a chaplain with Hospice of the Red River Valley.
About Hospice of the Red River Valley
In 1981, Hospice of the Red River Valley was founded on the belief that everyone deserves access to high-quality end-of-life care. We fulfill our nonprofit mission by providing medical, emotional, personal and spiritual care, as well as grief support to our patients, their families and caregivers during a tender time in life. Our staff helps those we serve experience more meaningful moments through exceptional hospice care, 24 hours a day, 365 days a year, wherever a patient calls home. The organization serves more than 40,000 square miles in North Dakota and Minnesota, including in and around Bismarck, Detroit Lakes, Devils Lake, Fargo, Fergus Falls, Grand Forks, Lisbon, Thief River Falls, Valley City and many more communities. Hospice of the Red River Valley offers round-the-clock availability via phone, prompt response times and same-day admissions, including evenings, weekends and holidays. Contact us anytime at 800-237-4629 or hrrv.org.