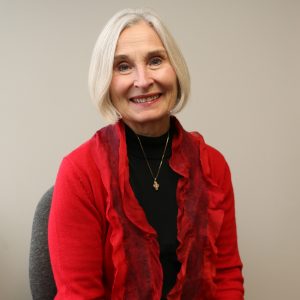 by Rev. Lauryl Ivers
I can just hear the child in me saying, "But I don't want to say goodbye!" We simply just don't want to say goodbye to the people we love, or the pets we love, or the things we love. So, what is best? Sneak out the back door, or face endings as best I can and learn how to practice saying goodbye (which I will have to do many more times than I want to think about)?
Saying Goodbye
Honestly, I've done my share of "sneaking out the back door," but usually it's not satisfying for my soul. Goodbyes are hard, but as I think back, they made the endings sweeter. I remember holding my proud Tennessee Walker horse—he was tall and jet black, a real champion in his days—as the veterinarian gave him a sedative before "putting him to sleep." His name was Moses, and he looked at me with those big, dark eyes, and a tear rolled down his cheek. He had a brain tumor and there was nothing else we could do, and he knew it, too. So we stood there together, he with his tears and I with mine, communicating our goodbye in ways beyond words. I'm glad I was there; it was so hard, but it was a very touching moment I won't forget.
Plan Ahead
When I left the church and congregation where I had served as pastor for many years, a friend gave me a book called Running Through the Thistles, by Roy Oswald. It was a guide for saying goodbye. What a fitting title! When you run through goodbyes, they can't help but scratch and hurt. The book helped me make a plan of sorts, to whom and when to say goodbye, how to say it in my own way, how to be intentional about a good goodbye for all of us. The book made the point that each goodbye is preparation for the day we have to make our own final goodbyes on this earth. And, if we practice now, it will help us say goodbye in ways that truly honors the people we love and the relationships we have with them. A good goodbye helps soften the memory of loss later.
Prepare early; I mean really early! I just witnessed a funeral where the son gave a wonderful tribute. He recalled that every time he and his dad parted, in person or over the phone, they always said, "I love you." He didn't have any regrets about what he didn't say to his dad, because he always said and heard, "I love you." These three words are one of the greatest phrases to use in goodbyes. Practice saying them!
Take time to think about what you want to say and who you want to say it to. You'll have different goodbyes for different circumstances. Sometimes the ending is a death, sometimes it's another type of parting. "Thank you" is another excellent goodbye phrase, and when it's used within a significant, shared story, it honors what made your relationship unique and meaningful.
Feelings of Emotion
Expect emotions. Who would have thought my horse would cry? But he did, and people cry too. Or sometimes we laugh because we can't cry, at least not yet. Expect your own emotions too; they have a way of catching you off guard. Expect emotions, especially if you are saying goodbye with meaningful words like, "I'm sorry." or "I forgive you." These are powerful goodbye words and can transform you and the person who receives them for a lifetime.
Sometimes people say, "We don't do goodbyes, we do 'See you laters." Ok, that counts, as long as you all really know what you are saying, and not just "sneaking out the back door." Goodbye has the etiology of meaning, "God be with you," so saying goodbye is bestowing a blessing. And for a person whose faith tradition anticipates seeing one another again after a parting or after a death, "see you later" rings true.
Sometimes Saying Nothing Says A Lot
I learned long ago from a dear friend that sometimes the most touching words you can offer another are no words at all—just being there, a hug, holding a hand, rubbing a shoulder, crying. Jesus wept—and that was just what his friends needed.
Take cues from your loved one. You can ask, "Is there anything that would be most important to you to talk about today?" Take your cues from your own inner self . What do you most need to hear from others? That may be the best clue about what you most need to say.
Final Farewell
Saying goodbye is an important signal to your loved ones, and recognizes an ending point in your journey together. It also signifies that we can say goodbye and still be alright. We're now at the fork in the road, and it's ok to travel separately, because we've each had the pleasure of traveling together for a time that mattered. It's a way of saying, "thank you, I'll be ok, and you'll be ok." Your words may be a critical gift of peace to someone who is worrying if you can handle their leaving.
Are you concerned about saying goodbye too soon? Maybe I'm showing my Scandinavian tendency, but my family starts saying goodbyes about an hour or more before we actually get up to leave, and no one (except the kids!) seems too upset about it. If you say your heartfelt goodbye and see your loved one again, it's a gift! I hope you have many of them!
Goodbye. God be with you!
If you have a question about spiritual concern at the end of life, please contact us.
Lauryl Ivers is a chaplain at Hospice of the Red River Valley.