By Amy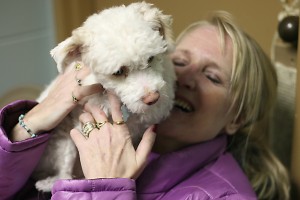 Believe it or not, this is an actual photo from a hospice social worker visit. Let me explain.
Susie*, a young patient of ours, has Huntington's disease. It's an awful disease which causes the wasting of nerve cells in the brain, leaving a person with very little control of his or her own body and speech. Susie's disease has progressed to the point where she is in a wheelchair, needing constant care. Because of this, she had to move into a nursing home. One of the comforts of home Susie had to give up was her beloved dog, Princess.
When Rachel*, a Hospice social worker, first met Susie, she quickly understood that it was very hard for Susie to be without Princess. She also learned that Susie's nursing home encourages its residents to go for outings and to be engaged in activities in the community, like shopping.
You may be thinking, who cares about shopping when you are struggling with basic tasks? Well, that's exactly how Susie feels. She has no desire to go shopping or anything else that draws attention to her condition. Rachel understands this, but also wants her to enjoy the time she has left and doesn't want her to feel isolated.
After giving it some thought, Rachel had a fantastic idea. What if Susie could go to the Humane Society and visit the animals there? She contacted the Humane Society; they agreed to open early so that Susie could have time alone with the animals. The nursing home where Susie lives agreed to provide transportation. Soon after, Susie was looking forward to her outing to the Humane Society.
I had the pleasure of being at the Humane Society when Susie arrived. Rachel greeted her with a huge hug. I am not sure who was happier when they came through door, Susie or Rachel; but one thing was for sure, the extra effort Rachel put into making this visit happen was obviously worth it.
The Humane Society had picked out several gentle animals for Susie's visit, the first being two young cats named Wolverton and Spirit. The expression on Susie's face when she saw the cats was unbelievable. Her disease limits the amount of control she has on her movement, and yet the huge smile on her face when Wolverton was placed in her lap spoke volumes about how happy she was.
In addition to the cats, the Humane Society had picked out a small white dog named Midget and a three-month old cocker spaniel for her to play with. What was most remarkable is how closely Midget resembled Susie's own dog, Princess. When Midget was placed in her lap, Susie held on tight. Her crippled fingers and jerky movements didn't faze Midget, who soaked up the attention by licking Susie's cheeks and then settling in on her lap.
Future visits were scheduled to the Humane Society for Susie; it's something she looks forward to, and the animals don't mind a little extra attention either. Sometimes the Hospice social worker isn't what you would expect at all … she's better.
*Names have been changed to protect privacy.
What image comes to mind when you think about a visit from a social worker? I bet you didn't picture this…