In late January 2015, on an otherwise normal day, Grace faced a life-changing incident: a heart attack. In an instant, Grace's world turned upside-down, and she and her family were left with many uncertainties. "After the heart attack, things changed. There were many things Mom couldn't do alone anymore," Jodi, Grace's daughter, said. "Losing that independence was hard for her—and us too, seeing her struggling to do some things that were easy for her the week before. The family needed to accept that fact and so did Mom."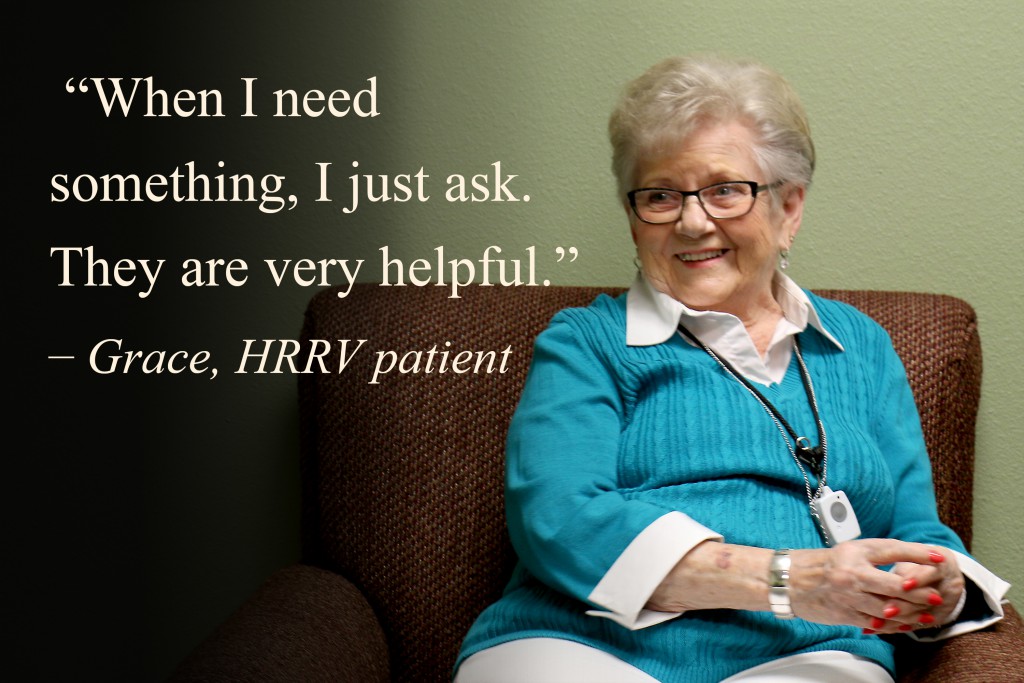 Because the three main arteries of Grace's heart have 95% or more blockage, Grace's doctor advised her to maintain minimal day-to-day activity and focus on a calm and peaceful lifestyle moving forward. Without hesitation, both Grace's heart surgeon and cardiologist suggested it would be best to have hospice be a part of her life after she left the hospital. Initially, Jodi recalls being shocked when her mom's doctors broached the topic of hospice care. "It took us by surprise, because to all of us, it felt like the end," she shared. "That was until a Hospice representative talked to us about it, and explained it more thoroughly, and after that we were all comfortable with it. It doesn't have to be the end. Hospice can be for somebody who has a critical condition and needs extra support and help. It made sense then, and Hospice has been wonderful and very helpful."
Together, as a family, Grace and her children decided Hospice of the Red River Valley would begin caring for Grace at her home, an assisted living facility in Fargo. "I didn't know much about Hospice before. But I found out that Hospice really helps you with a lot of things," Grace said. "When I need something, I just ask. They are very helpful." From basic tasks like slipping on her socks and assisting her with dressing, to weekly whirlpool baths and checking her vitals, Grace has found peace in her care through Hospice staff, especially her registered nurse (RN) and certified nursing assistant (CNA). "At first, I didn't think I wanted help with some things because I thought I needed to have some stuff to do, but now I do. I really do appreciate it [Hospice]," Grace said.
Jodi has found comfort in the care her mom receives, as well. "Hospice has taken over the brunt of what the staff at the assisted living facility cannot do. If there are things they can't do at a specific time, Hospice has always been available to help Mom, which is great," she explained. She is also pleased with the services Hospice has been able to offer and finds peace of mind in getting a second opinion and comparing notes with Hospice of the Red River Valley Nurse Gayle. "The thoroughness from Gayle is amazing! The time she spends visiting with Mom has been so nice; she's not just in and out. I don't even think twice about calling if I have questions."
"It is a privilege to provide care and support to Grace and her family. Grace has a very positive outlook on life and always has a smile on her face! Her family is very supportive and attentive to her needs," Gayle said.
"Hospice of the Red River Valley is very caring, supportive and always there when you need them," Jodi said. Grace echoes her daughter's sentiments, "I agree with her 100 percent," Grace said with a smile.
With her needs met, Grace can focus on enjoying life and attending activities and gatherings at the facility, including her personal favorite: bingo. She also delights in regular visits from her family: three other children, in addition to Jodi (Bonnie in Oakes, N.D., and Patty and Johnny in Florida), five grandchildren and five great grandchildren. "It's so fun to get visitors," she said.
About Hospice of the Red River Valley
In 1981, Hospice of the Red River Valley was founded on the belief that everyone deserves access to high-quality end-of-life care. We fulfill our nonprofit mission by providing medical, emotional, personal and spiritual care, as well as grief support to our patients, their families and caregivers during a tender time in life. Our staff helps those we serve experience more meaningful moments through exceptional hospice care, 24 hours a day, 365 days a year, wherever a patient calls home. The organization serves more than 40,000 square miles in North Dakota and Minnesota, including in and around Bismarck, Detroit Lakes, Devils Lake, Fargo, Fergus Falls, Grand Forks, Lisbon, Thief River Falls, Valley City and many more communities. Hospice of the Red River Valley offers round-the-clock availability via phone, prompt response times and same-day admissions, including evenings, weekends and holidays. Contact us anytime at 800-237-4629 or hrrv.org.