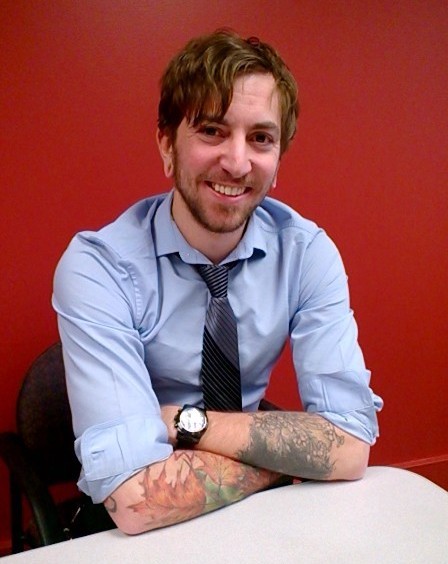 Vibrant, colorful tattoos cover Steve Smedshammer's arms. Oversized, exaggerated earrings stretch his earlobes. A scratchy beard covers his face. By appearance alone, some might label Steve a hipster, or alternative. Few might be surprised to learn he plays guitar in a metal band. But, Steve is so much more than what meets the eye.
You don't know by looking that Stevo, as he prefers to be called, is a recent pre-med graduate of Concordia College. At age 30, he and his new bride are expecting their first child. Between attending school, working full-time and playing in two bands, he also regularly volunteers his time at local nonprofit organizations, including Hospice of the Red River Valley.
"It's not something I advertise," Stevo said, humbly. "And, it's not something I do just to put on my resume." He believes by getting involved, and having well-rounded experiences, the "payouts" are exponential.
Stevo was introduced to Hospice of the Red River Valley while attending Concordia College. There, in his Biomedical Ethics class, a speaker from Hospice addressed the class. "I thought, to be a volunteer, you had to have certain prerequisites or medical background," Stevo shared. "When I learned I could join an organization and immediately make a contribution, I was sold. I knew that same day I would apply as a volunteer."
While some people are intimidated by the idea of being a hospice volunteer, Stevo quickly relaxed into the role. He made an instant connection with his first patient, Joe*. They bonded through a shared love of music and spend their visits listening to Johnny Cash, Patsy Cline and "Americana" style music. "Joe asked me to sing to him once, but after years of scream-singing in a metal band, he hasn't asked again," Stevo said with a laugh.
As a musician who plays 16 instruments, including guitar, accordion, ukulele, cello, melodica and more, Stevo was the just person to help Joe achieve his goal of learning how to play guitar before he died. And so they began lessons. When the guitar became too much for Joe to handle, they switched to ukulele.
"Joe almost nailed a three minute song. It was so rewarding to see him pull it off," Stevo described with a smile, recalling a favorite moment with his new friend. "He's normally pretty self-deprecating, but after that song, he actually complimented himself. That was a proud moment for both of us. We celebrated with a high-five."
Whether strumming his guitar and chatting, or sitting at a bedside during a Pathway visit, Stevo is a natural.
"When we received Stevo's application and spoke with him, it was obvious to us that he has a wonderful, giving spirit," Deb Kluck, manager of clinical development – volunteer services, said. "Stevo is not our 'typical' volunteer, and we're thrilled about that. We need all types of people to help make our patients' end-of-life experiences fulfilling. Variety is the spice of life, even at the end of life."
"Most people think they could never be a hospice volunteer. I think if more people gave it a try, they'd be surprised," Stevo explained. "If you enjoy talking with your grandpa, grandma, parents, aunts or uncles, having a conversation, just being present with people, you can be a hospice volunteer. It's not bleak; it's actually an overwhelmingly positive experience."
Being a hospice volunteer has given Stevo a new perspective on life and an enhanced appreciation for his health. Volunteering with Hospice has also taught him a lot about time. "Sometimes you just need to be still, sit down and savor the quiet moments," he explained. "People don't just sit anymore."
For Stevo, the rush of helping someone else is addictive. He recalls, his grandmother was cared for by Hospice, and he remembers her nurse as "the lighthouse in the storm."
"Sometimes, just knowing someone else cares, outside of the family, can be comforting," Stevo said. "I can do that."
*Please note: The patient's name has been changed to protect his privacy.
At Hospice of the Red River Valley, we are fortunate to have many dedicated volunteers. We celebrate their contributions to the organization. Click to find out more information about our volunteer program and how to apply.
About Hospice of the Red River Valley
In 1981, Hospice of the Red River Valley was founded on the belief that everyone deserves access to high-quality end-of-life care. We fulfill our nonprofit mission by providing medical, emotional, personal and spiritual care, as well as grief support to our patients, their families and caregivers during a tender time in life. Our staff helps those we serve experience more meaningful moments through exceptional hospice care, 24 hours a day, 365 days a year, wherever a patient calls home. The organization serves more than 40,000 square miles in North Dakota and Minnesota, including in and around Bismarck, Detroit Lakes, Devils Lake, Fargo, Fergus Falls, Grand Forks, Lisbon, Thief River Falls, Valley City and many more communities. Hospice of the Red River Valley offers round-the-clock availability via phone, prompt response times and same-day admissions, including evenings, weekends and holidays. Contact us anytime at 800-237-4629 or hrrv.org.