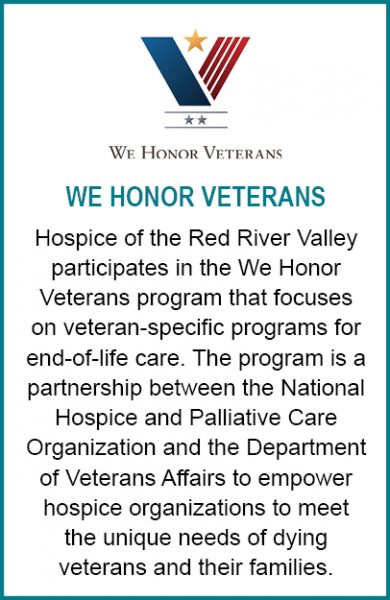 Americans across the country celebrate Veterans Day on Nov. 11, a special day to salute the men and women who have bravely served our country in the military.
These fellow Americans have made profound sacrifices to defend our freedom, and they deserve our heartfelt thanks and appreciation. Honoring our nation's veterans includes supporting them throughout their entire lives, especially at the end.
As our nation marks Veterans Day, Hospice of the Red River Valley deepens our commitment to increase veterans' access to the compassionate, high-quality care available from the nation's hospice and palliative care providers. One of the ways we're making this happen is through our active involvement with We Honor Veterans, an innovative program of the National Hospice and Palliative Care Organization that was created in collaboration with the Department of Veterans Affairs.
There is something else that's important for every American to do—and that is to say, "thank you" to our country's veterans. Not just on Nov. 11 but all year long.
Ask your friends, neighbors, coworkers and others in your community whether they have served in the military (you may be surprised how many have)—and thank those who have served for their sacrifice.
It surprises many Americans to learn that every day, 1,800 veterans die. That's more than 680,000 Veterans every year—or 25 percent of all the people who die in this country annually.
If you know a veteran who is in need of the special care hospice brings to people facing serious and life-limiting illness, we can help. Learn more by visiting www.hrrv.org or call (800) 237-4629.
To all our nation's veterans, thank you.
About Hospice of the Red River Valley
In 1981, Hospice of the Red River Valley was founded on the belief that everyone deserves access to high-quality end-of-life care. We fulfill our nonprofit mission by providing medical, emotional, personal and spiritual care, as well as grief support to our patients, their families and caregivers during a tender time in life. Our staff helps those we serve experience more meaningful moments through exceptional hospice care, 24 hours a day, 365 days a year, wherever a patient calls home. The organization serves more than 40,000 square miles in North Dakota and Minnesota, including in and around Bismarck, Detroit Lakes, Devils Lake, Fargo, Fergus Falls, Grand Forks, Lisbon, Thief River Falls, Valley City and many more communities. Hospice of the Red River Valley offers round-the-clock availability via phone, prompt response times and same-day admissions, including evenings, weekends and holidays. Contact us anytime at 800-237-4629 or hrrv.org.