by Jordan Weeda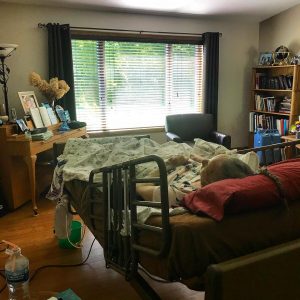 Here we are.
No more poking and prodding. No therapeutic goals to achieve. No pandemic protocols. No hurried doctors and nurses.
This is a world of quiet voices, laughing great grandchildren in the other room, smells of food wafting from the kitchen, hand holding, hair brushing, foot rubbing, resting—just being.
Grateful to be home, going Home.
When Myrtle Lien made the decision to begin hospice care, her grandson, Jordan Weeda, thoughtfully documented his observations and sentiments of his grandma's journey and what hospice meant to his family. Throughout Myrtle's time on hospice, Jordan shared poignant, tender and often intimate moments of caring for a loved one during this sacred time of life.
What follows is Jordan's perspective of Grandma Myrtle's journey Home.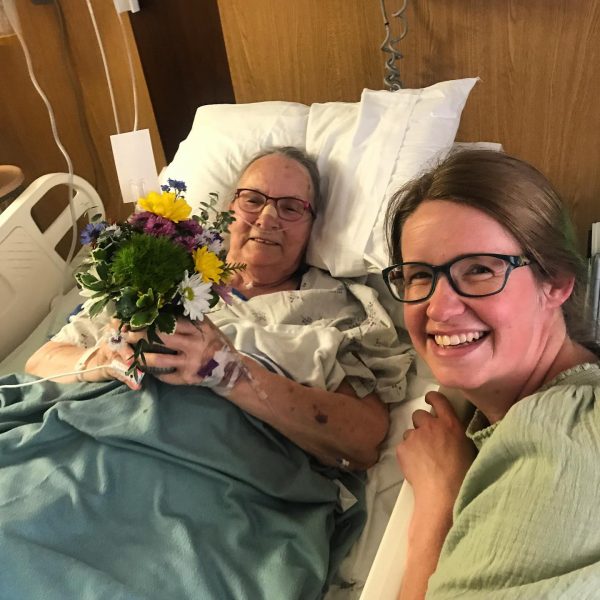 Today we got to see my Grandma Myrtle in the hospital. She was alert and so happy to see us. Yesterday, we had planned an impromptu trip to Paul Bunyan Land with the kids. On our way, Mom called with word that Grandma had some kind of episode and was transferred to the ER. We continued driving towards Brainerd not knowing what would unfold. Once we arrived at the amusement park, Dad called with more news. Grandma had several blood clots in her lungs and may only have a few hours left. We talked about it with the kids and decided to keep driving west, even though we hadn't packed for the trip.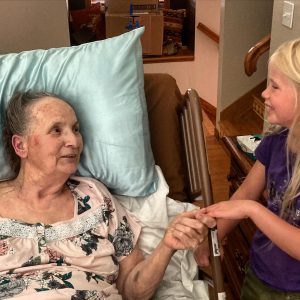 Grandma had fallen 2 ½ weeks ago and fractured her hip. The surgeon was able to repair it with screws, and she was transferred to a rehab center at a nursing home to recover. It's not uncommon for blood clots to develop around a hip fracture and that's apparently what happened. Grandma ended up with blood clots in her lungs. At the hospital, she was put on blood thinners and oxygen, and by yesterday afternoon, she was looking much better. We had a nice day visiting with her (one at a time, and unfortunately, no kids because of COVID). Grandma, Mom and her brother Rocky had a good visit with the palliative care doctor about Grandma's wishes to go into hospice care. We don't know how long it will be, but Grandma is so ready to finish her days on Earth and go Home. Rather than have Grandma finish those days in a nursing home, my folks offered to have her spend those days with them.
So, things feel bittersweet—but settled. With Grandma at home her grandchildren will get to spend time with her, and she can get all the foot rubs she needs. I hope I can give the same thing to my folks someday.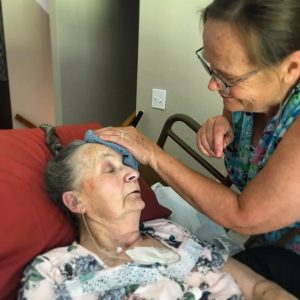 The veil is getting thin. Grandma has been "nesting," just like a mother about to give birth. She's been going through all the unfinished business in her mind: bills to pay, are her kids taken care of, is the house swept, is there gas in the car … Mom tells her each time, "All the work is done, I'll take care of it," and she just relaxes. Grandma talked on the phone to all her kids and grandkids and told them she loves them. The kind of "I love you" that goes far beyond the words.
The veil is getting thin. Grandma told Aryn, her great-granddaughter, she saw a pretty golden crown over her head. She sees people come to visit her that we don't see. She's ready to go. The kids are sleeping on the floor by her bed. It's so quiet.
When you spend time with someone who is dying you realize how so much of what we place importance on now—especially now—really means nothing. Loving and being loved matters. Having a hand to hold when you pass from this life matters. Relationships matter. Be kind. Be authentic. Cherish your people.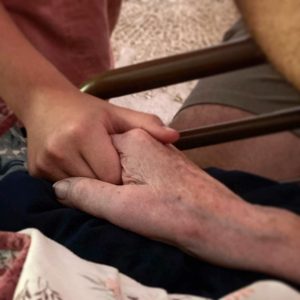 Someday, if it is my path, I will have old hands and lie in my last bed.
I hope, if it is my path, that I will have young hands holding my old hands as I breathe my last.
"You've been such good kids."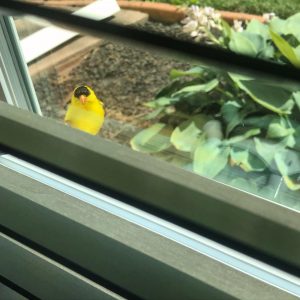 This little guy came to visit Grandma. For several minutes he was fluttering around the big picture window that she is looking out of from her bed, until finally, he came to a rest and perched on the windowsill looking in.
Apparently, goldfinches are messengers of joy and prosperity and spiritual liberation. Seems appropriate!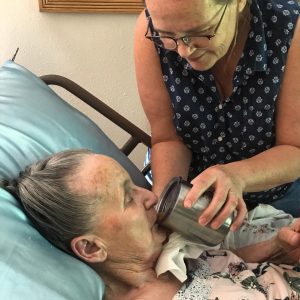 Simple pleasures. Grandma is really slowing down. Breathing is slower, heartbeat is slower. She sleeps a lot, very few words–most of them hard to hear. She often will talk about food, as if there is a feast set before her. There is usually a pleasant smile on her face.
"Thou hast set a table before me … anointed my head with oil, my cup runneth over."
The only thing she's asked for the past few afternoons is coffee. We make it with cream and sugar. She'll take a few tiny, slow sips, smile and say, "Oh, that's pretty good," then drift back to sleep.
We don't know how much longer Grandma will be with us and she wonders the same thing. Last night, she was resting with this beautiful smile on her face as I stood by watching her. Then, her eyes popped open, and she said, "Did ya think I was dead!?" All with a grin and a twinkle in her eye. I said "No … did you think you were dead?" She nodded with a smile and drifted off.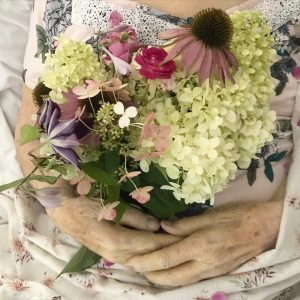 Sweet, sweet release …
Grandma Myrtle Lien finished her work today and went to her rest.
They say the dying choose their time. Yesterday afternoon her breathing changed drastically. It felt so eminent. Beautiful, tearful appreciation, love and farewells were given from the hearts and lips of her children. We sat by her bed watching each labored breath, thinking each would be her last. Mom waited up with her all night. Mom's brother Darwin drove in from Mandan this morning, and we all spent the day sitting with her, checking in and wondering when she would go.
Finally, this afternoon, I decided to get ready to go get groceries, Mom was getting up to do a few errands around the house, and the kids were talking to their cousin Henry on video chat. I walked back in the room to see if there were any last groceries to add to the list and the feeling in the room had changed. It was palpable.
Grandma had slipped away in that moment. She waited until we weren't waiting for her. It was exactly (to the minute) 24 hours from when her breathing changed yesterday, and exactly two weeks (to the minute) from when she arrived at my parent's home.
My kids picked a beautiful bouquet to place in her hands, and we sat and watched as her body, void of pain and struggle, released the lines of worry and suffering from her face. Even now as she lies in her last bed, there is a faint peaceful smile appearing on her face. It's as if, as the pain and suffering of these last few years melts away, her true essence shines through. It's so beautiful.

Hospice of the Red River Valley was privileged to walk alongside Myrtle and her family. We're grateful for the opportunity to care for Myrtle in her daughter's home, where family could be nearby during this sacred time of life. And, we're grateful for Jordan's beautiful words—sharing his beloved Grandma's journey Home.