Dear friend,
I wish you could have known my wife, Marcia. She was brilliant—a perfect wife and mother of four.
We met as children when I pushed her in a snowbank. Years later, Marcia waited for me while I spent two years overseas with the military, and we eventually married when I returned. For 54 years, we did everything together. When Marcia's health deteriorated from probable Alzheimer's, I spent nine hours a day in the nursing home, making sure my beloved wife got the care she deserved.
Marcia passed away on November 12, 2014, under the care of Hospice of the Red River Valley. I miss her so much, but I have peace too because Hospice staff cared for her like they loved her and had known her like family.

During Marcia's final days, one certified nursing assistant in particular, Miranda, showed me real kindness and compassion. Miranda had been helping Marcia eat, but in her last week my wife couldn't even swallow. One day when Miranda arrived I told her Marcia wasn't eating anymore so she didn't need to visit again. Miranda asked, "Do you mind if I go see her anyway?" I said sure, although I didn't understand what for. I was gone for a few minutes, and when I came back I found Miranda had lowered the bed and was sitting crossed legged on the floor in front of Marcia. Though Marcia could no longer speak, Miranda was carrying on a conversation as if Marcia could participate, and applying lotion to her legs and feet—pampering her. Marcia had a peaceful, content smile on her face. She could still understand love and when someone really cared for her. I stood in the doorway watching, stunned. Miranda could have just left. Yet there she was, treating my wife with such tenderness, like it was her own mother.
Miranda was not the only Hospice employee who amazed me. Even in the months since Marcia's passing, I find blessings in Hospice through Bereavement Specialists Wendy and Cheryl. Hospice of the Red River Valley offers grief support groups, classes and one-on-one meetings with bereavement specialists for free, and I haven't missed a meeting since Marcia passed. I leave feeling good after every one. Their sincerity and the way they treat me is so reassuring and comforting.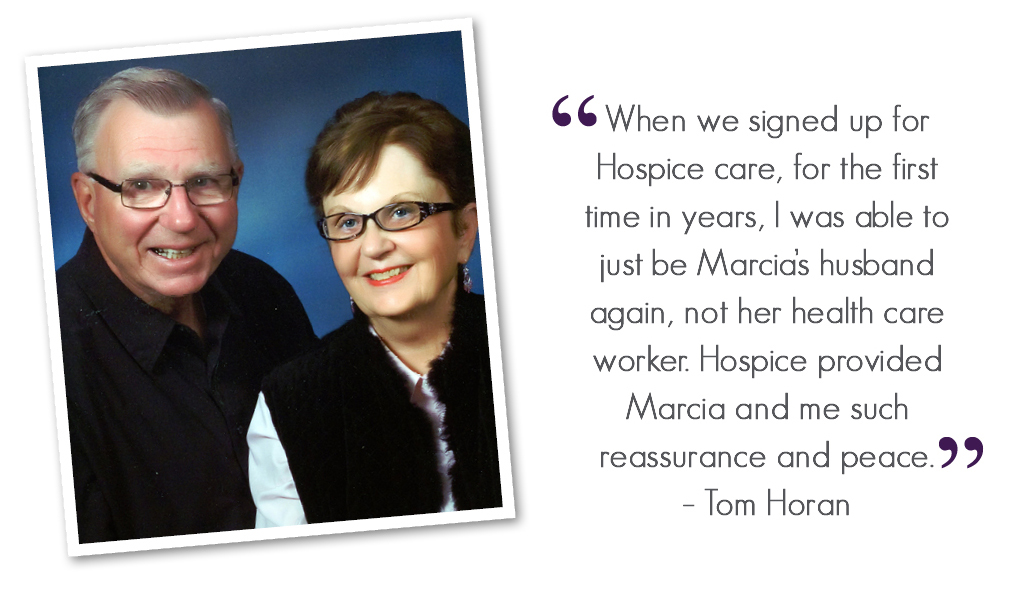 When we signed up for Hospice care, for the first time in years, I was able to just be Marcia's husband again, not her health care worker. Hospice provided Marcia and me such reassurance and peace. The informational booklets they provided where so timely and helpful, it's like they were written just for us. I'm not sure how I would have made it through those days without their care. Hospice was as much for me as it was for Marcia.
Hospice of the Red River Valley cared for us as if we were their only priority, but I know they care for many people. And they need our support so more families can experience their profound comfort.
I give to Hospice of the Red River Valley in memory of Marcia and in honor of the Hospice staff members who touched our lives with such love and tenderness. Please join me and make your gift to Hospice of the Red River Valley, too.
Sincerely,
Tom Horan
Please support Hospice of the Red River Valley with a gift that will provide comfort, dignity and respect to our patients and their families. Learn more about ways to support our care or donate online today.
About Hospice of the Red River Valley
In 1981, Hospice of the Red River Valley was founded on the belief that everyone deserves access to high-quality end-of-life care. We fulfill our nonprofit mission by providing medical, emotional, personal and spiritual care, as well as grief support to our patients, their families and caregivers during a tender time in life. Our staff helps those we serve experience more meaningful moments through exceptional hospice care, 24 hours a day, 365 days a year, wherever a patient calls home. The organization serves more than 40,000 square miles in North Dakota and Minnesota, including in and around Bismarck, Detroit Lakes, Devils Lake, Fargo, Fergus Falls, Grand Forks, Lisbon, Thief River Falls, Valley City and many more communities. Hospice of the Red River Valley offers round-the-clock availability via phone, prompt response times and same-day admissions, including evenings, weekends and holidays. Contact us anytime at 800-237-4629 or hrrv.org.