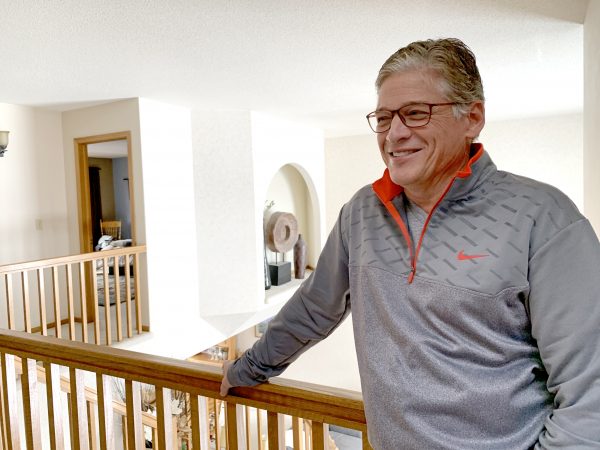 Arlyn Mogck was the planner. A licensed public accountant with a mind for detail, it was ingrained in his personality. In fact, he had mapped out his life in three equal segments, with a purpose to each: The first 30 years was for starting a career and family. The next 30 was for setting him and his wife up for retirement. The last 30 was to enjoy that retirement together and with his family.
Growing up in the Great Depression in south-central North Dakota, Arlyn and his wife, Joan, wasted nothing, leading humble and hard-working lives. They were proud and independent. Together, they raised four children, of which son Dana, is the third.
As the couple aged, Dana became his parents' primary caregiver and advocate. He drove his dad to doctor appointments and on road trips back home to Kulm, N.D., as Arlyn's vision and mobility declined. Each December, they would drive west to Kulm to load up on kuchen and sausage as gifts for friends and family. While the regular appointments and travel could be demanding, they gave Dana the chance to connect with his dad.
"At first I thought Dad wanted a driver, or someone to talk to because we had been doing this for probably 10 years," Dana said.
But Arlyn started using the trips as a way to pass along his and Joan's wishes to their son. He asked Dana to be the executor of their estate. He would tell Dana about his finances and how to divide assets after he and Joan died.
It provided Dana with clarity because when the time came, he wouldn't have any guesswork in honoring his parents' wishes.
Arlyn came close to fully executing his well-thought-out life plan. But the proud Korean War veteran died unexpectedly at 88. His attention to detail and thoughtful planning helped his family through what they would face after his death in mid-March 2018.
Last Act of Love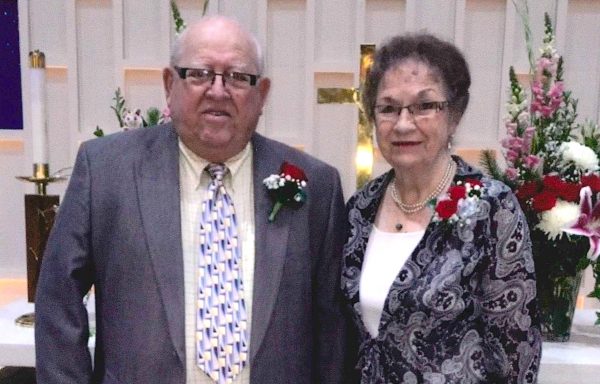 Just two months after Arlyn's death, his devoted wife of 67 years, Joan, was diagnosed with an inoperable brain tumor. This would be the third, and final, cancer diagnosis of her life.
The prognosis was weeks to months to live. This startling news was somewhat tempered by Arlyn and Joan's practical planning and communication of their wishes; Dana and his siblings were able to care for their mom as their father would have so she could continue to live as she wanted.
Despite dealing with the grief from the loss of their father, caring for their mom became their focus.
The cancer diagnosis was surreal, but Dana said his mother met it with acceptance.
"As soon as we told her and the options she had for treatment, which might give her some additional months, Mom said, 'I'm good. I've lived a good life.'"
Honoring Joan's wishes and keeping her pain-free became their main priority. Dana and his sister knew right away that Hospice of the Red River Valley was an option for their mother's end-of-life care. It provided a sense of relief knowing that, when the time came, his mother would be comfortable, treated with dignity. She would be at peace.
"Calling Hospice was not a sign of giving up, but rather a sign of that last act of love to help our mom in her final days," Dana said.
Decades prior, Dana's paternal grandfather received hospice care, and Dana learned first-hand its benefits in managing pain and providing comfort.
He said that experience made calling Hospice of the Red River Valley a "no-brainer" when his mom's health declined.
"In the back of your mind you know that when you call Hospice, that's it," Dana explained. "We're not getting our miracle, but in a sense you are getting a smaller miracle with an organization that is there to take care of your loved one like it's one of their own and help them through their final days. Helping Mom in her final days helped us."
Joan spent her final months at Villa Maria, a skilled nursing facility in Fargo. While her health slowly declined, she never lost her optimism. "Someone always has it worse," she often remarked.
One day, Dana got the call that his mother wasn't doing well. When he and his sister arrived they could see by the look on Joan's face that she was in pain.
"It was the first time it looked like she was suffering," Dana said. "Villa Maria made the call [to Hospice] for us, and I swear within an hour, they were there and my mom was no longer suffering."
Social worker Kylie Kolstad was one of the first of the Hospice team members to arrive. In addition to social workers, hospice patients and their families receive the support of nurses, CNAs, volunteers, bereavement specialists, chaplains, nurse practitioners and physicians.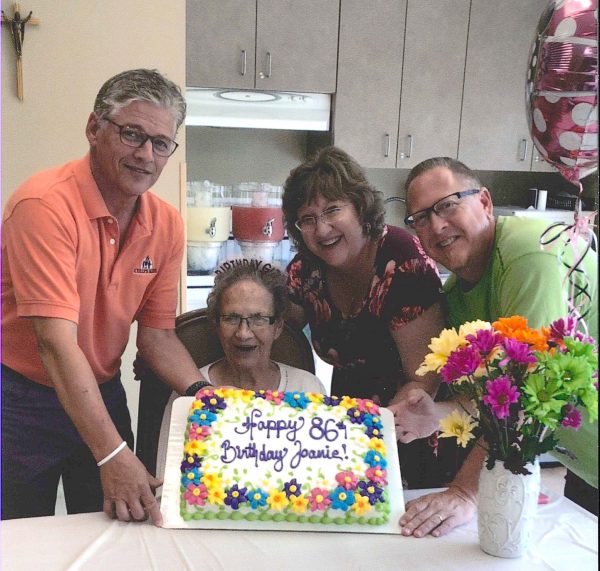 "We offer a team approach so there are a variety of skills, support and friendships to gain," Kylie said. "We talk about what your goals are and our ultimate goal, which is to provide you and your loved ones with tools to carry you confidently through end of life."
Dana said he was impressed by Kylie's support, how she wanted to know about Joan and her family. He said Kylie talked and listened to them for hours at their initial meeting. With a calming presence, Kylie helped relieve some of the emotional turmoil the family was experiencing, and provided practical advice for how to best care for their mom.
"It was such a comfort to know that you weren't a number, and we felt like we were at the top of the priority list at Hospice," Dana said. "Before she left, we were all hugging, and it felt like she was part of the family."
Dana said he appreciates how the Hospice team worked together with staff from Villa Maria. They worked hand-in-hand to provide care and support to his mother. Kylie said she always works closely with facility staff, checking in with nurses, social workers and whoever may have insight into a patient's care and needs.
"I feel completely honored to be a part of their world, their journey, and I feel like part of their family in some instances," Kylie shared.
One of the family's goals was celebrating Joan's 86th birthday. Joan rallied, and was visited by siblings, children, grandchildren and longtime friends from her regular Wednesday "Lunch Bunch."
"We had a great, great day," Dana said. Joan passed away not long after, but her loved ones were left with more great memories."If I shed a tear, it's from a great memory," Dana said.
Reflecting, Looking Ahead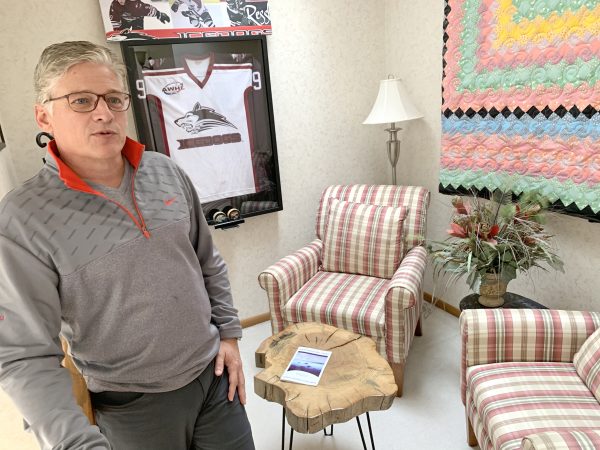 A pair of matching armchairs sits side-by-side in a bright, cheery nook on the second floor of Dana's south Fargo home. Photos of his parents and other family keepsakes adorn the walls. A skylight allows the sun to pour in, giving the sanctuary a soft warmth and radiance.
Dana often sits in his parents' chairs and reflects. He grieves losing them, and he also celebrates their memories. He fondly recalls the December road trips home to Kulm.
Joan's journey was made more gentle and peaceful by communicating her wishes, the guidance of Arlyn's roadmap and the help of Hospice of the Red River Valley staff.
"There is nothing worse than watching a loved one die," Dana said. "But, by calling Hospice you are not only helping your loved one, but you are also helping yourself, your kids and grandkids. Hospice steps in and embraces the whole family to help them through the dying process."
About Hospice of the Red River Valley
In 1981, Hospice of the Red River Valley was founded on the belief that everyone deserves access to high-quality end-of-life care. We fulfill our nonprofit mission by providing medical, emotional, personal and spiritual care, as well as grief support to our patients, their families and caregivers during a tender time in life. Our staff helps those we serve experience more meaningful moments through exceptional hospice care, 24 hours a day, 365 days a year, wherever a patient calls home. The organization serves more than 40,000 square miles in North Dakota and Minnesota, including in and around Bismarck, Detroit Lakes, Devils Lake, Fargo, Fergus Falls, Grand Forks, Lisbon, Thief River Falls, Valley City and many more communities. Hospice of the Red River Valley offers round-the-clock availability via phone, prompt response times and same-day admissions, including evenings, weekends and holidays. Contact us anytime at 800-237-4629 or hrrv.org.