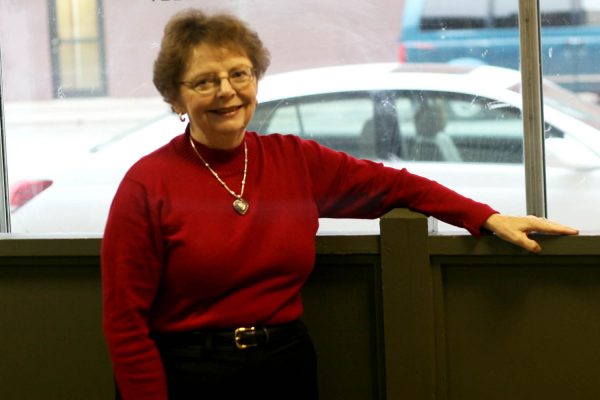 Judy Dragseth remembers the day her mother was discharged from the hospital with a terminal diagnosis. She distinctly recalls her mother's fear at the thought of having to return. Although Judy couldn't give her mother the hope of a cure that day, she was able to give her peace of mind in knowing she would be cared for in her own home.
Judy and her sister fulfilled their promise to their mother and she died peacefully in her own home long before hospice care was available. So in 1980, when hospice care was just getting started in Judy's hometown of Crookston, Minn., she was the first one to raise her hand and offer support. Thirty years later, Judy still served hospice patients and their families as a volunteer. "It was the one good thing that came out of my mother's death," Judy said.
"Volunteering is good for the soul." – Judy Dragseth
Now retired from volunteering, Judy recalls learning a lot about being a hospice volunteer from her patients. The lessons began on one of her first visits. The family had suggested she read to the patient. Judy fondly recalls how eager she was to help so as she put it, "I was really getting into it," when the patient gently stopped her and asked, "Can we just be quiet for awhile?" Judy honored her request and took note.
Lesson number one: "It's okay to be quiet."
The next lesson was also a humbling one. The request came for a patient that needed assistance with light housekeeping. This request made Judy pause because she has very strong feelings about that particular chore. "I hate to clean," Judy said.
In the end, she set her feelings aside and agreed to a weekly cleaning schedule. In doing so, Judy came to the conclusion that volunteering stretches a person to do things they may not otherwise do.
Lesson number two: "Volunteering is good for the soul."
During another visit with a patient, Judy rediscovered the most valuable lesson she learned along the way. She had brought along a book to the visit because the patient's illness had progressed to the point where he was sleeping most of the time. However, when Judy arrived, the patient was alert and ready to talk. They shared stories about their mutual acquaintances, and Judy brought him up to date about the happenings in their community.
A little while into their conversation, she asked him if he needed to rest, he politely declined and asked if she would stay to continue their discussion. Four hours later, Judy left knowing she gave that dear gentleman a gift.
Lesson number three: "The most important thing I can do is bring the outside in."
After all those years and patients served, Judy learned countless lessons and made innumerable cherished memories in her journey as a hospice volunteer.
At Hospice of the Red River Valley, we are fortunate to have many dedicated volunteers. We celebrate their contributions to the organization. Click to find out more information about our volunteer program and how to apply.
About Hospice of the Red River Valley
In 1981, Hospice of the Red River Valley was founded on the belief that everyone deserves access to high-quality end-of-life care. We fulfill our nonprofit mission by providing medical, emotional, personal and spiritual care, as well as grief support to our patients, their families and caregivers during a tender time in life. Our staff helps those we serve experience more meaningful moments through exceptional hospice care, 24 hours a day, 365 days a year, wherever a patient calls home. The organization serves more than 40,000 square miles in North Dakota and Minnesota, including in and around Bismarck, Detroit Lakes, Devils Lake, Fargo, Fergus Falls, Grand Forks, Lisbon, Thief River Falls, Valley City and many more communities. Hospice of the Red River Valley offers round-the-clock availability via phone, prompt response times and same-day admissions, including evenings, weekends and holidays. Contact us anytime at 800-237-4629 or hrrv.org.