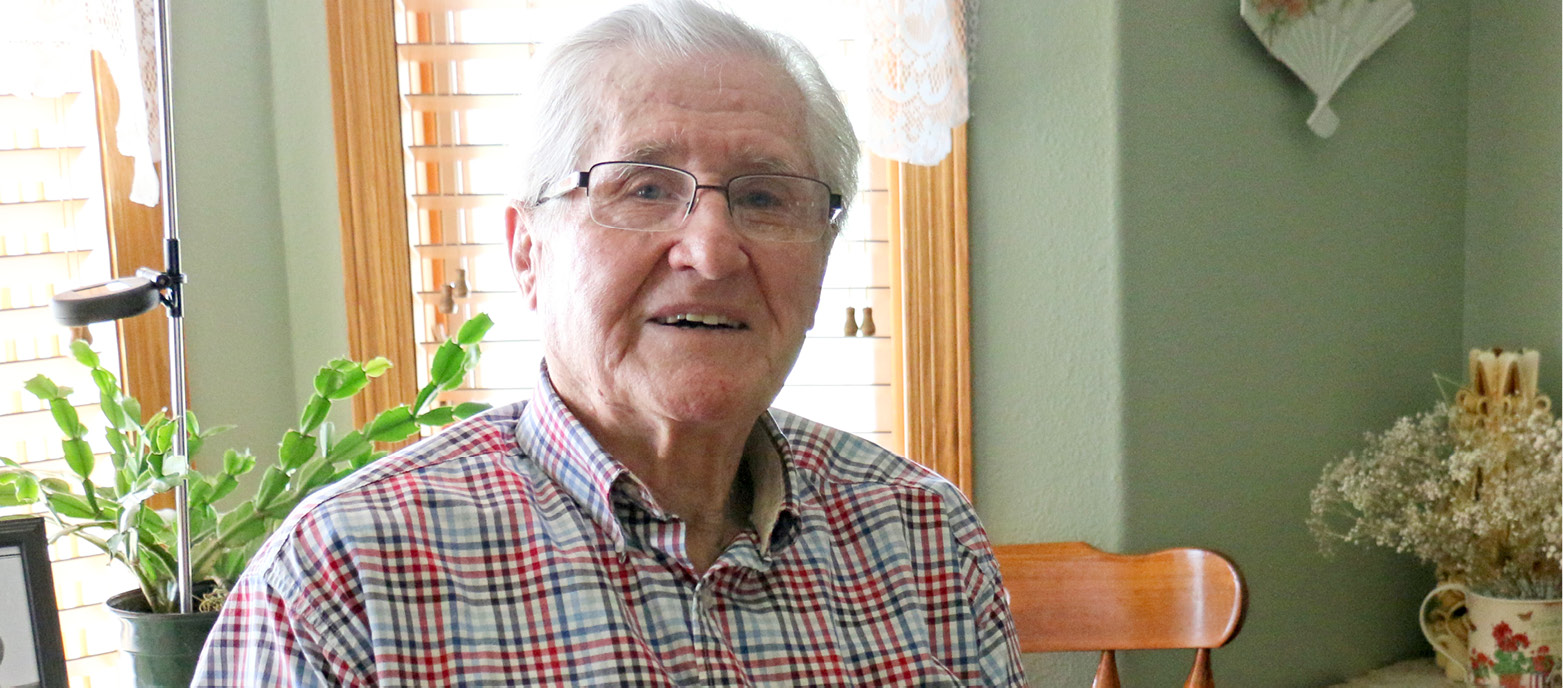 Warren Wiltse is a man with many roles: family man, caregiver, retired farmer and rancher, life-long Lisbon, N.D., resident; world traveler, local Kiwanis Club member (for the past 35 years), Gideons International member (for the past 59 years), friend to many, storyteller and conversationalist.
One more role looms large in Warren's heart and in his community: long-time Hospice of the Red River Valley volunteer.
The way Warren tells it, he heard a representative from Hospice of the Red River Valley speak at a Kiwanis meeting in Lisbon and decided to begin volunteering after some encouragement from a friend who attended the meeting with him. "I had a buddy, Orville," he said. "He already volunteered for Hospice, and he told me all about it. So I said, 'I'll give it a try.'" That was more than 18 years ago.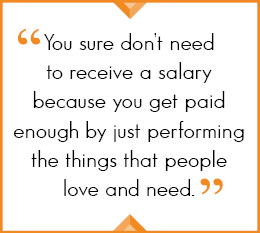 Warren visits patients around the area—in Lisbon, Forman, LaMoure, Oakes, Enderlin and more—in their homes, hospitals, nursing homes and the North Dakota Veterans' Home, providing companionship through patient care visits and critical support through Pathway visits. "There are a lot of people in nursing homes who have no relatives or close friends," he said. "That's tough. If I can help them in some way, I'd like to do it."
Throughout his life, Warren has traveled the world, but his roots in Lisbon are deep. He and his wife Betty both grew up in the area, and they married 67 years ago. The couple raised several children while Warren worked as a farmer and rancher, and Betty worked as a nurse. His strong connection to the community is demonstrated not just by the fact that he's spent his entire life in Lisbon, but by his dedication and contributions to the town and the people who live there.
His conversational skills and familiarity with the Lisbon community come in handy as a hospice volunteer. Making conversation with his patients comes easily to Warren, even if some other skills don't. "I don't sing or play guitar. Those are not my talents," he said with a smile and a laugh.
He talks with patients and families about whatever they're interested in, like the old days in Lisbon, current farming conditions and equipment, and anything else they want to talk about. "A lot of the people I know personally; some I don't," he shared. He takes patients for wheelchair rides, and for those who request it, he's happy to read from the Bible or pray with them. Warren brings a book along on Pathway visits to help him stay awake during the overnight hours the visits often require.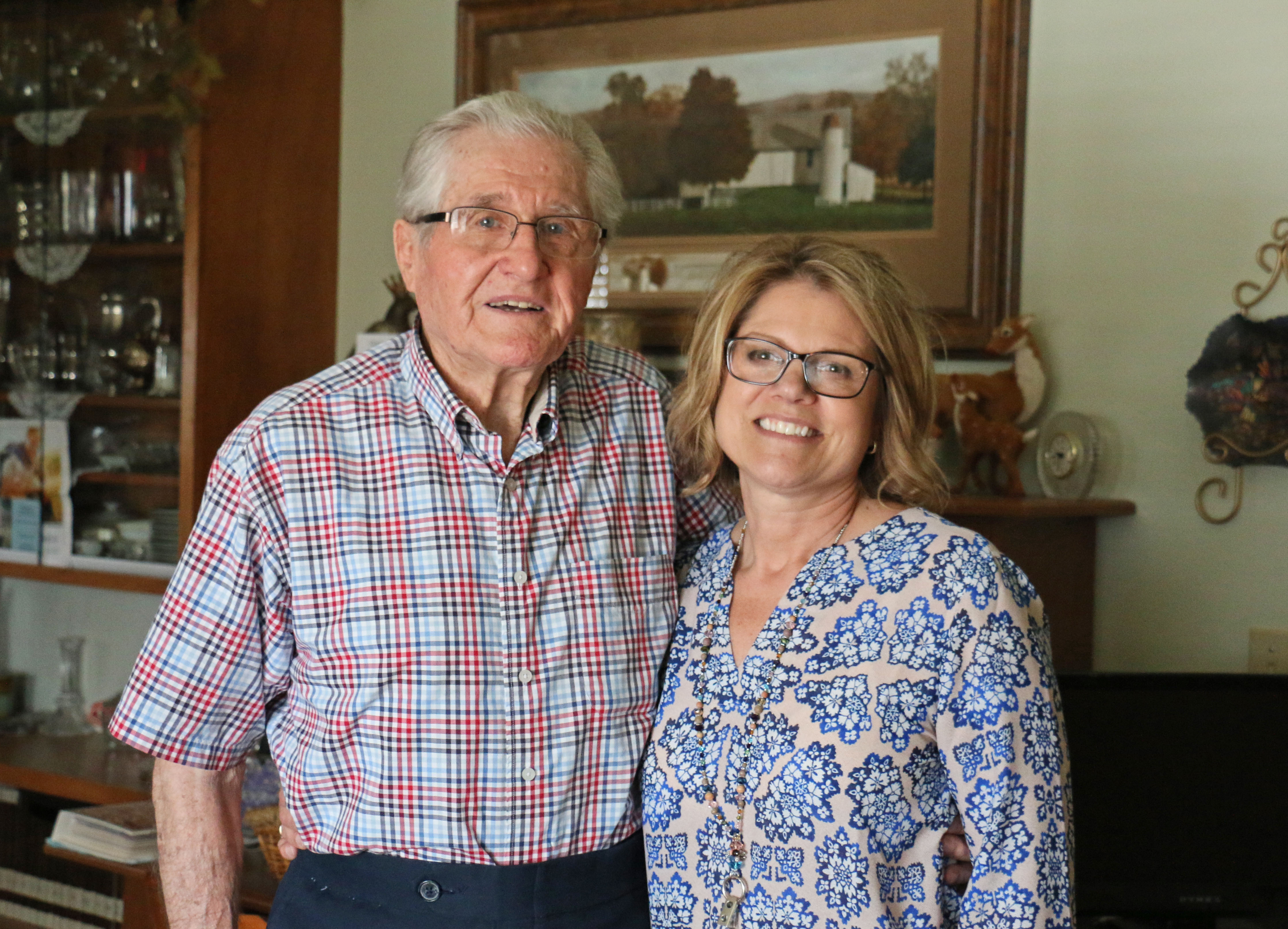 Tracy Roche, his volunteer coordinator at Hospice of the Red River Valley, said she tells potential male volunteers about Warren when she meets with them. "He inspires a lot of people, and he doesn't even know it," she said. His dedication and commitment to serving others stands out to Tracy. "When he gets the call, he always goes. He'll take the night shift, too. It's amazing," she said. "And he goes to almost every single one of our education opportunities. He is very eager to learn."
Warren is proud to be a Hospice volunteer, especially when he sees Hospice staff members providing care and interacting with patients. He sometimes sees a Hospice chaplain at the nursing home, singing hymns to patients. That kind of care has made an impression on Warren.
"If I need it [hospice care] someday, I'm willing to take it," he said. "I like the compassion, what they're willing to do … they're great people."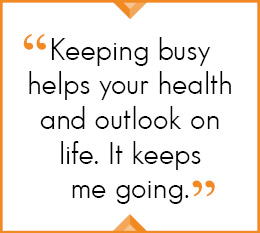 After his wife had a serious stroke three years ago, Warren reduced the amount of time he volunteers each month. Taking care of her is his main project now. But he is driven by a desire to stay engaged and doesn't intend to stop being involved in his community. "Keeping busy helps your health and outlook on life," he said. "It keeps me going."
Warren calls his experience volunteering with Hospice a blessing, an adventure and something that gives him a real sense of satisfaction to be involved with. "I've met some wonderful people, some wonderful families."
To that end, Warren encourages other men to get involved in their communities, and specifically with Hospice. "You sure don't need to receive a salary because you get paid enough by just performing the things that people love and need," he said. "I'd say the same thing my friend said to me a long time ago. He convinced me that it [volunteering with Hospice] was worthwhile. And it has been, very much."
To learn more about volunteering with Hospice of the Red River Valley, visit our website.
About Hospice of the Red River Valley
In 1981, Hospice of the Red River Valley was founded on the belief that everyone deserves access to high-quality end-of-life care. We fulfill our nonprofit mission by providing medical, emotional, personal and spiritual care, as well as grief support to our patients, their families and caregivers during a tender time in life. Our staff helps those we serve experience more meaningful moments through exceptional hospice care, 24 hours a day, 365 days a year, wherever a patient calls home. The organization serves more than 40,000 square miles in North Dakota and Minnesota, including in and around Bismarck, Detroit Lakes, Devils Lake, Fargo, Fergus Falls, Grand Forks, Lisbon, Thief River Falls, Valley City and many more communities. Hospice of the Red River Valley offers round-the-clock availability via phone, prompt response times and same-day admissions, including evenings, weekends and holidays. Contact us anytime at 800-237-4629 or hrrv.org.