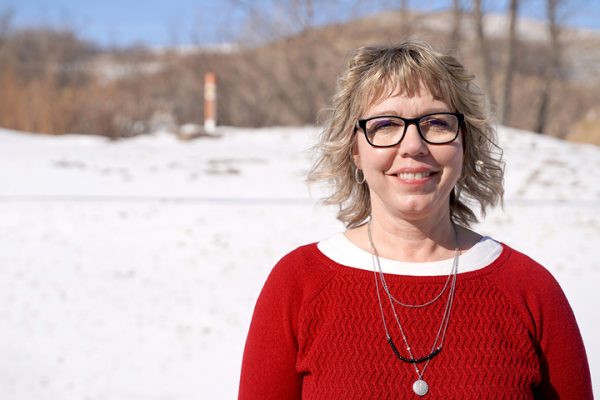 A hospice social worker guides patients and their families through a tender time in their lives by providing emotional support, education and identifying resources. For long-time Hospice of the Red River Valley Social Worker Karolee Ondracek, of Valley City, N.D., this role is a calling.
"I've always wanted to help people at end of life—to be there, provide support and help them understand what's happening," Karolee shared. "I like to work with older adults. End of life and that age group speak to me. I feel this work is what I was called to do."
Karolee shares more about her background and passion for working in hospice care:
Tell us about your background and what brought you to hospice care.
After attending Concordia College I went to Valley City and worked as a social worker at Sheyenne Care Center for ten years and oversaw the department. I always wanted more time with patients and families, and I liked the idea of going to different facilities and homes to see patients, so I decided to try hospice care. It's now been 21 years since I joined Hospice of the Red River Valley. I think I was one of the first employees to be hired in the Valley City office.
What about hospice care drew you to the profession?
I was with my grandma Grace at the end of her life, and they did not have hospice in Rugby, N.D. I've always wanted to help people at end of life—to be there, provide support and help them understand what's happening.
What life lessons have you learned from people as they journey toward end of life?
I've learned to live life in the moment and to not take things for granted. Say the things you need to say. Take care of issues before you reach an end point. With COVID-19, it's more important than ever to take time with your family and loved ones. Just being there is so important and provides so much support. Using technology to connect with our loved ones is good, but human contact and touch is so very important. That's been one the hardest parts of this past year for so many people. We've had to find new ways to connect.
Describe the role of a hospice social worker.
A hospice social worker helps to make sure a patient's needs are met and they have what they need, whether they live in a nursing home or in their own home. We help coordinate additional support services as needed. Many times, we provide education and talk to the patient and family members about all of our services and keep them informed about what we are doing and why. We help people feel comfortable, especially family members who are caring for their loved ones.
We focus on helping people where they are at in the journey. We're mindful of family dynamics and relationships. We show our support and explain different options they may have. I can't fix everything, but I am there to guide.
How do you help with family members who live a long distance from the patient?
Open communication is key. I always ask them what type of communication they prefer and how often. Whether it is emails or text messages, and how often they want to be contacted—it's important to find out how they want to be involved.
What does a typical day look like for you?
I don't think any day is typical or the same. Just when I think I have my day planned out, something comes up and it changes. You just don't know what that next phone call will bring your way. It's never a dull moment and many variables come into play. We have a great team and always find a way to work it out.
The "purple team" covers Buffalo, Casselton over to Cooperstown to Wimbledon, down to Jamestown and to Medina, to Kulm, Ashley and to Ellendale, over to Forman, Milnor, along I-29 and everywhere in between.
What do you do to take care of yourself?
I try to eat well. I exercise and do some meditation. I spend time with family and love to spend time at the lake cabin. I shut off the computer and read or take time to relax. I like light-hearted comedies and fiction—stories with happy endings.
If you could tell patients and families one thing about your position what would it be?
I can take the time to really be there for someone. It's a privilege and an honor to be alongside them in this part of their journey. It always surprises me how open people can be and willing to let us come in and help.
What would you say to someone who is afraid to call hospice because it's too scary or think they are going to die right away?
Hospice is not about death; it's about quality of life. You can have many good days and we can help to control your symptoms. The sooner you receive hospice care the better because we get to know you and can give you the individualized support you need. I always tell people, if something else comes up, like another treatment option and you want to try it, that's ok. We may be able to offer you help and coordinate support that you didn't even know was out there.
What does it mean to you to keep people in their homes?
Helping people stay in their homes is another kind of comfort. I think of the area farmers who have lived in their homes for so many years—decades. And they want to stay there. It's awesome to be able to help them do that.
Can you share an impactful patient/family story?
Several times I've had the opportunity to be with the patient and family when the loved one is dying and passes. I can't really describe how amazing it is to be a part of that and help them during that part of their life—to keep them comfortable and peaceful.
What skills make a good hospice social worker?
You have to be a good listener. I sometimes find myself sharing or wanting to help too much. I have to take a step back and not be so eager and let them take the lead. You have to have patience and be able to problem-solve. Know it's ok to give them options and let them think about it and be there to answer questions.
What is something that you wished people knew about hospice care before they get to the point of needing it?
Ask your primary health care provider when it's appropriate for hospice care. Be open to it. Ask questions and know the sooner we [hospice] can get involved, the more we can do for you. Pursuing hospice care is not a death sentence. There is so much support we can offer.
What other resources have you as a social worker been able to connect families to and make aware of?
The list is endless. Private hire services, any of the support systems through the county, Medicaid, social security, Medicare, different types of nutritional sources. One of the advantages of being here and in this role for so many years is I have a lot of connections and know who to call to get an answer quite fast.
Why is it important to involve kids in the dying process?
I think it is very important to explain to kids that dying is a natural part of life. Then we can help them process it and answer their questions. I try to keep it simple but encourage them to be there around grandpa or grandma and to know it's ok to ask questions. Books really help. I believe it's in our nature as adults to try to protect kids when we should be helping them to understand death and dying. Death can affect kids for the rest of their lives. We have really good resources to share with the kids.
Complete this sentence: Hospice is ____.
Hospice is comfort.
About Hospice of the Red River Valley
In 1981, Hospice of the Red River Valley was founded on the fundamental belief that everyone deserves access to high-quality end-of-life care. We fulfill our nonprofit mission by providing medical, emotional, personal and spiritual care, as well as grief support to our patients, their families and caregivers during a tender time in life. Our staff helps those we serve experience more meaningful moments through exceptional hospice care, 24 hours a day, 365 days a year, wherever a patient calls home. Spread across more than 40,000 square miles in North Dakota and Minnesota, Hospice of the Red River Valley offers round-the-clock availability via phone, prompt response times and same-day admissions, including evenings, weekends and holidays. Contact us anytime at 800-237-4629 or hrrv.org.