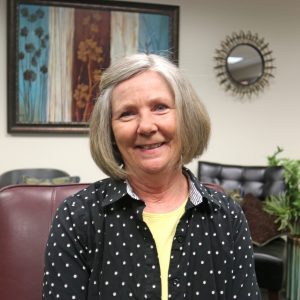 Gail "Sunny" Prudhomme's passion for volunteering was in part sparked by her father's experience with Hospice of the Red River Valley. She was working fulltime helping two kids through college when she realized her dad could no longer live alone in his Crookston, Minn., home. She invited him into her Fargo home to better take care of him. After his slow health decline, Sunny called Hospice of the Red River Valley.
"I didn't know what exactly they could do, but I would welcome any help they could give," Sunny said.
Her father's care team, which included regular volunteer visits, allowed Sunny to continue working half-time while giving her the peace of mind that her father was being well cared for.
"I remember many times coming through the door and hearing the volunteer singing, laughing or just visiting with Dad, and I knew we had made the right choice," she said. "I look back, and if it wasn't for Hospice, I would have had to step down from my position at work for the betterment of the work team."
Shortly after her father's death, Sunny began to pay it forward by volunteering with Hospice of the Red River Valley. She spent the next 17 years visiting patients in their homes, nursing homes and hospitals.
Sunny has many great memories of the experiences and people she met as a patient care volunteer. "I met some of the most awesome people," she said. "Each and every one has a story."
One of Sunny's specialties was listening to, or helping tell, patient's stories. Recording a legacy or conducting a life review is a common way patients nearing end-of-life achieve spiritual peace. It's one way volunteers help hospice patients find closure.
One of the last patients Sunny visited told her stories about his life. Sunny would ask the patient if his children knew the stories he shared with her. He often replied, "I'm not sure."
With his consent, Sunny began to document his stories and created a book that he could share with his children when they visited.
"They were awesome stories," Sunny said. "I hope it gave his children and grandchildren a sense of their family roots."
Sunny also helped a patient gain closure. She was paired with a patient who knew little to nothing about her birth, other than she was born in an unwed mothers' home. The patient yearned to learn more, so with the patient's permission, Sunny did some digging and discovered the information the patient was seeking.
Following her professional retirement, Sunny decided she needed a change, but knew she didn't want to lose touch with Hospice staff and patients. Like many volunteers, Sunny feels compelled to continue serving others. She requested an office volunteer position with Hospice.
Office volunteers greet visitors and assist with filing, data entry, mailings and other clerical duties.
"They didn't make me feel guilty, as I know they can always use more volunteers to serve patients," Sunny said. "But they found something for me to do."
Sunny is one of the more than 300 volunteers who donate more than 15,000 hours per year to support patients and their families. After 18 years of service, she offers the following advice to those considering volunteering: "It is the best feel-good way to give back to the world or pay it forward, and it doesn't cost you a cent. Go for it!"