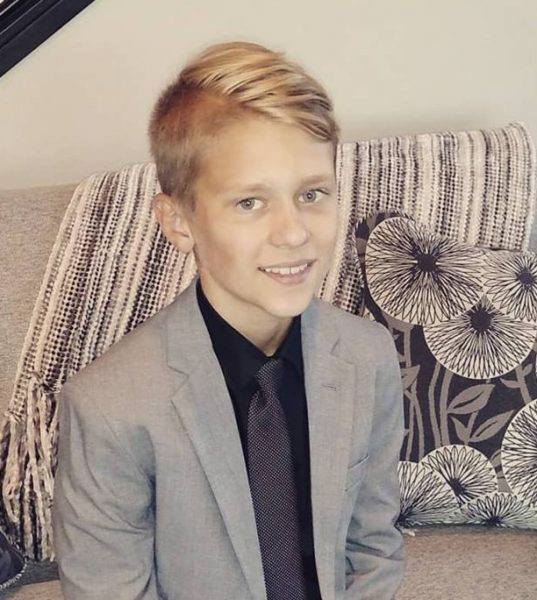 Landon Solberg's eyes were as blue as the sky, his hair golden like a sunray, and a heart that radiated even more warmth. His smile was contagious, and his spirit lit up any room he occupied. But more than anything, Landon was incredibly kind and thoughtful; traits he is beloved for and well-remembered. "Landon was always that way. He had such a kind heart," Landon's dad, Travis, shared. "We saw it when he was very little, and he carried it with him all the time."
Landon's teachers at Freedom Elementary School in West Fargo saw his compassion firsthand, as he would regularly help his classmates understand assignments. They often described him as the ideal student. Landon loved to learn whether in school or at church. He spent many hours poring over his well-worn Bible and attending weekly services at Prairie Heights Church. He also enjoyed playing and watching sports—football and basketball were his favorites.
When he wasn't participating in sports or school, he adored being with his friends and family, especially his 10-year-old sister, Emry, and his three-year-old brother, Griffin. Landon was a wonderful role model to his siblings.
Unimaginable Diagnosis
At 12 years old, Landon seemed wise beyond his years and handled himself with grace, understanding and unwavering faith. He was inherently this way, but he also strengthened these characteristics when he faced adversity and many challenges through an 18-month journey with a rare, malignant brain tumor called anaplastic astrocytoma.
Landon was 10 years old when he began to experience headaches a couple of times a week. His doctor initially thought the headaches could be migraines. As time went on, nothing eased Landon's pain, so he had imaging done on his brain. The scan revealed Landon had an abnormally large amount of fluid built up on his brain, also known as hydrocephalus. This is a dangerous condition because the extra fluid puts pressure on the brain and can cause brain damage.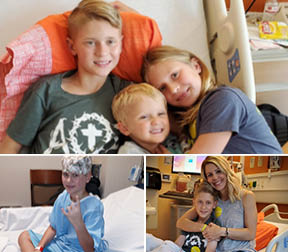 He was immediately admitted to the intensive care unit at the hospital in Fargo while doctors worked to figure out what was causing the excess fluid in his brain. A shunt was placed to help drain the fluid.
Landon was referred to a pediatric neurooncologist at Mayo Clinic in Rochester, Minn., where he was diagnosed with a grade three brain tumor on his brain stem.
This discovery was heart-breaking.
The tumor was inoperable because it was located on Landon's brain stem—an extremely delicate part of the brain that controls the messaging between the brain and the rest of the body. It also handles basic body functions, such as breathing, swallowing, heart rate, blood pressure and consciousness.
"We were told from the beginning that the prognosis was poor," Andrea, Landon's mom, said. "As parents, in just two months' time, we went from having a healthy child to a prognosis of one-two years. We were told surgery was not an option and radiation would be basically hitting the pause button to keep the tumor from growing. And, eventually, it would continue to grow again."
Andrea and Travis exhausted every option to find treatment for Landon, including relocating their entire family for five weeks at a time to Cincinnati, Ohio, so Landon could participate in two different experimental trials.
They had open and honest conversations with Landon about what was happening. Landon was not afraid of the end, and he helped give his parents the strength and resilience to travel the journey with him. Andrea said they coped with everything by following Landon's lead. He wasn't angry or resentful, so she felt they couldn't be either. "Landon taught people strength and how to handle adversity," she said.
"We went through a second trial in Cincinnati, and about three weeks into the trial, we knew it wasn't going to be effective because the tumor continued to grow," Travis explained. After conversations with Landon's doctors, it was clear that Landon's condition was not going to improve. "We knew when we were coming back from Cincinnati that things weren't going to get any better. Shortly after that, things went fast, and that is when we were hooked up with Hospice and started to get some in-home care," Travis said.
The couple is grateful Landon's health was sustained for most of that year-and-half, so they could focus on spending time together and making memories, including visiting Harry Potter World at Universal Studios as a family, going to the lake and more.
Home with Hospice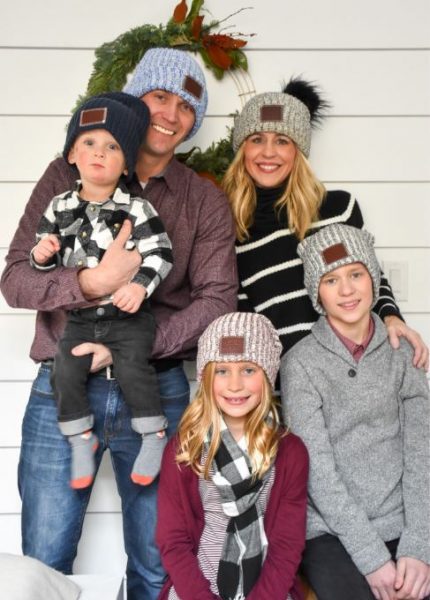 Home is the place where you can lay your worries down, rest your weary eyes and simply enjoy its comforts. It's also the place that wraps its walls around you like a warm hug, no matter the struggle. And, it's exactly where Landon and his family wanted to be, together, during this tender time.
"We all wanted to be home. That's where Landon wanted to be and finish his race," Andrea said. "To leave that hospital and know we had the care we needed in our home was good for all our hearts."
Hospice of the Red River Valley began caring for Landon in his home in August 2019. He had a dedicated team of Hospice professionals, including registered nurse, Carissa, and social worker, Kylie, who made regular visits to help with Landon's medical needs and help the family manage the emotional stress.
"Landon was a beautiful child inside and out. The love he radiated to others came back to him ten-fold as he was cared for in his home by those who loved him most," Carissa said. "It was an honor to support Andrea and Travis through this part of the journey with Landon."
Kylie was equally touched by Landon and his family. "Landon's life may have been brief, but it was so impactful, and his story continues to inspire people. It was such an honor to care for him and his family," Kylie said. "They showed us the true meaning of purpose, whole-hearted love, community and living each day to the fullest. The Solbergs' journey has provided a framework for everlasting hope."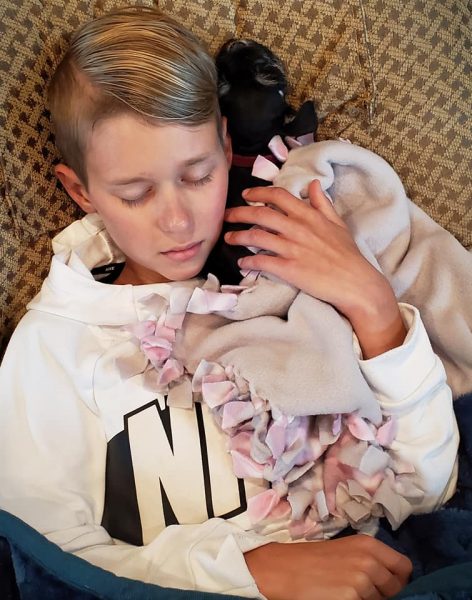 The sun cast rays of light through the large picture windows in the family's living room. In this room, at the center of the home, Landon spent much of his time while being cared for by Hospice. His siblings played near him, sometimes curling up in the bed with him. He spent his days snuggling their new puppy, surrounded by those he loved most.
"Everybody was so much more comfortable at home. It's a big deal especially as you grieve, and family comes to visit, you aren't cramped in a hospital room," Travis shared.
Andrea is a nurse practitioner, and it was important to her that she could provide many of Landon's basic daily cares. "I was pleasantly surprised at how much Hospice gives you the wheel and lets you decide how much you want to do for your loved one," she said. "They were very knowledgeable and explained many things to me along the way. They are not there to push medications but to guide you to make the decisions for your loved one. To be able to care for your loved one gives you purpose in the journey."
Landon was considered a pediatric hospice patient because of his age. With pediatric hospice care, you can receive concurrent care—meaning if you want to pursue different, aggressive treatments or trials, you're able to do so while simultaneously receiving hospice care. For Landon's parents, it was a comfort to know this was an option if something came up that could help Landon.
Andrea was also relieved to know she could count on Hospice staff to reassure her and be there for added support during the process. "Even though I work in the medical field, it's so different when it is your own child. I still had questions. Was he comfortable? Is what is happening normal? To have that validation from Hospice was so important because things are so foggy at the end," Andrea said. "Your mindset is not what's medically important for your child, instead you want to be there emotionally and physically every second that they are going to be left here on earth. To not have to be in that medical mindset was so helpful. I could just be his mom."
Friends and other family members stopped by to visit Landon, including his favorite neighborhood buddies. They rallied behind Landon celebrating every precious moment he had left.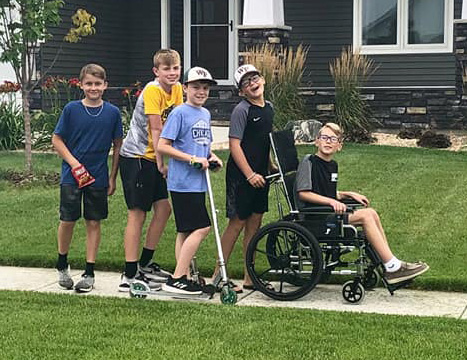 "I think it gave him a sense of peace. Having those people around you provide warmth, and I think Landon could feel it. He was nonverbal at the end, but he knew people were here and that was better than hearing beeps in the background from the hospital machines. So much more peaceful and relaxing at home," Travis shared.
Maintaining a person's dignity is foremost in hospice care, and Landon's parents appreciated the staff's respectful way with Landon.
"Even the times when he was nonverbal, they still would explain to Landon what they were doing to care for him. It makes you feel good because he could still hear what was going on," Andrea said.
Hospice helped the family manage the influx of visitors who wanted to spend time with Landon. "Everyone means well and wants to say their goodbyes, but sometimes you need time alone as a family. Hospice of the Red River Valley staff took on answering the door and monitoring visitors," Andrea said. "It's such a vulnerable time for families when saying goodbye to a loved one, and they handled it so gracefully and respectfully."
Near the end, Landon's family was by his side every second possible. But they were also tired and worn out, which made everything more difficult to manage. "We had Hospice of the Red River Valley come in two different nights, so we were able to rest our eyes and our bodies. Knowing we had a medical professional right there watching him and could wake us, if needed, was so comforting," Andrea said. "You don't feel alone during the process and could enjoy those moments when things were OK but knew they were only a phone call away, and we used that call a couple times for assurance."
Landon passed away peacefully in his home on Sept. 17, 2019.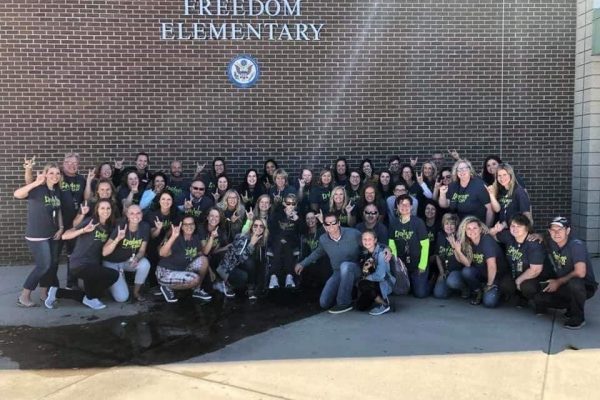 "I will never forget Landon's last breath and we could surround him and pray and let him know we were there. He was at peace and we were, too," Travis shared.
"After Landon took his last breath, Carissa stayed in the background and let us take our time to say goodbye," Andrea said. "We never felt rushed. But she stayed to give us guidance if we needed it. The fact that they give you the time to take care of your loved one is beautiful."
The Light Shines On
Landon's journey spread across the community and ignited hearts into action. Friends, family and complete strangers united behind the Solberg family. Many used their platforms in positive ways to increase awareness of pediatric cancer and to lift up the family. Landon became a beacon of hope and light, and a logo donning Landon's name, "Landon's Light," could be seen on T-shirts around the city and flooded social media.
"We are so fortunate to live in this community. You don't realize how much people are going to support you. It's been so uplifting," Travis said.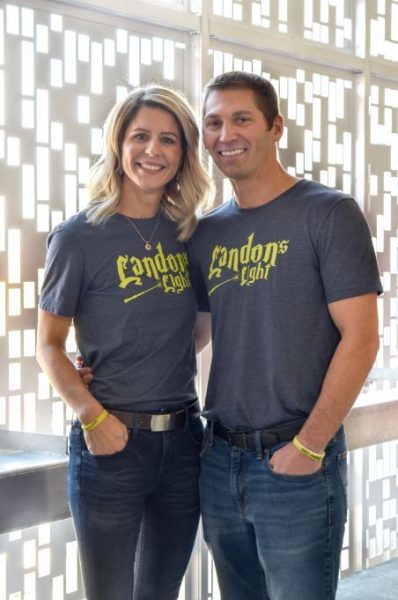 Travis and Andrea established the Landon's Light Foundation to honor Landon and spread kindness in his name. The Foundation's mission is to help other families who are experiencing a medical crisis by providing financial assistance and to inspire children to grow academically, in their faith, and through physical well-being. "We want to give back to other families and help them create memories when they are faced with a very rough time in their life—do something positive that brings them joy. It doesn't have to be a medical situation, we just want to help kids grow in general throughout the community," Travis said.
It's just as Landon would've wanted. He found the positive in everything.
"We talked a lot before he passed about what he would want us to do if we started a Foundation, and we are carrying out his wishes. We have so many great stories from his journey and a lot of miracles happened along the way, as well," Travis explained. "In reflection, there were so many things that we got to do that would not have happened if someone hadn't given us the opportunity. Now, we hope we can do the same and use our platform for other families."
Honoring Landon
The Solberg family remembers and honors Landon through the foundation that bears his name—in how they live and how they give. Having experienced tremendous heartache, they also share Landon's story to shine a light on the things that are difficult to talk about, such as end-of-life, hospice care and grief.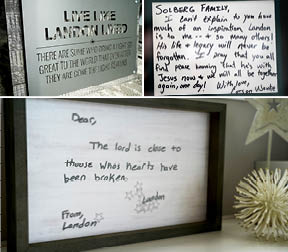 "Being on hospice care is not giving up; it's another type of care," Travis said. "We were living with Landon while on their care. It can be a long journey, and they provide you the help and allow you to be at home."
"Hospice of the Red River Valley is team-based care. There is an entire team that cares for your family through your entire journey—and just a phone call away. Everyone was so attentive. Having this resource in our community is wonderful. Hospice helped us to be the parents we needed to be," Andrea said.
And for that, the Solberg family is forever grateful.
Reminders of Landon adorn the Solberg home—each holding a special meaning. But his rich legacy lives on outside the walls of their home, too.
Landon Solberg, the boy whose light brightly shone, touched an entire community, region and far beyond. He radiated light, love and most of all, kindness.
About Hospice of the Red River Valley
In 1981, Hospice of the Red River Valley was founded on the belief that everyone deserves access to high-quality end-of-life care. We fulfill our nonprofit mission by providing medical, emotional, personal and spiritual care, as well as grief support to our patients, their families and caregivers during a tender time in life. Our staff helps those we serve experience more meaningful moments through exceptional hospice care, 24 hours a day, 365 days a year, wherever a patient calls home. The organization serves more than 40,000 square miles in North Dakota and Minnesota, including in and around Bismarck, Detroit Lakes, Devils Lake, Fargo, Fergus Falls, Grand Forks, Lisbon, Thief River Falls, Valley City and many more communities. Hospice of the Red River Valley offers round-the-clock availability via phone, prompt response times and same-day admissions, including evenings, weekends and holidays. Contact us anytime at 800-237-4629 or hrrv.org.