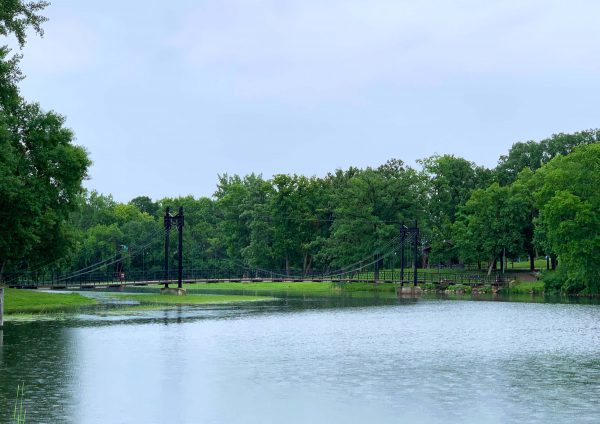 The view from Donovan (Don) Johnson's window at Pelican Valley Health Center overlooks a fishing pier and pond in the heart of downtown Pelican Rapids, Minn. Lily pads bob and pencil reeds ring the outer fringes of the pond, a scenic oasis of nature created by an iconic dam in the middle of the town of 2,500.
A statue of Pelican Pete, the world's largest pelican, stands proud over the dam as an everlasting symbol of carefree summer days.
The view is a reminder of Don's younger days as an avid outdoorsman, always active in nature. He grew up on a resort on nearby Lake Lida, where he enjoyed the sights and sounds of Minnesota lakes country and where he first learned to fish.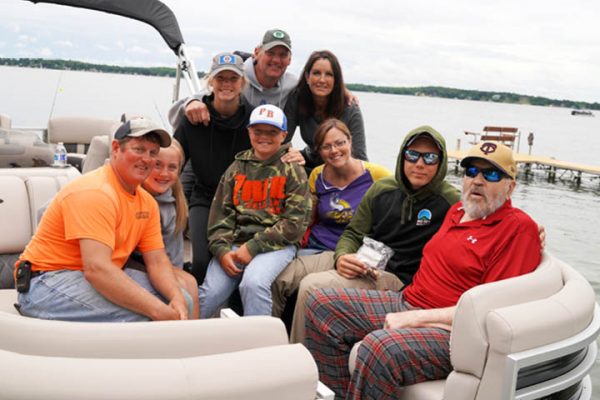 This area is forever etched in Don's heart for it holds a lifetime of memories with his family and friends. Now under the care of Hospice of the Red River Valley, Don wanted to cast his reel one more time in a specially arranged fishing trip—just for him and his family. This would be the perfect backdrop to create special memories with those he loves.
Much like Pelican Pete, Don is a fixture of the Pelican Rapids community. After retiring from dairy farming, he drove a bus for the Pelican Rapids School District. He became well-known by generations of students in and around Pelican Rapids as the friendly, familiar face of their childhood school days.
"Dad has always been the strongest person with the best disposition," shared Monica Kaiser, Don's daughter. These are traits that he is beloved for by his family and so many more. 
He enjoyed kids, and leaving the dairy farm gave him more time to spend with his own children and grandchildren. Don taught his kids by example. One day, he noticed kids in town playing basketball on hoops that were falling apart. He ordered new poles, nets and hoops that same day—without anyone's knowledge.
"He's been that guy who finds richness in life from what he could do for others," Monica said. "That's why it was cool to see people go out of their way for him to make a lake trip happen. He would have been the guy arranging it for someone else."
Years of Struggle Turn to Hope

Don has late-stage Parkinson's disease. He was diagnosed 12 years ago and has slowly lost the ability to control his body. Monica said it also has started affecting his mind, which has long-been able to recite every Minnesota Twins stat, player and game as if it was yesterday.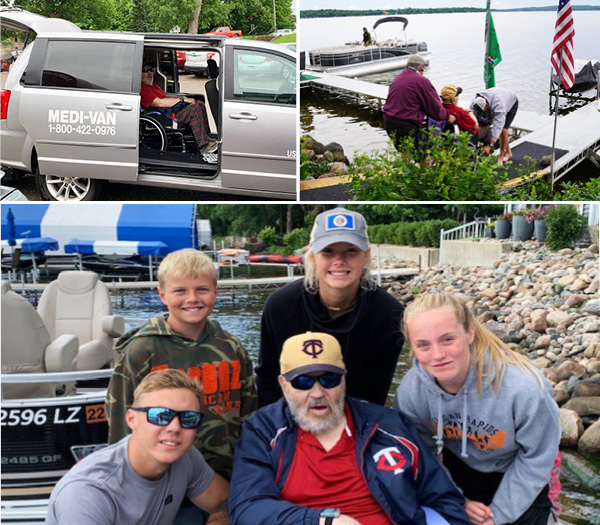 "We knew we needed help at this stage of dad's life in being able to give him proper care and comfort," Monica explained.
He's lived at Pelican Valley Health Center for two years with support from Hospice of the Red River Valley since June 2020. It was there Don first met Lois, a certified nursing assistant (CNA) with Hospice of the Red River Valley.
Lois provides personal cares for patients, but she emphasizes her goal is serving the whole person. "I listen, and I focus on the patient when I am with them," she said. "That's what it's about. I observe, and with that, I learn a lot about the person."
She learned at her first visit with Don that he simply wanted to go fishing again. Lois' initial plan was to coordinate a trip to the fishing pier on the pond outside Don's window. She brought up the idea with a member of Don's interdisciplinary hospice team, Kristi Ostlund, volunteer coordinator in Detroit Lakes, who in-turn talked with Monica.
A plan started to float to the surface. One that included a day-trip to nearby 4,000-acre Pelican Lake for another family fishing experience.
"We didn't think it could happen because to transfer dad is tough," Monica said. I thought it was a fun idea but not likely. Then Kristi kept pursuing it, and I jumped in to help, too. When Medi-Van said they could help, the family felt overwhelmed with emotion."
The Catch of a Lifetime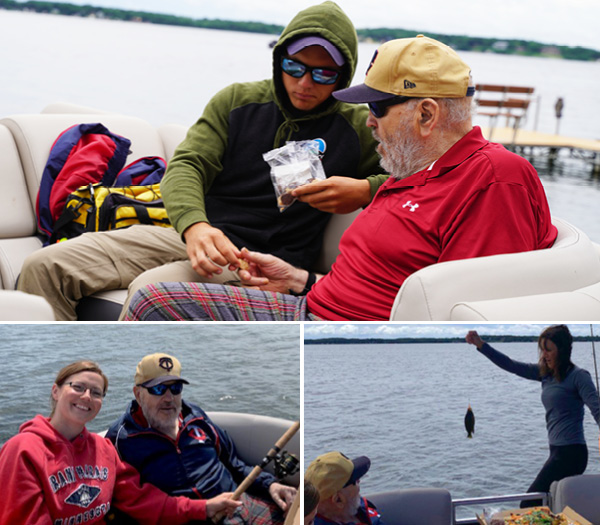 An overcast sky and light rain drizzled across lakes country the morning of the fishing trip. Several days of intermittent early July thunderstorms had finally started to wane.
The gloomy start to the day didn't dampen the family's spirits. The rain slowly cleared as Don and a caravan of family approached the lake's northern shores.
Upon arrival, they quickly whisked Don onto a waiting pontoon. His two daughters (and sons-in-law), all four grandchildren and Lois joined him. Monica's son, and Don's eldest grandchild, Mason patted his grandpa's back as the boat slowly backed away from the dock. He hadn't seen Don since September. Mason is based at the U.S. Army base in Ft. Bragg, N.C., where he chose to pursue a career in the military because of Grandpa Don's Army experience.
The sun broke through the clouds, adding a wonderful warmth as they motored to a secret fishing hole. Johnny Cash songs—Don's favorite—played through the speakers.
The entire family was finally able to be together again, enjoying one of Don's treasured pastimes. They shared memories and stories over a staple of Minnesota lakes country, Zorbaz pizza and nachos. Mason sat snug against Don and shared a package of candy, one of Don's favorites.
The experience immediately impacted Don. "The tremors in his hands and feet diminished considerably while on the pontoon ride," Lois said. "He was so relaxed and grinning and enjoying the time with his grandchildren and his girls."
They fished for nearly two hours.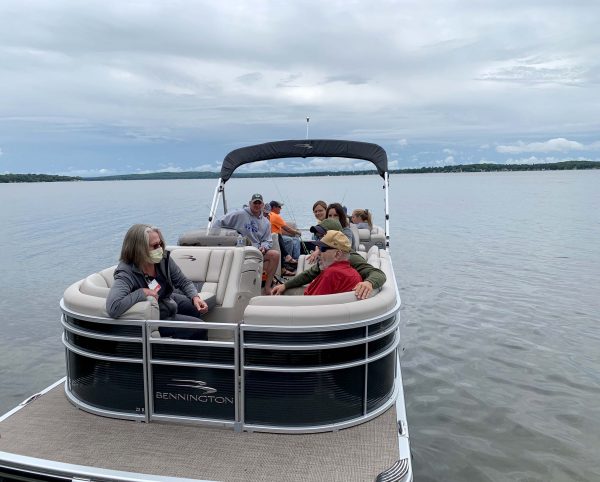 "There was a lot of love on that pontoon that day," Lois said.
Monica said the experience was a dream come true. "When you love somebody as much as we love him, the excitement is for him," she said. "This has been one of the most special days for all of us."
Monica's husband, Gary, observed and noted on the boat ride how well Lois knows Don. Lois visits Don up to three times per week.
"There is just a bond there, a sense of security and comfort level. It's a trust that you really can't put words to," Monica said.
After the fishing trip, Lois followed Don and the Medi-Van back to Pelican Rapids and got him situated comfortably back in his room. He fell asleep almost as his head touched the pillow. Don had expended all his energy in the fishing trip of a lifetime, making memories with his family.
Simply Being a Family
The trip is just one way Lois and the Hospice team is helping Don and his family.
Monica said Hospice has taken a load off the siblings. Hospice staff provides education and support to both siblings, so they understand what is happening and how they can best care for their dad.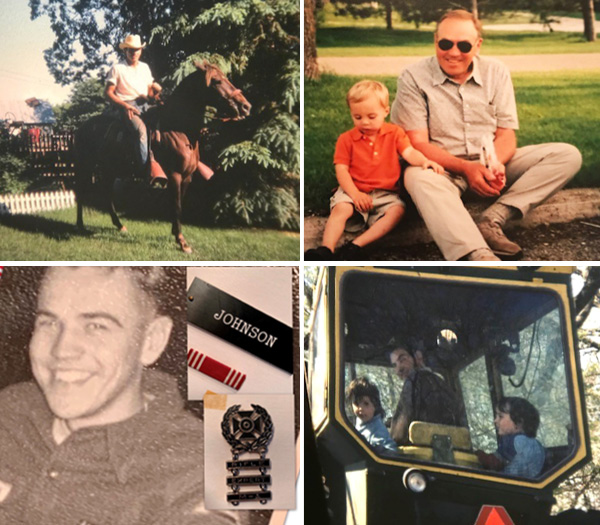 "Hospice helps us to be at our best. Hospice has expanded our time with dad and made it better. It allows you to get a break from being a caregiver," Monica said. "Right now, dad needs us to be his daughters, and we need that, too. They step in and take that role and allow us to be the family that we and dad need. We've been taken up in this beautiful blanket of care and expertise."
This time feels especially tender for Monica as she recalls how her dad lovingly raised them—always patient, always calm, always there for them. It's in this final season of her dad's life that Monica is grateful to return the same measure of care to him.
"Rather than the final days or perhaps hours of a person's life, Hospice has truly guided us to grow in the final chapter with all of their help," Monica said. "It's taken us from a time when we were prone to being weary, to a path that's lit and riddled with love, the best support, genuine understanding and guidance. It's taken our dad and grandpa from a place of suffering and struggling to a position of being nurtured and comforted emotionally, medically and spiritually. I guess I'd call the whole thing 'grace.'"
About Hospice of the Red River Valley
In 1981, Hospice of the Red River Valley was founded on the belief that everyone deserves access to high-quality end-of-life care. We fulfill our nonprofit mission by providing medical, emotional, personal and spiritual care, as well as grief support to our patients, their families and caregivers during a tender time in life. Our staff helps those we serve experience more meaningful moments through exceptional hospice care, 24 hours a day, 365 days a year, wherever a patient calls home. The organization serves more than 40,000 square miles in North Dakota and Minnesota, including in and around Bismarck, Detroit Lakes, Devils Lake, Fargo, Fergus Falls, Grand Forks, Lisbon, Thief River Falls, Valley City and many more communities. Hospice of the Red River Valley offers round-the-clock availability via phone, prompt response times and same-day admissions, including evenings, weekends and holidays. Contact us anytime at 800-237-4629 or hrrv.org.