Hospice of the Red River Valley certified nursing assistants (CNAs) work with patients to provide individualized care based on each person's preferences. Hospice CNAs help patients with personal care needs, including feeding, bathing assistance, shaving and nail care. They also provide light housekeeping services for individuals under our care. But perhaps the most important aspect of a hospice CNA's role is preserving the patient's dignity and respecting their wishes for personal cares, as the CNA often spends the most time with a patient while providing the most delicate of cares.
We spoke with Hospice of the Red River Valley CNA Angie Judd about the distinct role of a hospice CNA and her experience providing care and support to our patients and their families. Learn more about Angie's passionate to serve others.
What interested you in working at Hospice of the Red River Valley?
I've been a CNA for 21 years and have had a passion for end-of-life care my whole career. I've helped put together end-of-life programs in nursing homes and when I saw an opening at Hospice of the Red River Valley I applied.
I had always wanted to work for hospice and this past April marked four years with Hospice of the Red River Valley. I absolutely love it.
What interested you in end of life in general?
When I was six, my grandma died from cancer. I was hugging her when she took her last breath—I can still feel her taking her last breath. My other grandparents lived with us and I've always loved the elderly. My grandpa died one month after having a stroke. I saw him every day at the VA after work. I helped to take care of him. It's always been very important to me to make sure people are comfortable. I've had a passion for this work my whole life. I'm just trying to make a difference. This work is a big part of me and in my heart.
Describe what your role as a CNA entails.
I pamper people. I just love it and they know it. That's my job and that is why I like it. I treat everyone the way I want to be treated. I give them what they need—I help with exercises, bathing, going for a walk, mopping, dusting, vacuuming or simply visiting with them. I give lotion massages and make sure people are comfortable. To hear them say, "Oh that feels so good!" is wonderful. I usually see three to eight people a day depending on travel time. I'm the "runner" so I float between teams and travel a lot.
What do you like most about spending time with the patients?
I love hearing their stories. I really get to know my patients. Some patients I see five days a week for months. I become very close to the family, too. When they lose their loved one, they lose all of us at Hospice of the Red River Valley as well. It's difficult to lose some of those that you help to take care of for so long. All of our patients are sick and I know when they are gone they are in a better place. I truly believe that. Their pain and suffering is gone.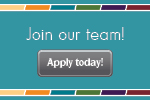 Why do you like working at Hospice of the Red River Valley?
The flexibility and variety is amazing. The benefits are fabulous, the bereavement leave is the best I've ever had. We're a family. I had just finished new employee orientation at Hospice of the Red River Valley when my dad passed away. Having just started, I didn't know what to do and if I could ask for time off and then I realized who I work for. I called my manager and she said, "You take the next week off and don't worry about it. If you need more time let me know." I would not have been able to do this in my old job. That's one of things I love about Hospice. They actually care about end of life.
I enjoy my job and don't feel like I'm coming to work. I look forward to each day and spending time with my patients. This is what I'm supposed to be doing.
What is the most rewarding part of your job?
I get to make a difference every day. It's rewarding to see the relief in family members' faces when we can give them a little break and take care of their loved ones. We help by letting them stop being the caregiver, even for a few minutes. They can run an errand while we are there or take a shower. They are so appreciative.
What do you wish people understood about hospice care?
We are there to help and you don't have to go through it alone. We all love our jobs, and we love to pamper our patients.