Caregiving is a labor of love, a commitment that's often 24 hours a day, 7 days a week—nights and weekends included. The responsibilities and constant demands of care, especially when caring for someone who is facing end of life, can take a toll on even the best and strongest caregivers. We often hear caregiver express, "I am so tired," or "I do not know how much longer I can do this."
Although the caregiver may genuinely want to continually give and do more, love alone cannot sustain a caregiver in their duties. Overlooking your self-care can lead to caregiver burnout and potentially illness. Taking time for yourself allows you to recharge emotionally, physically and mentally, so you have the energy and focus to take care of your loved one.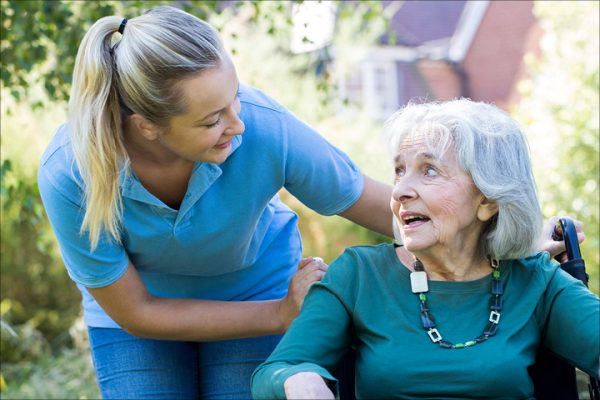 Support Through Respite
Caregivers can find support through respite care, which is a short break for the caregiver. Respite care serves as a lifeline for caregivers and provides an opportunity for caregivers to step away from the emotionally and physically challenging role of providing end-of-life care to a loved one. It can also provide a much-needed change in the day-to-day routine of the patient.
Respite allows the caregiver to run errands, take care of appointments or medical care, arrange a short out-of-town trip, participate in special events, like weddings, or simply have time to relax. The time taken can be an hour, a few hours or even a few days. It provides relief to the caregiver to do something they need or want to do or to have some relief from caregiving responsibilities.
There are some reasons caregivers may give pause to using respite care. They may feel guilty or like they are abandoning their loved one by taking a break. It's important to recognize it's normal to feel this way, but as the adage goes, "you cannot pour from an empty cup." There is support available.
A Caregiver Break
For more than six years, Bill Sunderlin provided loving care to Judy, his wife of 51 years, through her Alzheimer's disease. The couple had spent little time apart during their long and happy marriage. Five years into Judy's end-of-life journey, they called on Hospice of the Red River Valley for support.
"I didn't realize everything they provided. I just thought it was more of a final thing—like in the last few weeks of someone's life," Bill shared. "Come to find out, they were able to take care of her for a long time as her illness continued to progress. I knew Hospice would be there to help. It's meant a lot to me, and we really appreciated it."
Bill was especially thankful for the monthly respite services that Robyn Johnson, Hospice of the Red River Valley social worker, coordinated that allowed him to take care of his own appointments and have a few days to recharge so he could continue taking care of Judy. Five days of every month, Judy received respite care at a local skilled nursing facility. "We had been doing that for some time, and that gave me a chance to get some things done too," Bill said.
Being able to schedule respite services in advance even allowed Bill to attend a movie, baseball game or ride his bike every now and then. Caregiver burnout is something many caregivers face, so scheduling a monthly break for Bill to get his owns needs met was a part of the hospice plan of care. I was glad he was taking care of himself too because that's important," Robyn said.
Help with Hospice
Patients under the care of Hospice of the Red River Valley may use their Medicare benefit and, sometimes, private insurance for a respite stay every 30 days.
The stay is typically five nights, but the patient and family can choose to use less time, if desired. This break may, in some cases, be the difference between a patient remaining in his or her home or requiring long-term care placement.
While the patient is in respite care, their Hospice team will continue to visit him or her, and the patient returns home after the respite stay.
Depending on skill level, respite care providers can also help with companionship; assistance with bathing, feeding, dressing and other personal cares; music therapy; light housekeeping and more.
Caregivers may also have other family, friends or health care providers provide respite care for them in their private residence. No matter where you find support, it's so important that you find time to take care of yourself so you can keep showing up for your loved one. You are providing an incredible gift to your loved one who entrusts you with their care.
Learn more about how Hospice of the Red River Valley can help, contact us at (800) 237-4629 or visit our website: www.hrrv.org.
About Hospice of the Red River Valley
In 1981, Hospice of the Red River Valley was founded on the belief that everyone deserves access to high-quality end-of-life care. We fulfill our nonprofit mission by providing medical, emotional, personal and spiritual care, as well as grief support to our patients, their families and caregivers during a tender time in life. Our staff helps those we serve experience more meaningful moments through exceptional hospice care, 24 hours a day, 365 days a year, wherever a patient calls home. The organization serves more than 40,000 square miles in North Dakota and Minnesota, including in and around Bismarck, Detroit Lakes, Devils Lake, Fargo, Fergus Falls, Grand Forks, Lisbon, Thief River Falls, Valley City and many more communities. Hospice of the Red River Valley offers round-the-clock availability via phone, prompt response times and same-day admissions, including evenings, weekends and holidays. Contact us anytime at 800-237-4629 or hrrv.org.