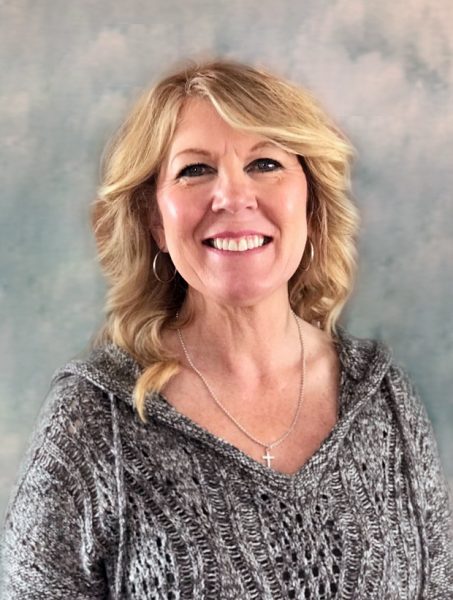 Fifteen years ago, Barb Bohm chose a lovely way to spend more time with her daughter while giving back through volunteering with Hospice of the Red River Valley. Since then, the pair has experienced priceless life lessons together.
"My daughter and I began volunteering together in 2003. At that time my daughter was 19, and I felt like we were drifting apart," Barb recalled. "I said to her one day, 'We should do something together that would be a good thing.' She was willing to give it a try." Barb's daughter was studying to be a nurse, so when they read in the newspaper that Hospice of the Red River Valley was looking for volunteers, they decided to take the training together. "That's how we got started," Barb explained.
The pair volunteered together for several years and made so many happy memories in doing so. Now Barb's daughter has kids of her own and it's become more challenging to find the time. Yet Barb continues her work, and eventually what began as an outlet to spend more time with her daughter blossomed into an entirely new skillset.
After several years of visiting with Hospice patients, Barb needed a break but didn't want to step away from volunteering with Hospice altogether. "My mom was getting older, and I felt I had to spend more time with her so I asked Nikki, my Hospice volunteer coordinator, to take me off the schedule for six months," Barb shared. "Nikki understood, and I kept going to the trainings Hospice provided when I was available. Then Nikki told me about the Celebration Bear [memory bear] program."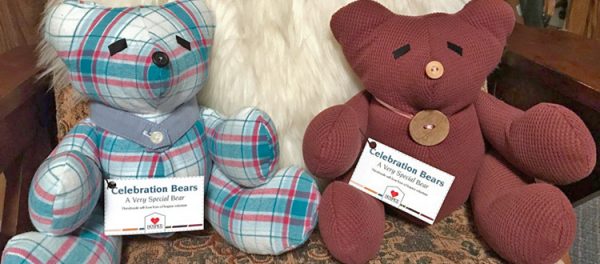 Nikki explained that Celebration Bears are special mementos sewn by Hospice volunteers. Family members of Hospice of the Red River Valley patients may request a bear to remember their loved one. Families will supply a favorite clothing item from the individual who passed away and in return they receive a handmade keepsake bear made from the fabric.
"Nikki asked me if I knew how to sew. I said, 'No, not really,' and she asked if I was willing to try. So I told her I would make one and send it to her and if she felt it was good enough, then I would do it. So I made one and prayed like crazy because I didn't know how to sew, but it turned out really, really cute!" Barb said.
After teaching herself how to sew and completing the first bear, Barb has since lovingly made 35 more Celebration Bears, for a total of 36.
"Making Celebration Bears is always really rewarding. You can't help but hold them for a little bit before you give them up. And the families are so grateful and can't believe someone would do that for them," Barb said. "They just have so much good to say about Hospice. The time they are going through is so real and very honest, and you get to comfort and help them. It's really beautiful."
Through volunteering with Hospice, Barb not only developed a new skill, but she also gained a new perspective on life and caring for others. "Volunteering for Hospice has provided me with a constant reminder that we all need each other through all different times, whether good or tough. People need love whether or not you know them. It doesn't matter," Barb said. "And Hospice is such a good organization."
"Volunteering with Hospice of the Red River Valley has been an experience I wasn't even planning on having. I didn't know it was going to be this wonderful or life changing. I am so much better off now than I was before volunteering," Barb said. "It has put everything in perspective. It's just so much better when you can put somebody else first. There is no room for self-centeredness. It's life changing, truly. I feel that about many service organizations. We need them all, and I feel lucky that this one happens to be mine."
Have you ever considered becoming a Hospice volunteer? Volunteers provide critical support for our day-to-day work while changing lives and truly making a difference in their communities. Whether spending time with patients, helping in the office or working at our thrift and gift store, volunteers are an essential part of the Hospice team. Learn more about these and the other volunteer roles at Hospice of the Red River Valley.
If you'd like to join the team, fill out our online application. Once your application is received, a volunteer coordinator will contact you to discuss the next steps. If you have questions, call (800) 237-4629 and ask to speak with a volunteer coordinator or send us a message. We look forward to meeting you!
About Hospice of the Red River Valley
In 1981, Hospice of the Red River Valley was founded on the belief that everyone deserves access to high-quality end-of-life care. We fulfill our nonprofit mission by providing medical, emotional, personal and spiritual care, as well as grief support to our patients, their families and caregivers during a tender time in life. Our staff helps those we serve experience more meaningful moments through exceptional hospice care, 24 hours a day, 365 days a year, wherever a patient calls home. The organization serves more than 40,000 square miles in North Dakota and Minnesota, including in and around Bismarck, Detroit Lakes, Devils Lake, Fargo, Fergus Falls, Grand Forks, Lisbon, Thief River Falls, Valley City and many more communities. Hospice of the Red River Valley offers round-the-clock availability via phone, prompt response times and same-day admissions, including evenings, weekends and holidays. Contact us anytime at 800-237-4629 or hrrv.org.