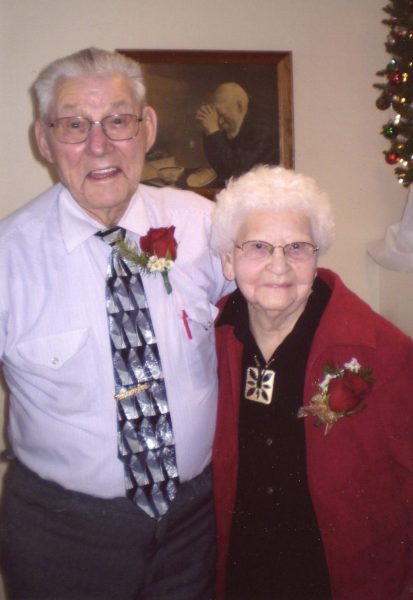 "The love they shared and demonstrated was unbelievably strong—a relationship many people had never witnessed."  
"We have talked, and we have prayed we will be able to leave this earth together."
Irvin and his wife of 69 years, Cora, shared this decision with their daughter, Pat, several times during the last months of their lives.
Irvin and Cora's love story began like many others. After meeting on a double date, they married on December 20, 1941 in Halstad, Minnesota. Together they raised two children, daughter Pat and son Jerry.
Pat remembers fondly how tight-knit and special her parents' relationship was, filled with love for one another, and for others. "My Dad often said, 'we've never known any strangers,'" recalls Pat with a smile. "Even at the age of 96, they were still adding new friends to their Christmas card list."
Irvin and Cora remained remarkably independent into the late years of their lives, which Pat attributes to the support they provided one another. "My parents did everything together—through times of good health and declining health," Pat says. "When one was not well, the other was able to provide the strength to keep them as independent as possible. "
Irvin's first hospitalization was at 85 years old; while Cora's first major health issue occurred at age 89. However, Cora and Irvin continued to live quite independently until the last two years of their lives, when more assistance became necessary. "Their caregivers often told me, 'you never have a bad day when caring for Cora and Irvin,'" remembers Pat. "The love they shared and demonstrated was unbelievably strong—a relationship many people had never witnessed."
In July 2010, Cora was hospitalized for a heart condition. Her physician was very direct, telling the family Cora's condition was irreversible.
"While we somewhat expected to hear our 95-year old mother was in a fragile state, hearing she had two months to live was a shock," recalls Pat. The physician recommended hospice care.
Cora began receiving care from Hospice of the Red River Valley. At the time, Cora and Irvin were living at a long-term care facility in West Fargo. The family was pleased to learn another move would not be necessary, and that Hospice provided care right where Cora and Irvin called home.
Still, the idea of losing their mother, and their father losing his wife of 69 years, was difficult for Pat and her brother. "We didn't know what or how to tell Dad," she remembers. "We appreciated the support and assistance Hospice provided to make the discussion easier for my Dad, and our entire family."
Pat fondly recalls the attentive care her mother received during her months on Hospice care. Irvin, in fact, was so pleased with the care Cora received from volunteers, CNAs, social workers, chaplain and nurse; he asked if he might receive the same attention.
Initially, Irvin didn't meet the medical guidelines for Hospice services, despite his age of 96. However, two months later a second evaluation confirmed his medical conditions made him eligible.
"He was so happy to be able to share the same caregivers with Mom," Pat remembers. "Now, through Hospice care, they were able to share the same experiences, just as they had throughout their lives together."
Despite her original prognosis, Cora surpassed her physician's expectations. "Even after eight months, there was no change in how Hospice caregivers responded to her needs," Pat says.
The last few weeks of her parents' lives Pat describes as a roller coaster, "One day Dad would be weaker and Mom would be stronger, and the next day or week the situation would be reversed."
Even during the chaotic final weeks of their lives, Pat cherished that her parents' continuum of care was never compromised, even when Cora's condition required a higher level of care with a nurse at the bedside 24 hours a day.
Pat recalls how supportive their nurse, Derek, was of her parents. "When it was evident Mom's journey was coming to an end, Derek explained to Dad what he could expect. He encouraged Dad to continue to talk to Mom and reach out to her as they had all their married life. When Derek asked Dad if he had any questions or concerns, Dad's comment was, 'I guess I will just have to hang on the best I can. I always thought I should go first.' Derek made Dad comfortable, so he could say what was on his mind in his own stoic, Norwegian way."
The last chapter of Irvin and Cora's 69-year love story closed on April 10, when Cora passed away with Irvin's hand on hers. Irvin closed his eyes as Cora took her last breath. "Dad did not respond when we told him Mom had passed. He never reopened his eyes, nor did he say another word," Pat remembers.
Irvin died just six days after his beloved wife, on April 16. As a way to commemorate their relationship, the family decided on a joint obituary and funeral for both Cora and Irvin. "After all, they did basically leave this earth together," Pat explains.
With the help of Hospice, Cora and Irvin's end-of-life journey allowed them to maintain their dignity in a peaceful and comfortable manner, never compromising their close relationship.
"Hospice was very supportive, kept us informed of the changes, and treated our thoughts and concerns with respect and reassurance of what to expect," Pat explains. "Most importantly, rather than centering our thoughts on only the dying process, Hospice was respectful of our request to concentrate on celebrating my parents' lives, and their love."
If you have questions about hospice care, please contact us at 800-237-4629 or questions@hrrv.org, or visit our website.
About Hospice of the Red River Valley
In 1981, Hospice of the Red River Valley was founded on the belief that everyone deserves access to high-quality end-of-life care. We fulfill our nonprofit mission by providing medical, emotional, personal and spiritual care, as well as grief support to our patients, their families and caregivers during a tender time in life. Our staff helps those we serve experience more meaningful moments through exceptional hospice care, 24 hours a day, 365 days a year, wherever a patient calls home. The organization serves more than 40,000 square miles in North Dakota and Minnesota, including in and around Bismarck, Detroit Lakes, Devils Lake, Fargo, Fergus Falls, Grand Forks, Lisbon, Thief River Falls, Valley City and many more communities. Hospice of the Red River Valley offers round-the-clock availability via phone, prompt response times and same-day admissions, including evenings, weekends and holidays. Contact us anytime at 800-237-4629 or hrrv.org.