Rebecca Wood, hair stylist and owner of a West Fargo salon and spa, has found the perfect way to blend her talents as a stylist with her love of volunteering. For the past year, Rebecca has visited the homes of Hospice of the Red River Valley patients to provide refreshing haircuts, and sometimes even a quick style. "Volunteering has always been a passion of mine. This experience has been nothing but positive, and I leave every single visit feeling like a changed person. It has absolutely changed my life—100%," Rebecca said.
During each visit, Rebecca forms a bond with the hospice patient—and caregiver—while fashioning the perfect haircut for each patient. Because every person is different and the reason for Rebecca's visit may vary, as well, she always begins by getting to know the patient and establishing rapport. "I start out in front of the patient just talking to them, trying to figure out why I am there to help," Rebecca shared. "I ask questions like, 'What is it you're looking for?' For some people, they want to feel like themselves again; 'I used to have my hair like this.' For other people, it's more like, 'This bothers me because my hair is in my eyes.' Everyone has a little bit different situation. I also always ask, 'What's your story? Tell me a little bit about you.'"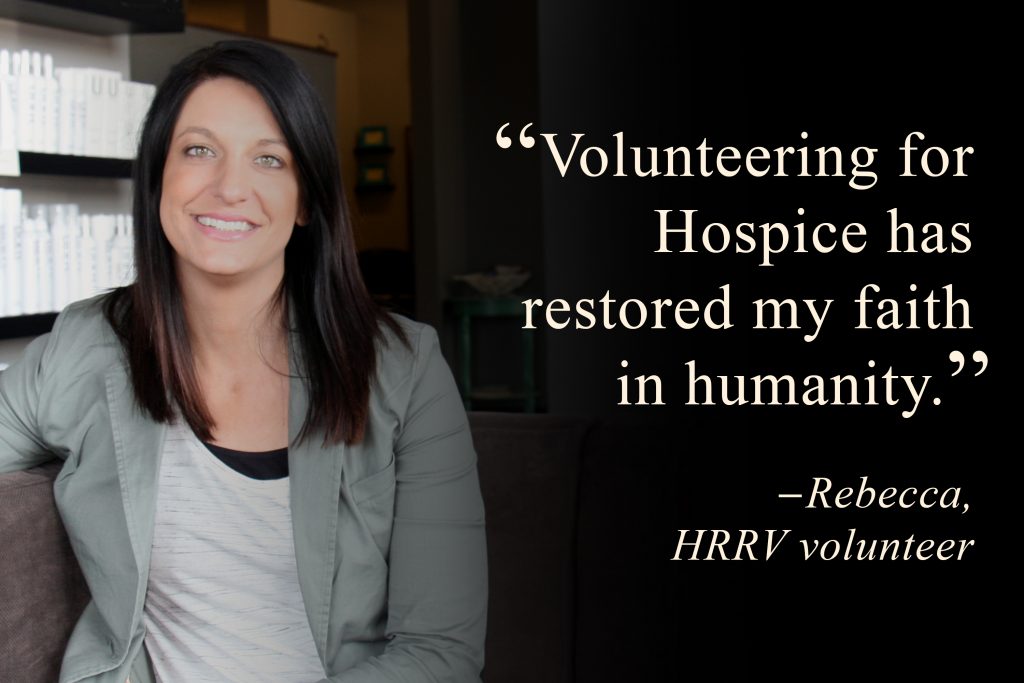 Rebecca's very first patient visit left a lasting impression on her. She says, "I was sold from then on." At that visit, the hospice patient was so thankful for what some people might take for granted—a simple haircut—without having to worry about how to get to and from a salon. "I remember feeling like I didn't want to leave. I could just stay there and visit. It was amazing," Rebecca explained. Before that interaction, Rebecca recalls being a bit nervous, intimidated and thinking what many people think about hospice—that it's somewhat scary. "I tell people, it's not a scary thing. It's not what you would expect; it's way more positive. I think the biggest misconception of hospice I had was that they are people who are very sad and desperate, in a bad, bad place. And that is not the case at all."
In Rebecca's line of work she has many positive experiences with clients, and although those experiences touch her heart, she says they don't compare to helping someone who is nearing the end of life. "You're going into a situation where a patient maybe doesn't feel like him or herself, and you're able to do something as simple as a haircut and watch them kind of become themselves again. I can't even articulate how that feels," Rebecca said with a smile. "An even bigger piece of that is when there is another family member or caregiver involved; it impacts them just as much, if not more, to see their loved one look like him or herself again."
As Rebecca continues to volunteer with Hospice, she knows she is creating lifelong memories and lessons she can pass along to her two daughters, ages 3 and 7. "I think it's important that they know I'm not choosing to spend time away from them because I don't want to be with them, but because I feel like this is important work, and I want to pass that down to them," Rebecca said. In fact, her oldest daughter came home from school the other day and said, 'I told my teacher that you volunteer for Hospice, and you give haircuts to people who are really sick. I'm really proud that you're my mom.' "To know that she 'gets it' and it's something bigger than us—that makes me feel like it's just another piece of the puzzle," Rebecca said. "You can tell your kids, but I believe that actions speak louder than words and to see their mom takes the time to do this, that is important."
As for the volunteer work, Rebecca says she can remember every single hospice patient in detail. She can recall the moment she walked in the door until she left. "Every single one of them has been impactful. I've said many times, if I could volunteer full-time for Hospice and that could be my job, I'd be happy," she shared. "Volunteering for Hospice has restored my faith in humanity. It has been so rewarding for me, and I've met some incredible people and had some unbelievable experiences, and it's something I don't ever see myself not doing."
[youtube http://www.youtube.com/watch?v=_ZD6Izl_c50]
About Hospice of the Red River Valley
In 1981, Hospice of the Red River Valley was founded on the belief that everyone deserves access to high-quality end-of-life care. We fulfill our nonprofit mission by providing medical, emotional, personal and spiritual care, as well as grief support to our patients, their families and caregivers during a tender time in life. Our staff helps those we serve experience more meaningful moments through exceptional hospice care, 24 hours a day, 365 days a year, wherever a patient calls home. The organization serves more than 40,000 square miles in North Dakota and Minnesota, including in and around Bismarck, Detroit Lakes, Devils Lake, Fargo, Fergus Falls, Grand Forks, Lisbon, Thief River Falls, Valley City and many more communities. Hospice of the Red River Valley offers round-the-clock availability via phone, prompt response times and same-day admissions, including evenings, weekends and holidays. Contact us anytime at 800-237-4629 or hrrv.org.