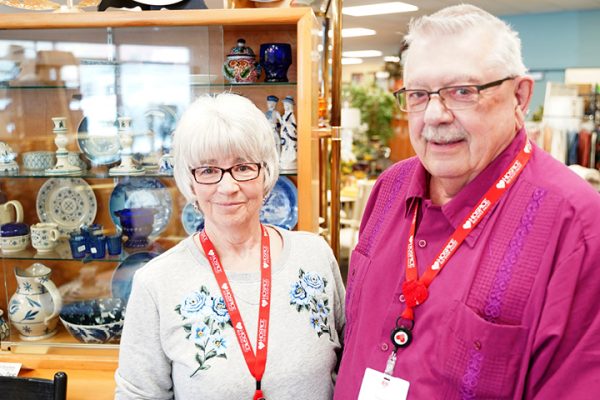 For siblings Dave Brunelle and Janet Cox, volunteering is a bit of a family affair. The brother and sister duo enjoy offering their time and talent while giving back to others.
Both share similar volunteer roles with Hospice of the Red River Valley and Heirlooms Thrift & Gift, a Fargo resale store benefitting Hospice.
The siblings are Fargo natives. Dave worked as a special education teacher in North Platte, Neb., for more than 30 years. He retired in June 2007 and returned to Fargo to be closer to family. He spent three months "doing nothing," he said.
But, Dave likes to keep busy, and the break from a regular work schedule allowed him to clear his mind and determine what he wanted to do next. He spent a few stints volunteering with organizations in the Fargo-Moorhead area. One day while shopping at Heirlooms he saw a sign looking for volunteers. He already shopped at the store regularly, so he filled out an application.
Dave volunteers at Heirlooms two afternoons per week, and soon after also began volunteering with Hospice of the Red River Valley. He enjoys the mix of old and new items—vintage furniture and toys, vinyl records and more. Some of the items he remembers from his youth.
He enjoys chatting with the customers who frequently stop by the store to see what is new. Many of them shop on the days Dave volunteers simply for a chance to visit.
"When people shop we visit about memories," Dave said. The fellowship he has fostered with other volunteers and customers is one of the reasons he continues to volunteer.
When Janet retired in April 2017 after a 28-year career with an insurance agency, Dave suggested she follow a similar path as he did. Take a few months off and figure out what she wants to do. In the end, he recruited her to join him at Hospice of the Red River Valley. They are now two of the more than 300 volunteers who serve a variety of roles with the organization.
The siblings had an uncle under the care of Hospice of the Red River Valley, so they were familiar with the organization's services and mission. It was an easy one for them to support.
Janet also volunteers in the back room at Heirlooms, sorting donations and preparing them for the sales floor.
The pair each volunteers one half-day per week at Hospice of the Red River Valley's Fargo office. They manage the front desk, helping with mail, data entry, the resource library and any other projects that arise. Volunteers contributed more than 4,000 hours of office help in 2018, making a significant impact in fulfilling the day-to-day needs of the organization.
"I am very glad I decided to volunteer at both places," Janet said. "Everyone there is so pleasant to work with and they are always letting you know how appreciative they are for what we do."
Dave shares Janet's thoughts. "Everyone I've worked with at the Hospice office and Heirlooms is so appreciative of what you do," he said. "They make me feel like I want to come back each time."
Dave and Janet look forward to the days they volunteer. They enjoy the conversations and relationships with fellow volunteers and customers—and above all, they enjoy giving back to others.
Dave urges others to volunteer. He suggests that potential volunteers visit with a Hospice volunteer coordinator to see what positions are available and the related responsibilities and expectations.
"Everyone has special talents and skills to share with others," he said.
About Hospice of the Red River Valley
In 1981, Hospice of the Red River Valley was founded on the belief that everyone deserves access to high-quality end-of-life care. We fulfill our nonprofit mission by providing medical, emotional, personal and spiritual care, as well as grief support to our patients, their families and caregivers during a tender time in life. Our staff helps those we serve experience more meaningful moments through exceptional hospice care, 24 hours a day, 365 days a year, wherever a patient calls home. The organization serves more than 40,000 square miles in North Dakota and Minnesota, including in and around Bismarck, Detroit Lakes, Devils Lake, Fargo, Fergus Falls, Grand Forks, Lisbon, Thief River Falls, Valley City and many more communities. Hospice of the Red River Valley offers round-the-clock availability via phone, prompt response times and same-day admissions, including evenings, weekends and holidays. Contact us anytime at 800-237-4629 or hrrv.org.