A father is often one's first source of strength, comfort, safety and stability for a daughter. The special bond formed between the two is unlike any other, and it's one which is seldom outgrown. As life evolves and transforms so does this type of relationship, and with age, many daughters find themselves serving in a similar role for their fathers as they once did for their daughters.
Brenda Giere, daughter of Terry Brunette, Hospice of the Red River Valley patient, always enjoyed a close relationship with her father. She fondly recalled one of her favorite memories of her father was their motorcycle rides around the block when she was a young child. "He had an eight-track player on his bike, and he would always let me be in charge of the music," she said.
Brenda shared countless stories of her father, who fully embraced life with a fun-loving, adventurous spirit. Perhaps most touching, Brenda credits her father as being a strong influential force that shaped her into the woman she is today.
But it wasn't until recently that Brenda experienced the true measure of unconditional love for her dad, as she helped care for him through a brain cancer diagnosis, and ultimately, his end-of-life journey. "Dad was always the tough one, and we kind of did a role reversal when he became sick," Brenda shared. "You don't realize what strength you have until you are needed at that time."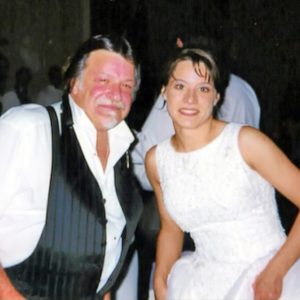 With Stepmom Diana at her side, Brenda advocated for her father's health care wishes through five brain surgeries, countless medical appointments, a stay in a palliative care unit and eventually hospice care.
Throughout the 18-month journey with his illness, Terry, Diana and Brenda kept an open dialogue about his health care choices, completed a medical directive, updated his will and made his final arrangements together.
When Terry's tenacity seemed to diminish after his final brain surgery, the family knew it was time to forgo any additional procedures and center their efforts on his quality of life and spending precious time together.
With the choice to focus on comfort, Terry and his family enlisted the help of Hospice of the Red River Valley to bring him home. "Being given the chance to bring Dad home with Hospice on our team allowed us to fulfill his final wishes and bring about a sense of closure for myself and for our family to know we did everything we could for him and then some," Brenda said. "You [Hospice staff] empowered us to have the courage to take care of Dad."
Brenda will never forget the care, compassion and empathy demonstrated by Hospice of the Red River Valley Registered Nurse Kirstin Hopkins. She truly believes Kirstin was instrumental in giving the family the knowledge and encouragement to effectively care for her beloved father.
"Even down to the way Kirstin carried herself and the softness of her voice, she was immensely calming and just brought so much compassion to the situation," Brenda explained. "She was a reassuring advocate for us, making us feel confident enough in our abilities to say we could do this. I felt like she and I truly had a connection."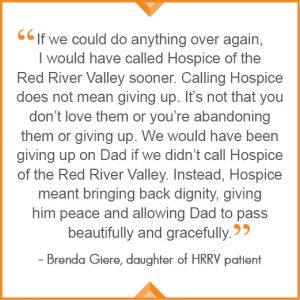 "I won't forget working with this family," Kirstin said. "It was my privilege to be there to support them and to help make bringing Terry home at end of his life a positive experience. Brenda and Diana embraced their roles as caregivers for him with such grace and love."
Even though Terry was on hospice care for only a brief time frame, those days were the most critical in ensuring his final wishes were honored.
"With Hospice, it's all about the patient. If we had any questions or concerns, Kirstin was there for us and never rushed anything. We asked her to go through stuff with us again, and she would write everything down. Knowledge was the comfort that we needed. It put things into perspective, and she had such a remarkable way of explaining things truthfully, yet compassionately," Brenda shared.
Additionally, the family was comforted by the special care the Hospice certified nursing assistants (CNAs) provided, as they took specific considerations in her father's personal cares, such as parting his hair the exact way he always had, using the same cologne and aftershave he wore and dressing him in his favorite comfy flannel pants.
Brenda said Hospice staff helped them be the best caregivers they could be. "My dad was a very neat and tidy person, and completely through the help of Hospice, we were able to provide that attention to detail for him," she said.
Terry died peacefully, surrounded by family, in his home in March 2017, and since his passing, Brenda has spent time reflecting on this experience. "In the end, we all came together, and we took care of Dad. I'm so proud of us. There would have been no way we could have done that without Hospice. You [Hospice staff] treated it as if it was your own situation or your own loved one. It took a not-so-perfect situation and made it the absolute best it could be. You just brought calmness to the situation we never would have had without you. That's definitely a big step in the healing process," Brenda said.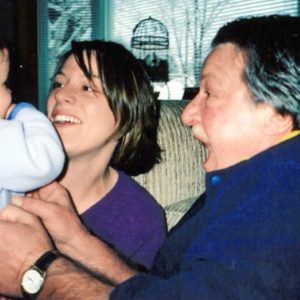 It's every parent's goal to raise strong, compassionate, caring children. Children often grow to emulate their parents. Brenda's desire to care for her dad is reflective of his love and care of her. She believes Hospice of the Red River Valley equipped her with the strength and skills necessary to care for her father, just as he had done for her.
"I just can't stress enough to people who are going through this with their family members how important it is to make that call to Hospice of the Red River Valley. Because you don't realize how important it is until you're walking through it," Brenda said. "If we could do anything over again, I would have called Hospice of the Red River Valley sooner."
"Calling Hospice does not mean giving up. It's not that you don't love them or you're abandoning them or giving up. We would have been giving up on Dad if we didn't call Hospice of the Red River Valley. Instead, Hospice meant bringing back dignity, giving him peace and allowing Dad to pass beautifully and gracefully. Calling Hospice is something you should do in advance, so you can get organized and have the best time with your loved one until the very end."
About Hospice of the Red River Valley
In 1981, Hospice of the Red River Valley was founded on the belief that everyone deserves access to high-quality end-of-life care. We fulfill our nonprofit mission by providing medical, emotional, personal and spiritual care, as well as grief support to our patients, their families and caregivers during a tender time in life. Our staff helps those we serve experience more meaningful moments through exceptional hospice care, 24 hours a day, 365 days a year, wherever a patient calls home. The organization serves more than 40,000 square miles in North Dakota and Minnesota, including in and around Bismarck, Detroit Lakes, Devils Lake, Fargo, Fergus Falls, Grand Forks, Lisbon, Thief River Falls, Valley City and many more communities. Hospice of the Red River Valley offers round-the-clock availability via phone, prompt response times and same-day admissions, including evenings, weekends and holidays. Contact us anytime at 800-237-4629 or hrrv.org.