by Janel Ruby, LBSW
Is there a "normal" way to feel grief?
Grief is a normal, natural part of the human experience. Every person grieves a loss in their lifetime—whether it's a loss through death or a loss of a relationship, a job, sense of normalcy or some other facet important to the person. Understanding how grief can affect us and being aware of the commonalities in all our grief experiences can help us cope in more practical, less isolating ways.
Grieving is not a linear process, and the grief journey can be filled with peaks and valleys. Grief can impact people emotionally, physically, cognitively, behaviorally and spiritually. It can also challenge a person's belief system. It's normal to go through a range of reactions with varying intensity.
While everyone responds to grief in different ways, it's helpful to know there are many common grief reactions.
Common grief responses may include:
Behavioral: Forgetfulness, avoidance of people or situations, increase or decrease in activity, loss of interest in work or social activities
Physical: Sighing, fatigue or exhaustion, hollow feeling in stomach, sobbing, change in appetite, headache, sleeping more/less or experiencing interrupted sleep
Cognitive: Difficulty concentrating or making decisions, confusion, increase or decrease in dreams
Emotional: Anger, sadness, mood swings, guilt, relief, loneliness, numbness, fear, helplessness, longing/yearning for loved one
Spiritual: Loss or strengthening of faith, need to find meaning in the loss, asking "why" questions, anger at God or other religious figures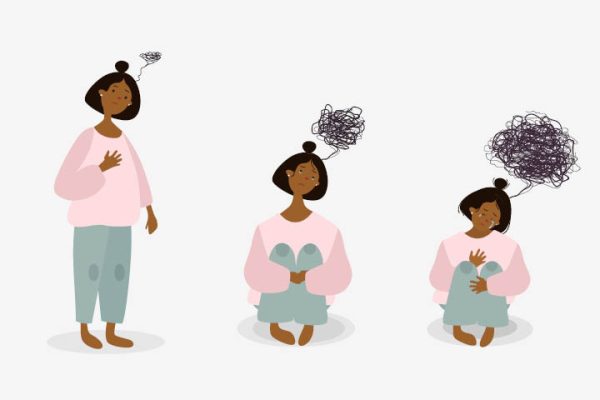 Grief can be painful and overwhelming; the experience can also feel frightening and worrisome.
Mourning is the process involved in how you adapt to the loss and your grief reactions. Many bereaved describe this experience as a roller coaster ride with a lot of ups and downs and twists and turns.
Grief is a unique experience. Everyone will have different reactions and journeys when navigating and living with grief.  Some factors that can affect how you deal with grief are your relationship to the person who died, belief systems, circumstances of the death, your own personal coping skills and the resources available to you.  Working through grief involves accepting the loss, experiencing the pain of that loss, adjusting to life without your loved one and creating a different connection or relationship with the person who has died.
Here are six helpful activities to do while grieving a loss:
Reach out to your support system. Stay connected with your family, friends, faith community, social group or therapist. It's important to look at all the support systems in your life and stay open to new systems that might not have been in your life before the loss. Talking regularly about grief and sharing your feelings and memories with people you trust can be helpful in coping with your grief.
Join a support group. You may not feel ready to join a support group immediately, but over time, you may be open to it and find that sharing your experience with others can offer comfort. You might also learn from others in the groups—sharing coping mechanisms and talking through the difficulties of grief could help you in your own grieving process.
Take care of yourself. Get a good night's rest, 7-9 hours of sleep. Take care of your nutritional health by eating healthy balanced meals and drinking plenty of water.
Be patient with yourself. You can't rush grief. It's going to take as long as it needs to settle. Try not to be too critical of yourself. The grieving process is normal and personal—and you will grieve in your own way and that's OK. Treat yourself with the same gentle care and kindness that you would offer to a friend going through a similar situation.
Practice self-care. Some techniques that can help include journaling, meditation, daily affirmations, creating a list of things for which you are grateful. You can also try learning a new skill or expressing yourself creatively through a hands-on approach (sewing, woodworking, knitting or other crafts).
Get moving. Be active and participate in your favorite physical activities. You can try yoga, golf, pickle ball, jogging or biking. Yardwork and gardening are also great ways to stay active. Spend some time outdoors by going for walks or jogs. You can even just sit outside to enjoy the sunshine and fresh air.
There are many resources available to help you through your grief. Hospice of the Red River Valley offers an extensive grief support program—not only to family members of the individuals who were cared for by the organization—but also for community members.
The grief support team at Hospice of the Red River Valley offers free grief support to individuals and families moving through the grief process by providing support groups, education and training, and individual grief support for community members. The services extend to providing guidance to schools and workplaces, as well. Anyone may attend a grief support group or class regardless of whether or not your loved one was served by Hospice of the Red River Valley.
For more information about how we can help, email grief@hrrv.org or call (800) 237-4629 and ask to speak to someone in the grief support department.
Janel Ruby, LBSW, is a grief specialist with Hospice of the Red River Valley.
About Hospice of the Red River Valley
In 1981, Hospice of the Red River Valley was founded on the belief that everyone deserves access to high-quality end-of-life care. We fulfill our nonprofit mission by providing medical, emotional, personal and spiritual care, as well as grief support to our patients, their families and caregivers during a tender time in life. Our staff helps those we serve experience more meaningful moments through exceptional hospice care, 24 hours a day, 365 days a year, wherever a patient calls home. The organization serves more than 40,000 square miles in North Dakota and Minnesota, including in and around Bismarck, Detroit Lakes, Devils Lake, Fargo, Fergus Falls, Grand Forks, Lisbon, Thief River Falls, Valley City and many more communities. Hospice of the Red River Valley offers round-the-clock availability via phone, prompt response times and same-day admissions, including evenings, weekends and holidays. Contact us anytime at 800-237-4629 or hrrv.org.