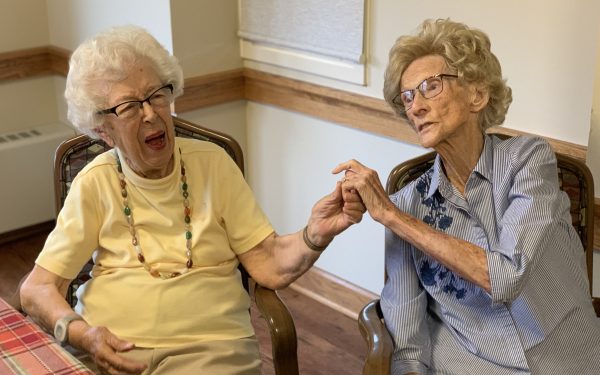 Interconnected and stitched like the perfectly placed patterns of a handmade quilt, the friendship of Lois Wisted, 100, and Charlotte Hoeglund, 99, has stood the test of time. They met by happenstance, but they intentionally kept in touch throughout the past seven decades, sharing many treasured memories.
Their lives have taken them throughout the world, often living and working in separate states, but they always kept in touch. Now both are living in the same community and receiving care from Hospice of the Red River Valley.
They are finding comfort and enjoyment in simply spending time together as they share their final journey.
A Special Day Creates Friendship
Lois and Charlotte met in their 20s in Washington, D.C., when Lois married Arland Wisted, a family friend of Charlotte's. Lois and Arland were both originally from Minnesota, and since Charlotte was living in D.C., she was able to attend their wedding in 1944.
From that special day, a beautiful friendship blossomed between Lois and Charlotte, even as their lives took them on different paths. "We kept in touch all the time," Charlotte shared. "I have been at every single one of Lois's special anniversaries: 25, 50, 60 and 70."
The Pursuit of Happiness
Lois and Charlotte lived through The Great Depression. The trials and tribulations during that time shaped each woman and fueled their pursuit of happiness, which brought them to our nation's capital.
Lois worked as a secretary at the Pentagon looking into information about prisoners of war (POWs). After they married, she and Arland moved to Baltimore where he was stationed with the military. His military career ended up taking him throughout the world, during which time Lois gave birth to their first child, a daughter Mary. Lois moved in with her parents on the family farm in Minnesota while Arland was overseas.
After Arland completed his military deployment, the couple made their home in Detroit Lakes, Minn., and had two more children, a son David, and a daughter Carolyn.
Charlotte lived in Washington, D.C., for more than 30 years. She worked for the federal government in the legal division of the Department of Housing and Urban Renewal for 20 years before making the move to the private sector, working 13 years for the former general counsel of the Department of Housing.
She never married or had children, instead opting to experience adventure through her love of travel. "In 1958, I spent three months in Europe, two months touring around and one month with my sister who worked at the United States Embassy in Bonn, Germany," Charlotte said. "I've been to Europe, Scandinavia, Spain, Portugal, Australia, New Zealand, China and made 10 trips to Hawaii where my sister lived."
Charlotte retired in 1982 and moved back to her hometown of Detroit Lakes four years later. "I really got to know Lois when I moved back to Detroit Lakes," Charlotte said.
A Mutual Love
Once both women were settled in Detroit Lakes, they discovered a mutual love for quilting. The pair often worked together; denim quilts were Charlotte's specialty. The denim squares were laid out just right, creating a beautiful blue patchwork. Charlotte meticulously stitched the blocks together into a pattern, while Lois worked on selecting the backing for the quilts. Lois always carried her good sense of humor into her quilting. "If I didn't like the way Charlotte did her quilt blocks, I would change them after she went to coffee," Lois recalled with a giggle.
With each stitch, the two bonded. Putting together a quilt is much like nurturing a relationship. Each requires hard work, attention to detail and an incredible amount of love. Lois and Charlotte credit quilting for helping them grow closer through the years. Charlotte maintained the hobby as recently as last year when she made her final quilt, an extra-long denim quilt for Lois's great grandson. "I was still quilting at 99 years old," Charlotte said. It wasn't easy for either of the women to give up the hobby, but they are content in knowing their efforts helped people in need.
They donated most of their quilts to charities, such as the local crisis center and food bank, Lutheran World Relief and Hospice of the Red River Valley.
Sharing Their Final Chapter
It's only fitting now that Hospice of the Red River Valley, an organization that benefitted from their good works, can care for the lifelong friends as they enjoy their final chapter together.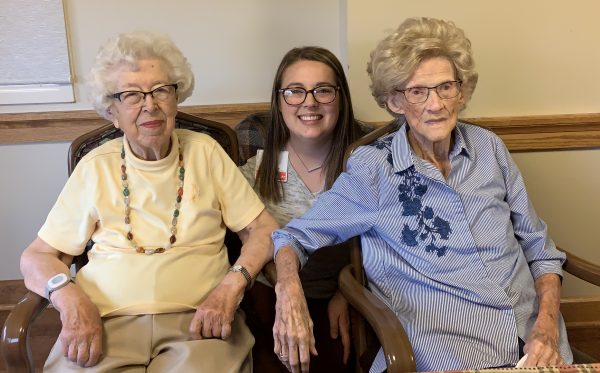 Lois and Charlotte appreciate the care they have been shown by their Hospice of the Red River Valley care teams, including visits by their social worker, Lisa Stroschein. "Lisa has been very helpful and has helped me get answers to all of my questions. She's helped me with figuring out what's next," Charlotte said. "Hospice gives you that extra layer of support. It's so comforting to have the personal interaction with Hospice."
Lois echoes Charlotte's sentiments, "I feel well taken care of. It's nice to have someone check up on you other than family," she said. Charlotte also appreciates being on the receiving end of a handmade quilt by a Hospice volunteer. "Hospice gave me the most beautiful quilt that I now have on the end of my bed," she shared.
Lisa has been a social worker with Hospice of the Red River Valley for three years and really enjoys building relationships with her patients and their families through visits and conversation.
"I am in awe of Lois and Charlotte," Lisa said. "They've persevered their friendship through so many obstacles, and yet, both women are so strong and are positive about their trials and tribulations."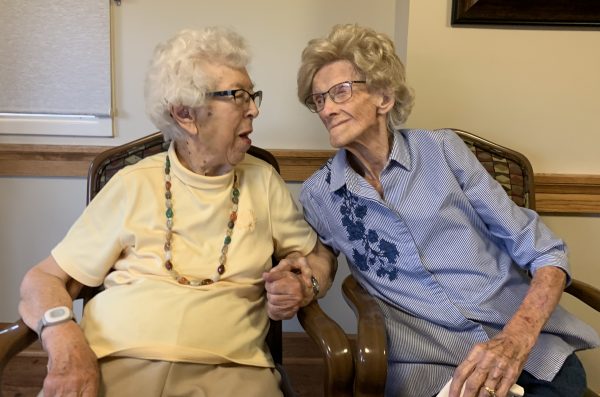 With the added layer of support by Hospice, Lois and Charlotte can focus on enjoying more moments together, like watching their beloved Minnesota Twins on TV, attending chapel together and recalling stories of their enduring friendship.
Charlotte interlocks her arm with Lois's arm. "We're buddies, aren't we," Charlotte said to her dear friend. Lois agrees with a smile.
About Hospice of the Red River Valley
In 1981, Hospice of the Red River Valley was founded on the belief that everyone deserves access to high-quality end-of-life care. We fulfill our nonprofit mission by providing medical, emotional, personal and spiritual care, as well as grief support to our patients, their families and caregivers during a tender time in life. Our staff helps those we serve experience more meaningful moments through exceptional hospice care, 24 hours a day, 365 days a year, wherever a patient calls home. The organization serves more than 40,000 square miles in North Dakota and Minnesota, including in and around Bismarck, Detroit Lakes, Devils Lake, Fargo, Fergus Falls, Grand Forks, Lisbon, Thief River Falls, Valley City and many more communities. Hospice of the Red River Valley offers round-the-clock availability via phone, prompt response times and same-day admissions, including evenings, weekends and holidays. Contact us anytime at 800-237-4629 or hrrv.org.