A family stitched together with love seldom unravels. – Letty Cottin Pogrebin
A living room is transformed into a bustling sewing room. There sit neatly folded fabrics of all sizes and colors, partially completed quilts and other hopeful patterns and plans. The room now whirrs with the comforting hum of sewing machines and the snip of fabric scissors. Day one of Mary Sluke's Sewing Marathon fills the space with activity and life.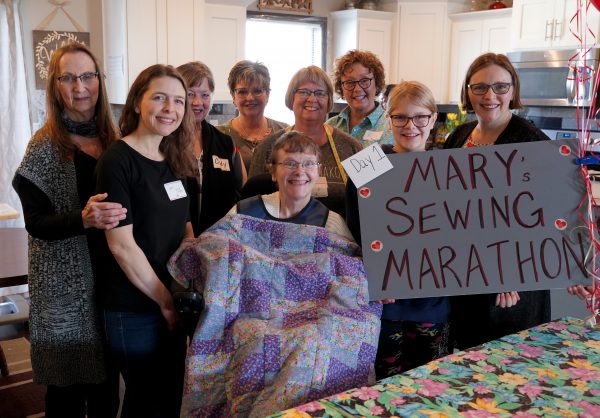 Mary's own sewing machine, once a source of creativity and tranquility, hasn't seen much use in the past several months. She has always been a seamstress and creator. The many fabrics stored in her sewing room had been carefully selected, each with a purpose and project in mind. Today, five hospice volunteers become fast friends with Mary through a shared passion of sewing. The volunteers help Mary, now under the care of Hospice of the Red River Valley, complete several quilts and other projects that are dear to her heart.
A Family Affair
For nearly six years, Mary has been living with Multiple System Atrophy—an incurable, progressive nervous system disorder that affects movement. When Mary's symptoms first became noticeable, she was unsteady, dropped things easily, felt dizzy and fell more easily. Eventually, her favorite pastime, sewing, became impossible.
"I think around seven years is the prognosis for the condition," shared Mary's husband, David. "She lost her balance first, and now has trouble talking."
As the disease progressed and her symptoms worsened, Mary became completely reliant on the help of others. "It was becoming hard for us to do everything," David said.
The couple realized they needed extra support to ensure Mary could stay home, where she is most comfortable and where her some of grandkids live nearby. In August 2019, they welcomed Hospice of the Red River Valley into their home.
The perfectly placed squares in Mary's quilts tell a story—each hand-selected because of their special meaning. The quilts are made with the same fabrics and patterns as the handmade dresses Mary sewed for her granddaughters when they were little.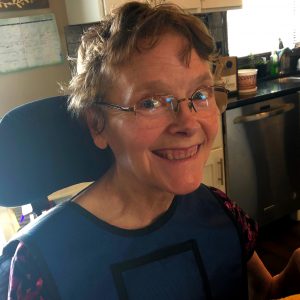 Family has always been so important to the Slukes. And, as Mary nears the end of her life, her three adult daughters, Kari, Jen and Lori have joined their dad in providing care for their mother.
When David and Mary moved from Grafton to Fargo, daughter Lori found them a house near her own so she could be nearby to help as a caregiver as her mom's health needs changed. Kari and Jen both live in the Pacific Northwest. Kari, along with her children, moved across country into Mary and David's home to tend to Mary's everyday needs. When Kari returns back west, Jen comes with her two children to stay at the couple's home. While just a few blocks away, Lori continues to stop in frequently to provide support. It's a family affair, and Mary wouldn't have it any other way than the busy house, full of life.
"In some ways this has been so rewarding," David explained. "Our daughters are here because they want to be here not because they have to be here. Kari moved from Seattle specifically to help care for her mother. The grandkids are near. One day, one of the grandkids gave Mary a hug and said, 'I love you' and then the next grandkid did the same. We are so grateful."
With the addition of Hospice, a full team of professionals focus on Mary, and help David and their daughters with caregiving. Mary receives regular visits from a registered nurse, certified nursing assistant (CNA), social worker and chaplain. This assistance from Hospice staff allows the family to spend quality time together and take care of other needs.
Every morning, CNA Alissah helps Mary bathe and complete other personal cares. David described Alyssa and the other hospice staff as caring, loving, professional and great to work with. "Alissah is amazing. We joke around. Her mood, happiness and love of life is so beneficial to all of us," David explained.
Mary loves being at home, especially when the grandkids come over, running and dancing around her.
"The entire family has dedicated themselves to loving Mary, making her laugh and keeping her at home. That is the only thing that she wants," Cathy, the family's hospice social worker, said. "They take our recommendations so eagerly to make sure Mary's has quality of life. They are the family embodiment of 'it takes a village.'"
David believes Hospice has helped him and his daughters right along with Mary. "They have taught me to take care of myself so I can be better prepared to take care of Mary."
Sewing Marathon
As a hospice social worker, Cathy helps Mary and the entire family with the emotional complexities of end of life. Mary shared with Cathy that she would love to see her sewing projects completed. A family member had suggested that she could donate her fabric and supplies, but that thought was unbearable. She wanted, somehow, to finish the projects she had started. "Mary has made quilts for many people and dress clothes for her grandkids," David said. It was important to Mary that she saw the projects through to completion.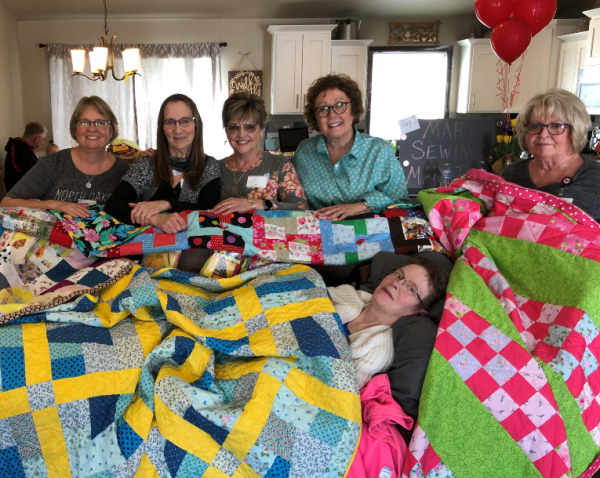 Hospice volunteer, Kay Heuer, had already been coming every Thursday to help with sewing and finishing up quilts for Mary, but with many projects yet to complete Cathy had more helping hands in mind. With the family's permission, Cathy planned a two-day sewing marathon and recruited eight sewing volunteers who eagerly agreed to carry out Mary's vision for her beloved materials. In addition to Mary's daughters and granddaughters, sewers from the Red River Quilters/Quilts of Valor in Abercrombie, Richland Our Saviors Parish of Walcott and Colfax communities, Eagle Valley Free Church in Christine and Kindred Lutheran Church joined the sewing marathon.
"It has been a real privilege to meet Mary and her family. Mary is a remarkable woman and a real joy to be around. She doesn't complain, and she's just happy to see everybody," Kay said. "It's been very uplifting to help her with something on her bucket list. The whole experience has made me feel really good."
In two days, they completed six quilts, two of which had been previously started by Mary's cousin Barb, a member of the Red River Quilters, and Kay. Volunteers also sewed together two quilt tops with the pattern design created by Mary's granddaughters Sonja and Emma. Having caught the "sewing bug," Sonja also sewed a quilt top that she designed. Mary's daughters and granddaughters plan to finish those three quilts together. The Red River Quilters Group made and signed a quilted prayer block for Mary to hold and remind her of the special days and those who are praying for her.
Mary loved the hustle and bustle of everyone being together. This experience filled Mary with contentment, peace and fulfillment knowing she could see her projects come to life. For Mary, the quilts are more than just fabric. They hold years of meaning and memories, and a lifelong passion. Her quilts, made with love, are a lasting keepsake and embodiment of her spirit—a source of comfort and joy.
A Lifelong Caregiver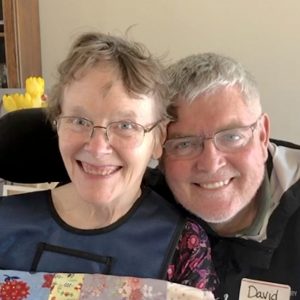 David describes his wife of nearly 43 years as always being the helper. "Mary made everything possible for our family. She took care of everything. I am realizing how fortunate we have been," David shared. "Even now, she's always thinking of us." And, in return, David is thankful for his family and the help of Hospice.
"I told Cathy that without Hospice and our family helping her, Mary would probably not be here today. They [Hospice staff] have become a part of our family. I had thought hospice was only for when people were ready to kick the bucket, and that is not the case," David said. "They are fun, caring and loving. Everyone is sincere and they make everything so much better. Everyone has a smile, they care, and you can tell they love their jobs. You can't fake that."
Despite illness, Mary takes each day in turn with a good attitude and a smile—something you can't help but do when you look at her beautiful patchwork. "It's what I love most about Mary. She could be grumpy instead of smiling at everything. The way she handles all of it is amazing," David said.
About Hospice of the Red River Valley
In 1981, Hospice of the Red River Valley was founded on the belief that everyone deserves access to high-quality end-of-life care. We fulfill our nonprofit mission by providing medical, emotional, personal and spiritual care, as well as grief support to our patients, their families and caregivers during a tender time in life. Our staff helps those we serve experience more meaningful moments through exceptional hospice care, 24 hours a day, 365 days a year, wherever a patient calls home. The organization serves more than 40,000 square miles in North Dakota and Minnesota, including in and around Bismarck, Detroit Lakes, Devils Lake, Fargo, Fergus Falls, Grand Forks, Lisbon, Thief River Falls, Valley City and many more communities. Hospice of the Red River Valley offers round-the-clock availability via phone, prompt response times and same-day admissions, including evenings, weekends and holidays. Contact us anytime at 800-237-4629 or hrrv.org.