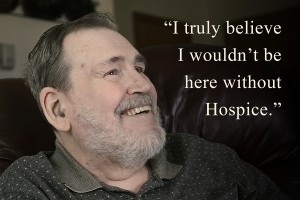 For 365 days, Duane, Hospice of the Red River Valley patient, has received hospice care in his home, with his beloved wife, JoAnn, by his side. Each day is an adventure that Duane has met with true grit, gratitude and a little humor.
A year ago, Duane left the hospital for the last time with a three-week prognosis. His persistent heart issues led to a pattern of hospital stays, a string of discharges, ambulance rides and numerous re-admissions. "When they told me I only had three weeks left, I was out of this world," Duane described. "At the hospital, they told me I wouldn't return home, and that was hard."
After these experiences and the prognosis of three weeks to live, Duane told his family, "No more," and he called Hospice of the Red River Valley. "I was looking for some help, and Hospice provided it," Duane said. "I didn't want my family to have to worry about me, especially my wife."
With such a short amount of time left, Duane was determined to get all his personal affairs in order, including finances and insurance. "I drove my daughter nuts to get everything done," he said. "I even sent her to the funeral home to make arrangements."
Robyn, Hospice of the Red River Valley social worker, helped Duane appoint his daughter as power of attorney. Robyn also assisted the couple in creating living wills, which was a pleasant surprise for Duane. "I didn't know Hospice could help with so many things," he said. "It was such a relief, and now, I feel good knowing that everything is taken care of."
In addition to helping with his personal affairs, Hospice staff worked immediately to simplify Duane's medications. "I'm happy to say I'm off most of the medications I was taking before I was on hospice," Duane explained. "Every week Hospice comes in to take a look at my meds. It is a great, great feeling knowing a nurse is going to check in with us."
Duane is most grateful for the attentive care provided by his hospice certified nursing assistant (CNA), Jerry. "When Jerry started coming to the house, I started receiving showers consistently and more trips to the bathroom, but most importantly, he helped me regain my strength," Duane said. "We've walked up and down these halls, many times." With each careful stride of the 162-step journey, Duane and Jerry grow closer, talking about movies, their mutual affinity for John Wayne and life.
"It's been a great relationship with Jerry; we've had a lot of good times," Duane explained. "He's been as nice to me as any person can be. There's a lot of bologna passed between us." "I think that has added a lot to my recovery, because I don't even think about my heart problems when we're visiting," he said.
Jerry has developed a mutual fondness for Duane, as well. "I look forward to seeing him," Jerry said. "He's a great guy with a zest for life and a good attitude, no matter what he faces." "I think Duane is a hospice success story because he's chosen to utilize all of the services hospice can offer to him."
Hospice of the Red River Valley Nurse Practitioner Michelle echoes Jerry's feelings. "Duane is such a delight," she said. "I think his embrace of hospice care has contributed to how well he's done under our care. He's really taking full advantage of everything hospice care offers. A lot of people don't have the chance to celebrate a one-year anniversary on hospice care."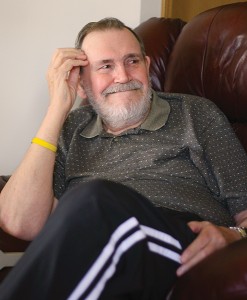 This past year has also offered Duane more moments to celebrate with his family—his 80th birthday, another Thanksgiving, Christmas and his 57th wedding anniversary. He doesn't take this time on hospice care lightly, or what it's meant to him. "I'm alive, and I truly believe I wouldn't be here without Hospice," he said. "Hospice takes care of you spiritually, medically and also offers friendship. It makes a difference when you've got somebody who cares; that does something for your heart."
Despite outliving his original prognosis, Duane's health continues to slowly decline, which makes him still eligible for hospice care. A member of Hospice's medical team must regularly visit Duane to re-certify that he still meets the medical guidelines for care.
"Everyone who has come to our home from Hospice—Jerry, Robyn, Michelle, Tom—has a genuine interest in helping me; I appreciate that," Duane shared. "I can't emphasize what I think about hospice enough. I don't care what anyone else says. My experience with hospice has been great."
About Hospice of the Red River Valley
In 1981, Hospice of the Red River Valley was founded on the belief that everyone deserves access to high-quality end-of-life care. We fulfill our nonprofit mission by providing medical, emotional, personal and spiritual care, as well as grief support to our patients, their families and caregivers during a tender time in life. Our staff helps those we serve experience more meaningful moments through exceptional hospice care, 24 hours a day, 365 days a year, wherever a patient calls home. The organization serves more than 40,000 square miles in North Dakota and Minnesota, including in and around Bismarck, Detroit Lakes, Devils Lake, Fargo, Fergus Falls, Grand Forks, Lisbon, Thief River Falls, Valley City and many more communities. Hospice of the Red River Valley offers round-the-clock availability via phone, prompt response times and same-day admissions, including evenings, weekends and holidays. Contact us anytime at 800-237-4629 or hrrv.org.