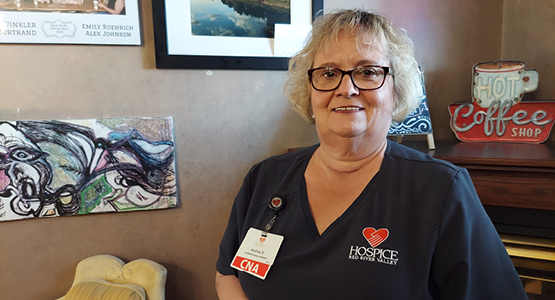 Andrea Brend has worked in the service of others for decades—first for 32 years alongside an eye doctor, then at Luther Memorial Home, and since 2016 at Hospice of the Red River Valley. She describes her work as her calling. Andrea's friends describe her as the most loving, caring, gifted person they know, and add, "She's a blessing to everyone she cares for."
In her role at Hospice of the Red River Valley, trust and dignity are at the forefront. Hospice of the Red River Valley certified nursing assistants (CNAs) work with patients to provide individualized care tailored to each person's preferences.
Hospice CNAs help patients with personal care needs, including assistance with bathing, shaving, nail care and eating. They also provide light housekeeping for individuals under our care. But perhaps the most important aspect of a hospice CNA's role is preserving the person's dignity and respecting their wishes, as the CNA often spends the most time with a patient while providing the most delicate of cares.
In celebration of National Certified Nursing Assistant Week, June 17-24, we spoke with Andrea about her role as a hospice CNA and her experience providing care and support to our patients and their families in Mayville, N.D., and the surrounding communities. Learn more about Andrea's passion for caring for others.
How did you come to hospice care?
About six years ago one of my best friends had lung cancer and it had already metastasized to her brain. She asked me me to be her medical power of attorney. I went with her to her appointments to help her decide what to do. Her doctor encouraged her to try treatments for the brain cancer, and she agreed.
She had six treatments, and we had another visit, and she realized that the brain cancer was probably going to be her relief when she died and the lung cancer would be more of a struggle. The cancer was right in the center of her brain which is where the brain "shuts things off." She quit treatments and she had a slow fade. She was still herself and she could live how she wanted.
One day she and I were talking and she told me, 'This is your calling.' I applied at Hospice of the Red River Valley, and I didn't even get an interview! I thought it wasn't meant to be. Then about a year later they called me; they had kept my resume and asked if I was still interested. The timing was better. The past year had allowed me to heal.
Where did you grow up?
I grew up in Portland, N.D., married a farmer and move in down the street from my parents.
How do you describe what you do in Hospice?
I try to make what time a person has left in life better. When I go see a patient, I tell them, 'Today is about you, so you tell me what you want to do today.' I don't push them to do anything. I try to make the care I provide as comfortable as possible.
An important part of this job is to observe and let people make their own route. Don't try to make it for them. Let the patient tell you what they want. If they don't want to shave today, they don't have to. Many of the simple things in life that we take for granted are the most rewarding and comforting. Simply washing someone's face can make their day, or brushing their teeth. We forget how good it feels, but it can change someone's whole day.
We fit into our patient's environment and world; they don't have to adjust to fit with us. We don't take anything away from them, we add to their life.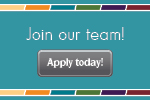 In what ways do you see yourself making a difference in Hospice?
I like this work so much, and I want others to have the experience I have had. I tell people who are new at Hospice of the Red River Valley to do what your heart tells you. Don't hurry. Focus your attention on your patients. Treat them with dignity.
What is the most rewarding part of your job?
It's so rewarding when I see families and patients trust us. And I love seeing families come together to care for one another. We get to give caregivers a break while we are caring for their loved one. That's the part I think people don't realize we do.
What is the most surprising to you about Hospice?
The area we cover! I'm amazed at the miles we cover to reach our patients. In a week's time I probably put on 300 miles and could easily put on many more. Each day, I see around 7-8 people, and I get to spend 50 minutes with each person of dedicated time.
Is Hospice care different than what you anticipated?
It's better. I anticipated it would be good but it's much better. The staff I work with are so kind. My coworkers always want to hear from me. We have a great team.
What continues to make you come to work every day?
My patients. They need me no matter where they reside. When they pass away, I am sad, and I hope we have done the best we can for them, and we made their lives better. I believe this work is a calling.
What do you wish people understood about Hospice?
I want people to know that it's not all about drugs. People get worried about getting addicted to morphine. Some people believe we're just going to drug patients until the end. We don't. We are focused on providing comfort, and there's a place for responsible use of medications.
Can you share an impactful experience with a family?
The families I "click with" always come to mind. We develop such a special relationship when they trust in me and I in them.
One of my patients was a 100-year-old woman who graduated from hospice care. Can you imagine! She was so proud of herself, yet sad to graduate from care.
What brings you joy?
My job brings me joy—doing the best I can for people. It's not draining work, it's rewarding to know you make a difference for someone. I love my job and I love my team. I'm so glad to be able to see my patients.
Has your work in hospice care made an impression on your kids and family?
Yes, it has. They have a different perspective on not just living, but living well. It's also resulted in my husband and I making some decisions in advance that we may not have thought about—making our own decisions so someone else doesn't have to do it for us. And our kids know what we want, and it's in writing.
Finish this sentence: Hospice is _____.
My heart. It's what I believe in and what end-of-life should be.
About Hospice of the Red River Valley
In 1981, Hospice of the Red River Valley was founded on the belief that everyone deserves access to high-quality end-of-life care. We fulfill our nonprofit mission by providing medical, emotional, personal and spiritual care, as well as grief support to our patients, their families and caregivers during a tender time in life. Our staff helps those we serve experience more meaningful moments through exceptional hospice care, 24 hours a day, 365 days a year, wherever a patient calls home. The organization serves more than 40,000 square miles in North Dakota and Minnesota, including in and around Bismarck, Detroit Lakes, Devils Lake, Fargo, Fergus Falls, Grand Forks, Lisbon, Thief River Falls, Valley City and many more communities. Hospice of the Red River Valley offers round-the-clock availability via phone, prompt response times and same-day admissions, including evenings, weekends and holidays. Contact us anytime at 800-237-4629 or hrrv.org.