by Chelsey Pollert, RN
Hospice care helps people live well during life's final months with intensive, comfort-focused care. It includes pain and symptom management, medication and equipment needs, emotional and spiritual support, as well as grief support for families.
The Hospice team consists of a medical director, nurse practitioner, registered nurse (RN), chaplain, social worker, a certified nurse assistant (CNA), grief specialist, as well as volunteers for additional support. Hospice of the Red River Valley also offers an after-hours team, staff members specially trained to help patients and families for needs that may arise during nights and weekends. The entire Hospice team cares for patients and their caregivers and family using specialized skills, compassion and sensitivity.
The Hospice team comes to you, wherever you call home. That could be a single-family home, apartment, hotel, skilled nursing facility and more—anywhere you call home.
There four levels of hospice care:
Routine Home Care
Continuous Home Care
General In-patient Care
Respite Care
Routine Home Care
Routine Home Care takes place in a patient's home and involves the Hospice team visiting their residence on a routine or planned visit basis.
This level of care is similar to scheduled visits with a primary provider at the clinic, but it is available 24/7 in the person's own home. This schedule is flexible and changes based on an individual's needs. An RN schedules a visit at least once per week, or more depending on every person's unique needs.
Routine Home Care may also include using our dedicated after-hour team for emergent needs, increased symptoms management or a crisis.
Continuous Home Care
If symptoms become difficult to manage and the patient requires frequent evaluations and assessments from their nurses or doctor, they have access to Continuous Home Care.
Symptoms that may trigger Continuous Home Care include:
Sudden deterioration requiring intensive nursing interventions
Uncontrolled pain, nausea or vomiting requiring concentrated nursing support
Respiratory distress requiring aggressive assessment and medication management
Uncontrolled restlessness, agitation or delirium needing continuous skilled nursing assessments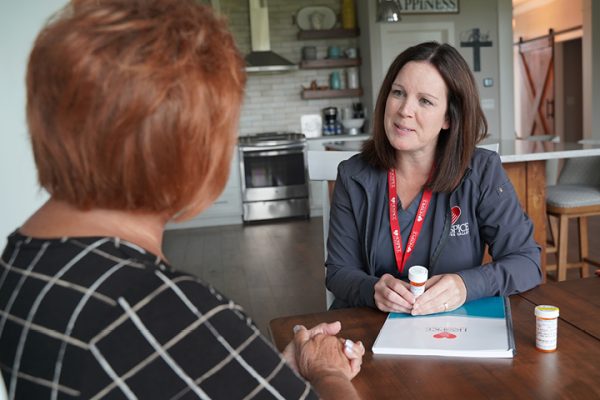 Continuous Home Care is meant for the time frame when symptoms are being actively controlled by onsite hospice staff. This includes frequent assessments by the Hospice nurse, a minimum of every hour, but it can be more often based on the person's needs and symptoms. A variety of interventions may take place, including consultations with the medical director, medication changes, the use of medical equipment incorporated and more. Continuous Home Care also includes a monitoring period after the interventions take place to make sure the measures were successful in getting the patient comfortable at home. While under this level of care, a dedicated hospice nurse or CNA is present at the bedside in the patient's home as often as possible to make sure symptoms and needs are met and managed.
The goal of this level of care is to get a patient back to their baseline wellbeing by actively solving emergent issues.
After it is determined that current interventions are successful, the patient returns to Routine Home Care services. If the interventions were not successful in the home a hospital or hospice house admission may be needed. 
General Inpatient Care
General Inpatient Care (GIP) is available when symptoms cannot be managed at the patient's bedside at home, and short-term hospital placement is required. The goal is to stabilize symptoms and make sure the patient is comfortable before returning home.  
During this level of care Hospice of the Red River Valley staff supports the hospital team by providing active, hands-on care during portions of the hospital stay. Hospice staff will not remain in the room with the patient 24/7 as they did at home; rather, they will continue to be available to the patient, family and hospital staff as needs arise. Once the patient is comfortable and ready to return home, they will be discharged with a detailed care plan to make sure their symptoms are managed without the need for hospital staff and resources.
Respite Care
While the other levels of hospice care are directly for the patients' benefit, Respite Care is designed for caregivers. Being a caregiver is a labor of love, but it's also full-time, challenging commitment. Respite allows caregivers to take a break, so they don't get burned out and can continue to care for the patient through their end-of-life journey. Caregivers can use Respite Care for personal appointments or chores, or traveling, attending family weddings or funerals, or to simply rest and recharge themselves.
During respite, the patient is admitted into a Medicare-certified skilled facility for five days. This temporary move allows the patient to continue to receive around-the-clock care and attention from staff, so their full needs are met. The Hospice team helps with the transfer and admission to the facility and continues to provide care and visits to the patient while in the facility.
You can be admitted to hospice at any level of care, depending on what is necessary at that time, and you can transfer between levels of care as the progression of your illness changes. The Hospice team monitors each patient to determine if they require a different level of care.
Hospice care is about helping people live comfortably and with a sense of normalcy, at all levels of care, regardless of their terminal illness.
If you're living with a life-limiting illness, Hospice of the Red River Valley can help. Contact us to learn more or call (800) 237-4629. We'll visit with you at a time convenient for you. If hospice care is right for you, we will do the follow-up work, including contacting your doctor, starting the necessary paperwork and arranging a visit with a hospice nurse.
Chelsey Pollert is a registered nurse and clinical education coordinator with Hospice of the Red River Valley.
About Hospice of the Red River Valley
In 1981, Hospice of the Red River Valley was founded on the belief that everyone deserves access to high-quality end-of-life care. We fulfill our nonprofit mission by providing medical, emotional, personal and spiritual care, as well as grief support to our patients, their families and caregivers during a tender time in life. Our staff helps those we serve experience more meaningful moments through exceptional hospice care, 24 hours a day, 365 days a year, wherever a patient calls home. The organization serves more than 40,000 square miles in North Dakota and Minnesota, including in and around Bismarck, Detroit Lakes, Devils Lake, Fargo, Fergus Falls, Grand Forks, Lisbon, Thief River Falls, Valley City and many more communities. Hospice of the Red River Valley offers round-the-clock availability via phone, prompt response times and same-day admissions, including evenings, weekends and holidays. Contact us anytime at 800-237-4629 or hrrv.org.