A great teacher takes a hand, opens a mind and touches a heart.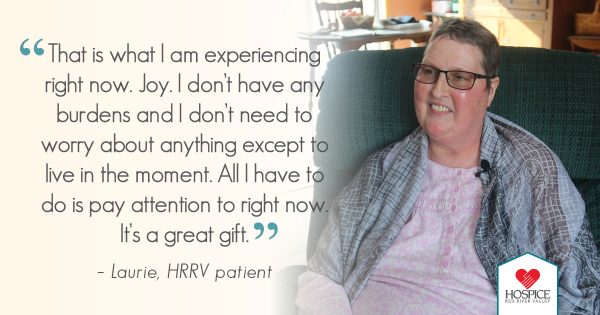 Laurie Meyer-Olson is a teacher. Her mannerisms, eye contact and authoritative yet comforting voice commands attention in the way one would expect from someone who has spent a lifetime instructing others.
It's a voice whose carefully measured responses shaped the futures of countless schoolchildren in her 30-plus-year career as an early intervention teacher.
A voice that has imparted her faith on friends and strangers.
A voice that passes on the traditions and knowledge to the next generations of her family.
"I often underestimated my ability to make a difference," Laurie said of her life. She doesn't now.
Presently, Laurie doesn't refer to it as teaching; instead, she calls it "finding her voice." She's using her voice to express a valuable lesson—how to have a meaningful end-of-life journey with the support of Hospice of the Red River Valley.
A Need for Hospice
Not long ago, Laurie used the 16-mile commute from her rural Becker County home to "prepare for chaos" in her role as a special education teacher in Detroit Lakes, Minn. The children she worked with had special needs. She would often be welcomed into families' homes to help children learn and reach goals identified by their parents.
"It certainly had its challenges, but I always found it to be my calling," Laurie said.
But in fall 2017, her health started to unravel. A diagnosis of endometrial cancer was followed by surgery and aggressive chemotherapy and radiation.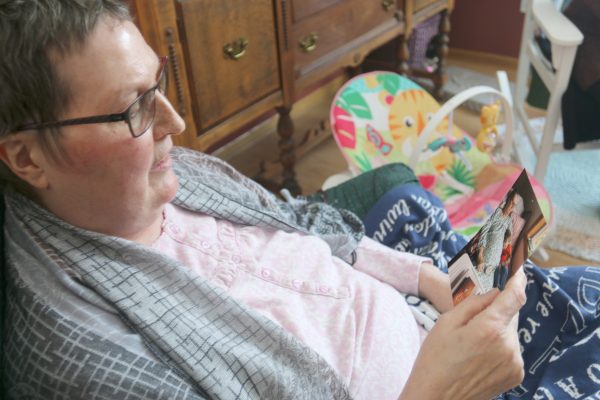 "At the very beginning of being diagnosed, I spent a lot of time being mad because I was quite sure I was doing good work and I didn't have time to deal with this cancer," Laurie said. "It was very demanding of my time. Even though I had points where I was able to return to work, the cancer dictated my life."
Months later, Laurie was diagnosed with breast cancer. Each of six chemotherapy treatments left her with successively longer bouts of vomiting and extreme fatigue. Radiation treatments also had side effects. In August 2018, Laurie collapsed from a blood clot in her lung.
"Being sick was becoming my new normal," Laurie said.
In September, Laurie and her husband met with her oncologist to review the results of a PET scan. "I had already told my husband that if it came back that I wasn't going to sign up for the treatment that was supposed to be making me better," she said. Cancer had spread throughout her abdomen. "I did everything I could, but it did not improve the quality of my life for me to go to any extreme measures of treatment."
Laurie was ready to begin her end-of-life journey. Laurie knew of hospice care. She heard positive stories from a Bible study friend who also was a hospice nurse. This familiarity made her decision to contact Hospice of the Red River Valley easier.
Now Laurie is the one welcoming a team of caregivers into her home. Free from grueling cancer treatments and its demanding tolls, hospice professionals are helping Laurie set and achieve her own, new goals— decluttering her home, making memories with grandchildren and simply living in the moment.
Support and Comfort
A string of aprons hang along Laurie's kitchen wall. Some are handed down from past generations. Others she simply likes.
A cookbook sits on the center of her dining room table. The pages are open to a lefse recipe. Laurie plans on boiling potatoes this afternoon. Russets, with their lower moisture content, are the key, she says. Another teachable moment.
Laurie is the family baker, and she is using the time hospice care has given her to pass on family traditions.
Time was something Laurie initially thought she had little of. "In the beginning, I was quite sick and didn't realize just how sick I was," she says. "I thought I would be in heaven by now."
Quickly, Casey Donarski, registered nurse with Hospice of the Red River Valley, along with the organization's medical director and nurse practitioners got Laurie's pain and symptoms under control. They answered Laurie's many questions. Medication adjustments eliminated side effects. They've helped Laurie eat what and when she wants.
"Casey and I have always had open conversations and are able to plan my journey together," Laurie said. "They always find the right way to respond to me. Everything has been wonderful. I've never wavered from my decision. [My family] has been able to witness what a support and comfort it is to me."
Casey and other Hospice staff have provided more than just physical relief, but also emotional support and comfort. Though Laurie had been familiar with hospice care, she didn't realize the depth of support it could provide. When someone is diagnosed with an incurable disease, everyone hopes for more time. Hospice care may not extend the quantity of one's life, but it can vastly improve quality of life.
"Laurie has a phenomenal way of still educating people," Casey said. "She has found peace and realizes there are still options. She is still achieving goals and providing for others."
Laurie enjoys visits by Lauryl Ivers, Hospice of the Red River Valley chaplain. As part of the hospice interdisciplinary team, chaplains provide spiritual comfort at the end of life, if desired by the patient and their family members. "She has been gracious enough to talk to me and give me whatever it is I need," Laurie said.
Now, free from pain and symptoms and with the gift of time, one of Laurie's challenges is knowing where to expend her limited energy. She said Hospice staff has helped her prioritize her time.
"People need to know how valuable it is to have this time, but also how valuable the services Hospice of the Red River Valley provides," Laurie said.
Laurie said her biggest surprises on hospice care are the comprehensiveness of services and its affordability. Hospice care is typically covered in full by Medicare, Medicaid and most private insurance providers.
Hospice social worker Traci Elshaug has offered support, too. She's shared with Laurie ideas about pillows she can make for her grandchildren or how to share a children's story about death. She told her about the Celebration Bears program where Hospice of the Red River Valley volunteers create special bears made from a loved one's clothing as a keepsake to celebrate their memory.
"I have appreciated Traci as a part of our team as she has been a sounding board as we have navigated the process of the 'business' of dying—talking through things such as power of attorney, living wills," Laurie said.
Traci also has provided resources about the bereavement care Laurie's family will receive after her death.
"I can't imagine going through this without them," Laurie said. "If there was ever a time to get it right, this would be the time. Why wouldn't I use the people who have the resources, knowledge and experience? I'm trying to get it right."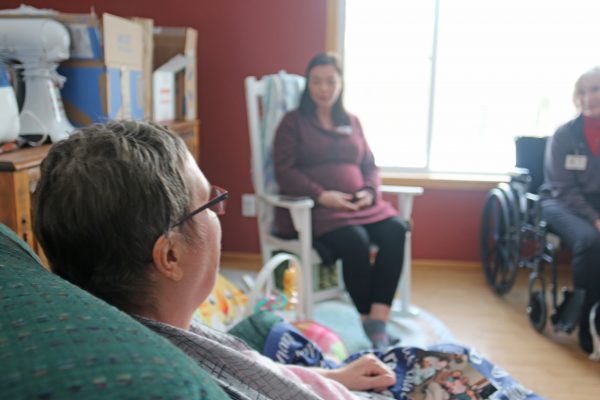 Finding Joy
The view from Laurie's living room window is of rolling, snow-covered hills and stands of hardwood trees sprinkled with pine. Bears sometimes wander through the front yard. It's home. "It's where I'm most comfortable," said Laurie, who expects she would be in a hospital bed if not for hospice care.
Laurie and her husband have lived here since marrying in 1985. They raised three children and have three grandchildren. "As great of a gift it is to be a grandma, I thought I would have more time to do it," Laurie said. "Fortunately, my daughter who lives nearby visits quite often with the kids, so I get to pack in as much 'grandma time' as possible."
There is no end to the "why" questions from two-and-a-half-year-old Cooper.
"Grandma, why are you sick? Grandma, why do you have cancer?"
Laurie responds with honest, direct answers. It's an effective approach she learned from her teaching career. Likewise, Laurie appreciates her Hospice team's straightforward, direct answers to her questions.
Laurie's son, daughter-in-law, and grandson, Daxton have traveled from Bozeman, Mont., to visit, in addition to sending photos and videos and calling or using Facetime to regularly communicate. In fact, Laurie and her husband visited Daxton and his family as a reward for completing chemotherapy.
Laurie wrote letters to her children and laid out expectations for her grandchildren. She's been recording messages so her grandchildren will know her voice.
Quite unexpectedly and after initially feeling mad about being sick, Laurie has found purpose and joy in her terminal illness. Prior to her diagnosis, "I would have described myself as being happy, but not necessarily joyful. That is what I am experiencing right now. Joy. I don't have any burdens and I don't need to worry about anything except to live in the moment. All I have to do is pay attention to right now. It's a great gift."
It's a great gift that Laurie likes to share with those around her. She says people often tell her that, at 58, she is dying too young. Laurie assures them that she's done what she needed to do in this life.
Many families and patients are fearful near the end of life, said Lauryl, who has been a hospice chaplain for more than six years. "They are afraid of the dying process, suffering and loneliness. It's so inspiring to see Laurie looking peaceful and expressing that, in this time of life, she has found purpose, joy, meaning and her voice."
Laurie Meyer-Olson is a teacher, until the very end. This might be her most extraordinary lesson of all.
About Hospice of the Red River Valley
In 1981, Hospice of the Red River Valley was founded on the belief that everyone deserves access to high-quality end-of-life care. We fulfill our nonprofit mission by providing medical, emotional, personal and spiritual care, as well as grief support to our patients, their families and caregivers during a tender time in life. Our staff helps those we serve experience more meaningful moments through exceptional hospice care, 24 hours a day, 365 days a year, wherever a patient calls home. The organization serves more than 40,000 square miles in North Dakota and Minnesota, including in and around Bismarck, Detroit Lakes, Devils Lake, Fargo, Fergus Falls, Grand Forks, Lisbon, Thief River Falls, Valley City and many more communities. Hospice of the Red River Valley offers round-the-clock availability via phone, prompt response times and same-day admissions, including evenings, weekends and holidays. Contact us anytime at 800-237-4629 or hrrv.org.