For Arlene Schneider, a volunteer with Hospice of the Red River Valley, her experience started out like many others who give of their time, "I was retired, and I like to be busy," she said. "I was looking for something to do, and they [Hospice] needed the help." Arlene quickly realized her time with Hospice was anything but ordinary when she started visiting Hospice patients.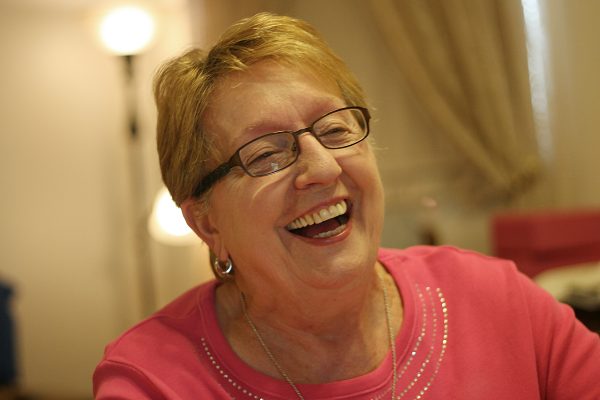 "At first, visiting patients was difficult with me, because I've lost so many people in my life," Arlene explained. "But now I'm really comfortable with the process, and I feel joy when I am able to help a patient and their family members."
Spending 10 hours or more volunteering for Hospice each week, Arlene provides respite and Pathway visits and also works as an office volunteer in the bereavement department in Fargo. "I just love it [volunteering]," she said. "I love people and connecting with patients and families. When someone says, 'Thank you,' and you can see it's really sincere, it's worth every minute."
Just as each patient is different, so is Arlene's approach to connecting with patients. Carefully and thoughtfully, she molds each visit around a person's interests. Recently she read a book about World War II to brush up on her history knowledge in preparation for a visit with a veteran. "It has to be different for each patient," she said. "What you get out of volunteering is what you put into it."
Arlene also visits an elderly woman with Alzheimer's disease. Even though the patient doesn't recognize Arlene when she visits, Arlene believes the time they spend together truly makes a difference. "She greets me with a hug every time I visit her," Arlene said. "She always stretches her arms out to me, and says, 'Can I love you?' All she wants is a hug, and she gives me another hug before I leave and says, 'You're going to come again, aren't you?' That speaks to the heart."
Although Arlene enjoys all types of hospice visits, she cherishes Pathway visits, for patients who are within days of dying, the most. "When my husband passed away, I was alone," she said. "I didn't know about hospice care then. I appreciate that with hospice care, there's all these other little corners where someone fills in for you. It makes a big difference for the families."
"When a family member needs a break, it's so nice to be able to walk in, and say 'I'll sit with your loved one so they don't have to be alone until you get back,'" she shared. "The hugs and thanks I've received after Pathway visits are worth every minute. It's an honor, and you can't put a price on that—knowing how much you've helped a family."
One experience in particular has left a mark on Arlene's heart. She sat with a patient at a nursing home during a Pathway visit, and within 10 minutes of her leaving, the patient passed away. The following week, the family of the patient returned to the same nursing home in hopes they would be able to express their sincere gratitude to Arlene. "To think a family would make a trip back to the place where their mother passed away just to tell me thank you and that they appreciated what I did for their mother was such a special moment," Arlene said. "Hospice speaks to the heart. It's not only what you give to others, but also what you feel inside."
Deb, Hospice of the Red River Valley volunteer services manager, knows just how much people like Arlene mean to Hospice patients and their loved ones. "Arlene is a wonderful volunteer who gives so much to hospice families," Deb said. "She is always willing to help with quick-turnaround requests to assist patients and families, and at times, she makes up to eight visits a week. We're so thankful for her."
After almost four years as a Hospice volunteer, Arlene has a plethora of heart-warming stories to share about her experience, and she doesn't intend on quitting any time soon. "I will work with Hospice as long as I can," she explained. "It's just great to feel you're with an organization that everybody really loves."
For more information on volunteering with Hospice of the Red River Valley, visit our website.
About Hospice of the Red River Valley
In 1981, Hospice of the Red River Valley was founded on the belief that everyone deserves access to high-quality end-of-life care. We fulfill our nonprofit mission by providing medical, emotional, personal and spiritual care, as well as grief support to our patients, their families and caregivers during a tender time in life. Our staff helps those we serve experience more meaningful moments through exceptional hospice care, 24 hours a day, 365 days a year, wherever a patient calls home. The organization serves more than 40,000 square miles in North Dakota and Minnesota, including in and around Bismarck, Detroit Lakes, Devils Lake, Fargo, Fergus Falls, Grand Forks, Lisbon, Thief River Falls, Valley City and many more communities. Hospice of the Red River Valley offers round-the-clock availability via phone, prompt response times and same-day admissions, including evenings, weekends and holidays. Contact us anytime at 800-237-4629 or hrrv.org.