When I go, I will return, Mother Earth willing. As human form or animal form, I will be watching over you.
Michelle Christianson is comforted by these words—a poem shaped by Native American beliefs, written by her husband Jerry before his passing.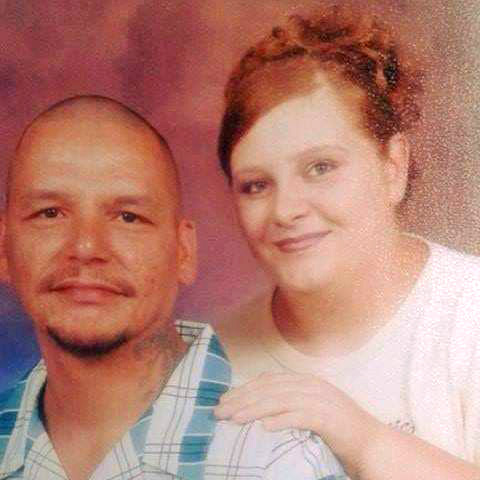 Jerry and Michelle shared everything in life, especially a close emotional bond. Together for 22 years and married for 20, their relationship was steeped in deep respect and openness with one another. "Jerry and I were really, really close. He was the love of my life and best friend," Michelle shared. "It was the type of relationship where I could talk to him about anything and everything. He was very loving and supportive."
Michelle recalls fondly the story of the first time they met. She was enjoying a lakeside walk with a friend, and Jerry pulled up in a van with her friend's brother-in-law and struck up a conversation with her. Looking back, Michelle admits she wasn't interested in getting to know Jerry at first, but Jerry saw something special in Michelle and wasn't easily deterred. He kept trying and eventually charmed her with his sense of humor and infectious laugh—a sweet "little cackle," Michelle recounted.
From the moment Michelle decided to give Jerry a chance, the two were inseparable. His lighthearted goofiness made life fun.
"No matter what type of day you were having, he would always make you laugh," Michelle said. They spent considerable time enjoying the outdoors: picnicking, fishing and hunting. Their favorite fishing spots were near Tamarac National Wildlife Refuge outside of Rochet, Minn. The lakes are nestled among Minnesota mainstays of mature pines, towering paper birch trees, wildflowers and golden-winged warblers. A perfect retreat on a hot summer day.
The Christiansons made their home in Ponsford, Minn., as part of White Earth Nation—home to the largest of seven Chippewa tribes in Minnesota. There they raised their family. "Our daughter Cheyenne is the spitting image of Jerry," Michelle said.
A treasured value they instilled in their children is the importance of being there for one another in both good and difficult times. The ultimate practice of this virtue was when Jerry faced stage 4 colon cancer. "He called me from work one day and said he was headed to the emergency room because his legs and stomach hurt really bad," Michelle said. "They did a CT scan at the hospital, and that's when the cancer was discovered. They actually found it in his lung first. The cancer had metastasized from his colon to his lung before he even knew he had cancer."
The diagnosis sent Jerry on a two-year journey through radiation and various chemotherapy treatments. Radiation was not available near the couple's rural home. They traveled to Fargo, 172 miles round trip, for 28 days straight, so Jerry could receive treatments. The trips were taxing on Jerry because traveling in the car was difficult and painful.
After radiation treatments, Jerry was able to begin chemo treatments at the hospital in Detroit Lakes. Though the commute was considerably shorter than the trip to Fargo, it was still a struggle for Jerry. He was also experiencing ongoing issues with the severe pain caused by the cancer.
Michelle knew they needed extra help for Jerry, and she was relieved to learn about Hospice of the Red River Valley's palliative care support, now available through House Calls, a sister company of the organization. Jerry began palliative care services in April 2019 for pain and symptom management alongside his chemo treatments. "Palliative care was amazing. They got right on the pain," Michelle described. "Whatever we needed, I could call, and they would address it immediately."
After a couple of months, Jerry had another scan, and even with all the chemotherapy, the cancer came back in both lungs and spread to his liver. "The cancer doctor said they were going to increase his chemo treatments. He told Jerry it was going to be a 'hard ride,'" Michelle explained. "Jerry was already having a hard time with the chemo, and that's when he decided to stop treatments and focus on quality of life."
Jerry transferred from Hospice of Red River Valley's palliative care program to its hospice care in July 2019—a decision he felt at peace with knowing he could spend more time with his family and less time traveling to the doctor and feeling sick from treatments.
It was important to Jerry and Michelle to be open and honest with their children about what was happening with Jerry's illness. "We both felt it was the best to keep them involved because we didn't feel keeping them in the dark was appropriate. We shared all of his health care plans with them," Michelle said. "Especially with our youngest Cheyenne, I thought it was important she knew what was going on. I didn't want her to wonder and think her dad is doing OK, and then all of a sudden, he was gone. I wanted her to understand."
When Jerry decided to start hospice care, he explained to Cheyenne why he wanted to stop treatments. Michelle recalls that she was emotional at first, but as time went on, Cheyenne saw her dad feeling better. "They were able to do a lot more things together after he stopped the treatments. She came to appreciate the time she had with her dad because he wasn't always so sick," Michelle said.
The family was grateful that feeling better meant more precious moments together, simply enjoying each other's company and making memories.
Michelle cared for Jerry full-time in their home with the support of Hospice of the Red River Valley staff. "They explained a lot of things to us about what to expect and answered all our questions," Michelle said. "My biggest fear was the stages at end of life, and Jerry worried about what would happen to us after he died. Hospice staff was able to help me understand what to expect and reassure Jerry that they would still help our family after he was gone."
The Christiansons found comfort in knowing they could call Hospice staff anytime, day or night. Jerry's type of illness caused him a lot of pain and discomfort. This led to a lot of long nights of caregiving. Michelle always knew Hospice was just a phone call away, and Hospice staff would be there for them through phone calls, visits and overnight support—whatever it took to get Jerry comfortable.
"Hospice staff took so much time with me to help me understand what was going on. Every time they came, I had such a sense of comfort and relief. They gave me reassurance everything was going to be OK," Michelle said. "Without them, I really don't know what would have happened. Their support was something that got me through this. I don't know if I would have made it without them."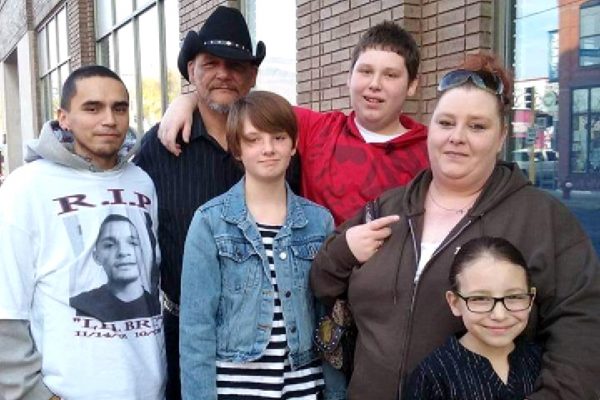 Michelle recalled Jerry being appreciative that Hospice staff took the time to get to know him as a person. They listened to him explain many things about his Native American culture, and he felt they respected his beliefs and cared about him.
Jerry was under the care of Hospice of the Red River Valley for three months. "I think a lot of people think Hospice means the person is ready to die. I tell people it's not only about the end of life, but it's also about being able to live a comfortable life until that time does come," Michelle explained. "Once they got Jerry's pain managed, he was able to fish, go bike riding and do a lot more things."
The last few days of Jerry's end-of-life journey were especially difficult, but he promised his wife he would make it to her birthday. Shortly after midnight on Oct. 29, 2019, Michelle gently leaned in and told her husband, "It is my birthday. Thank you for keeping your promise. It's OK to go now. I know where you are going, and I will be right behind you."
Jerry died seven minutes later. Even through the end, they were side by side, committed to each other. "After things settled down, I realized Jerry gave me a gift that will always keep on giving. I will always know that on my birthday he will be here, and we are celebrating together," she said.
After Jerry's funeral, Michelle struggled with his loss. "I'm a strong and stubborn person, and for a while, I did not take grief support. Then, I found myself always laying on the couch with no interest in anything. I didn't eat, and I was constantly crying," Michelle said. "I finally called Hospice and said I needed help. The hardest step was reaching out and asking for the help and admitting I didn't know what direction to take."
Heather Larson, grief specialist with Hospice of the Red River Valley, provided grief support to Michelle and their children after Jerry's death.
"I was fortunate enough to meet Jerry and spent time with them as a couple before he died. I was in awe of their connection and the way they communicated with one another and their children," Heather said. "It was very evident to me, Jerry's dying wish was to know his family was going to be OK. I felt honored not only to help support Michelle and her family though this sacred time, but also to help honor Jerry's final wish for his family."
"I had a hard time talking to people about Jerry because I would think they were sick of hearing about it. With Heather, I could talk to her about everything, and I felt like she cared and understood," Michelle said. "She told me what I was feeling was normal—all the guilt, anger and should haves. She helped me deal with it all. It was a great relief to have her there for me. Having Hospice of the Red River Valley there, gave us the support and assurance that someone cared."
Michelle looks back on her journey caring for Jerry with gratitude and love. She's grateful she had the support through Hospice of the Red River Valley to honor Jerry's wishes. "I am very thankful for Hospice of the Red River Valley and every nurse that stepped through our door. They treated us so well," she said.
She also looks to the sky for signs from her beloved Jerry.
On the way home from making Jerry's funeral arrangements, she spotted an eagle soaring above her, and she was brought to tears. To Michelle, it meant Jerry also kept a promise to her, recited in his poem, "As human form or animal form, I will be watching over you." There are many beliefs about eagles in Native American culture. An eagle is often thought of as a messenger or representative of those who have passed on, checking in on you.
"To this day, when we see an eagle, we know he is there watching over us," Michelle shared.
About Hospice of the Red River Valley
In 1981, Hospice of the Red River Valley was founded on the belief that everyone deserves access to high-quality end-of-life care. We fulfill our nonprofit mission by providing medical, emotional, personal and spiritual care, as well as grief support to our patients, their families and caregivers during a tender time in life. Our staff helps those we serve experience more meaningful moments through exceptional hospice care, 24 hours a day, 365 days a year, wherever a patient calls home. The organization serves more than 40,000 square miles in North Dakota and Minnesota, including in and around Bismarck, Detroit Lakes, Devils Lake, Fargo, Fergus Falls, Grand Forks, Lisbon, Thief River Falls, Valley City and many more communities. Hospice of the Red River Valley offers round-the-clock availability via phone, prompt response times and same-day admissions, including evenings, weekends and holidays. Contact us anytime at 800-237-4629 or hrrv.org.