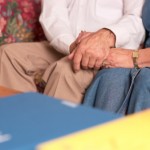 By Lisa
Making the initial phone call is often the most difficult part of hospice care. As a patient or family member, you'll get the most comprehensive care by contacting a hospice organization when you learn the illness is incurable. You don't need your doctor's permission to contact us; we'll arrange for the physician's order approving hospice care so we can begin to care for you or your loved one as soon as possible.
We have staff members that specialize in meeting with families to share information about our services.  Recently, I rode along with Michelle*, a hospice nurse, as she traveled to meet with a potential patient named Judy.
Judy* greeted us warmly as we arrived. She led us into her kitchen, where her husband, Mike*, was seated at one end of the table. His face showed concern, uncertainty and a feeling of helplessness.
"Judy, will you share with me why you contacted Hospice?" Michelle began by asking.
In a matter-of-fact tone, Judy shared her ten-year struggle with cancer. She and her family had endured multiple cycles of treatments and remission, as well as the emotional rollercoaster many patients feel when battling a long-term illness.
Now in her mid-80s, Judy's doctor had recently told her there was nothing left to do; it was time to call Hospice.
"I've had a long life, and besides, I'm tired of being tired from the treatments all the time. I just want to spend time with my family, without worrying about the next treatment down the road," Judy said. "Most of all, I just want to be at home."
Michelle listened closely to Judy's story, and expressed her empathy while also providing reassurance. She began explaining the basics of hospice care. Nursing assistants would provide Judy's personal cares. Hospice nurses would provide pain and symptom management to ensure Judy's comfort. The nurses would also show Mike how to provide the care Judy required on a day-to-day basis.
Michelle explained the role of the social worker, who could help Judy and Mike understand their insurance coverage, and other practical issues. She also explained that a chaplain would be available to provide spiritual support and a link to her faith community.
Next, Michelle explained to Judy and Mike about the role of the hospice volunteers, who would be available to visit with Judy and help with household tasks if she wished.
"Oh, goodness," Judy said with a chuckle, "I have five children, and ten grandchildren; this past weekend, I couldn't get them to leave! I definitely don't need any more visitors."
We shared a laugh with Judy, as Michelle reassured her that the choice was hers, while reiterating that volunteers would be available if Judy later needed them. Like all hospice services, volunteer visits would be tailored to Judy's wants and needs.
Michelle then looked to Mike as she explained respite care services.
"It can be very draining on a caregiver to 'give their all' to a loved one 24 hours a day. If you need a break, respite care is available."
I watched Mike as he slowly shook his head, "No, that won't be necessary; I'll take care of her."
Judy shook her head in disagreement. "We'll use it," she said, her eyes tearing. She reached for Mike's hand across the table. "We've cared for one another for nearly 60 years. While I'm still here, I want to know that you're taking care of yourself, too."
I was so moved by the love between the two of them, and touched that they were facing this phase in their lives with such care and concern for one another.
After Michelle answered more of Judy and Mike's questions, the decision was made to start services as soon as possible.
As Michelle and I left Judy and Mike's home that afternoon, emotions were running high. I could also sense their relief; relief that Judy's symptoms would be managed, a sense of peace that she would be able to stay in her home as long as possible, and a sense of comfort knowing her end-of-life journey would be one of dignity and comfort.
*Names have been changed to protect privacy.
To schedule a referral visit, call (800) 237-4629 or contact us today. We will schedule a visit whenever and wherever is convenient for you and your family to talk about our services and how they might benefit you.  These consultations are free of charge and without obligation. From that point on, we will do the follow-up work for you including, contacting your physician, starting the necessary paperwork and arranging a nurse visit.
About Hospice of the Red River Valley
In 1981, Hospice of the Red River Valley was founded on the belief that everyone deserves access to high-quality end-of-life care. We fulfill our nonprofit mission by providing medical, emotional, personal and spiritual care, as well as grief support to our patients, their families and caregivers during a tender time in life. Our staff helps those we serve experience more meaningful moments through exceptional hospice care, 24 hours a day, 365 days a year, wherever a patient calls home. The organization serves more than 40,000 square miles in North Dakota and Minnesota, including in and around Bismarck, Detroit Lakes, Devils Lake, Fargo, Fergus Falls, Grand Forks, Lisbon, Thief River Falls, Valley City and many more communities. Hospice of the Red River Valley offers round-the-clock availability via phone, prompt response times and same-day admissions, including evenings, weekends and holidays. Contact us anytime at 800-237-4629 or hrrv.org.