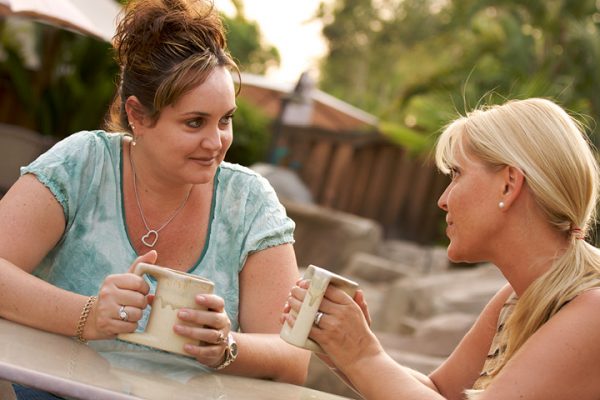 Have you ever had someone say something to you during a difficult situation that you know was said with good intent, but it came across as hurtful or uncomfortable? How something is said can make all the difference. It can be challenging to know what to say when someone is very ill. Below are tips on what to say, and what not to say:
What to Say
I have been thinking about you.
You have been on my mind.
It's OK to rest.
I'm right here with you.
Rest if you need to.
It's OK to close your eyes if you are sleepy.
It's OK to cry.
If you are struggling with what to say when your visit is over, instead of saying 'I'll see you next week," say "until next time" or "until we see each other again."
What to Say to a Family Member
He/she is so fortunate to have you.
You are doing a great job caring for your _______.
What Not to Say
Things will get better.
My brother had this same disease, and he died within six months, etc.
If you just eat a little something, you will feel better.
This is God's will/plan.
God never gives a person more than they can handle.
Everything will be OK.
Sitting in silence with your loved one may be all they need. Many times the person is comforted by just having someone present.
About Hospice of the Red River Valley
In 1981, Hospice of the Red River Valley was founded on the belief that everyone deserves access to high-quality end-of-life care. We fulfill our nonprofit mission by providing medical, emotional, personal and spiritual care, as well as grief support to our patients, their families and caregivers during a tender time in life. Our staff helps those we serve experience more meaningful moments through exceptional hospice care, 24 hours a day, 365 days a year, wherever a patient calls home. The organization serves more than 40,000 square miles in North Dakota and Minnesota, including in and around Bismarck, Detroit Lakes, Devils Lake, Fargo, Fergus Falls, Grand Forks, Lisbon, Thief River Falls, Valley City and many more communities. Hospice of the Red River Valley offers round-the-clock availability via phone, prompt response times and same-day admissions, including evenings, weekends and holidays. Contact us anytime at 800-237-4629 or hrrv.org.