Clarice Satrom has always been an outgoing and fun-loving person. Growing up in a tight-knit Irish family, she learned to appreciate music, dancing and laughter. She carried on her family's traditions as she and her husband Lester raised two daughters and two sons on their farm near Grandin, N.D. Through 48 years of marriage, Clarice and Lester enjoyed many laughs and memories.
A conversation with her husband's doctor several years ago set Clarice and Lester's lives on a path they hadn't anticipated. Lester had previously been diagnosed with Parkinson's disease, and Lester's doctor sat Clarice down for a talk during an appointment. "He said, 'Why isn't he on hospice?' And I said, 'Well, I thought that wasn't until the end of your life,'" Clarice explained. "The doctor told me that's what everybody says, and then he went to the phone and got my husband on hospice care immediately."
Clarice hadn't thought about hospice prior to that meeting, but she and Lester were thrilled with the care he received. An early referral to hospice by Lester's doctor helped him live more fully for the next two years in their home and, later, in the nursing home. "I didn't realize the full services [offered by Hospice of the Red River Valley]," she said. As Lester's health continued to decline, Hospice was there for the couple. "The care was just so wonderful. The Hospice staff was always so helpful and nice and polite. They paid so much attention to him." Lester passed away under the care of Hospice of the Red River Valley in 2008.
"After he died, I just didn't know what I was going to do with myself," Clarice said. "I felt all alone, even though I wasn't." Her two sons had taken over operations of the family farm, and Clarice kept busy cooking meals and taking care of her home. But she wanted to do something more.
Clarice was asked by a Hospice staff member if she'd be interested in volunteering for the organization. She quickly agreed. "I thought, 'I'm lonely. I need to go out and do something,'" Clarice shared. "Hospice is wonderful, and I knew I wanted to do it."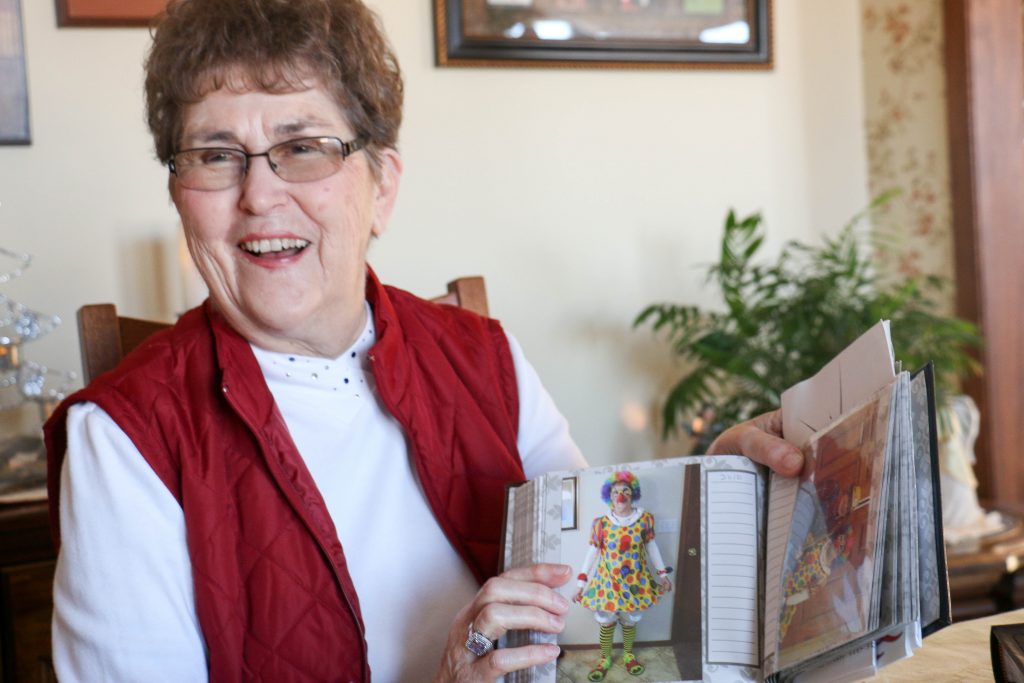 Throughout the past seven years, she has worked with dozens of patients. Clarice believes she's able to bond with patients quickly because she brings her personality and sense of humor to the work, and she likes to keep things light-hearted. Her enthusiasm for the work—and her friendly, humorous personality—comes across as she recounts stories of her time spent volunteering.
She dresses in costumes and visits with patients on holidays. "Oh boy, do they laugh," she says as she smiles. "At the nursing home and assisted living home, the people there are just so fun!" She sings and dances with patients when someone agrees to play the piano or guitar. She reads, goes for walks and sits at their bedsides. "Anything they want," she said.
Each patient is different, of course. Clarice takes time to get to know them as individuals, to figure out "what makes them tick and then I work with that," she said. She recalled one patient who had trouble speaking because of her illness, which made it difficult to have conversations. Clarice tried a new approach to connect with the patient. "One day I said, "Let's sing Jesus Loves Me, and she just sang her heart out," Clarice shared. "She knew all these songs, and she could sing them out, and you could understand her."
Clarice pours her heart and soul into volunteering with Hospice patients. And giving back means the world to her. "People ask me, 'How can you do it?' I can do it because I love it," she explained. "I love the people. I love to talk to people and especially in a situation like that. They're all so precious."
About Hospice of the Red River Valley
In 1981, Hospice of the Red River Valley was founded on the belief that everyone deserves access to high-quality end-of-life care. We fulfill our nonprofit mission by providing medical, emotional, personal and spiritual care, as well as grief support to our patients, their families and caregivers during a tender time in life. Our staff helps those we serve experience more meaningful moments through exceptional hospice care, 24 hours a day, 365 days a year, wherever a patient calls home. The organization serves more than 40,000 square miles in North Dakota and Minnesota, including in and around Bismarck, Detroit Lakes, Devils Lake, Fargo, Fergus Falls, Grand Forks, Lisbon, Thief River Falls, Valley City and many more communities. Hospice of the Red River Valley offers round-the-clock availability via phone, prompt response times and same-day admissions, including evenings, weekends and holidays. Contact us anytime at 800-237-4629 or hrrv.org.