by Pastor Randy Spahr
A story I often like to share is about love and support. In the story, a teacher asks her kindergarten class what they'd like to be when they grow up. Most students give "typical" answers, like firefighter, nurse, astronaut or farmer. But one student walks to the front of the room and proudly proclaims "lion tamer." He goes on to explain the fearlessness and skill he would show in that role before pausing and saying, "And, my mom will be right there with me!"
I love that story. It reminds me we all need someone to have our backs, especially during tough times or grief. We all have times when we really need to know that someone is there to support us—whether it be a debilitating medical diagnosis, losing a job or the death of a loved one.
Our society often tells us that to be strong, we need to be independent and manage tough times by ourselves. Our natural tendency can be to pull away from people when we're experiencing a loss or difficult time. That's exactly when we need the most support. Not only do we need others in those times, but we also can benefit from different perspectives. Pain and loss can narrow our focus and make the "big picture" harder to recognize or accept. The people we trust can help bring the picture back into focus for us.
Independence alone does not make us strong. Rather, friends, family and other support systems bring us strength, reassurance and comfort. We need others in our lives to provide balance for our emotional, spiritual and even physical well-being. Others help us be better, and we, in return, can help them. A lesson can be learned from geese every spring: The geese fly over our heads in a strong v-pattern, reminding us that if we flock together, we can overcome obstacles and journey forward together.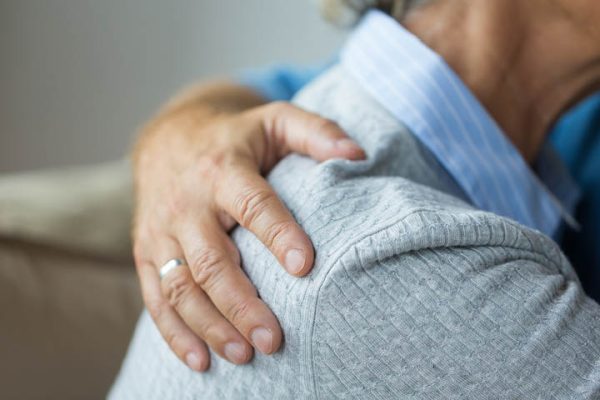 It reminds of a verse from Romans 12:15: "Rejoice with those with those who rejoice; mourn with those who mourn." Others may not be able to fix all our problems, but they can give us encouragement and assistance when we need it most.
During my freshman year of college, I was in the best shape of my life because my roommate and I got up early every morning and ran 3-5 miles If I would've done that on my own, I would've slept in a lot of mornings, but we encouraged each other and challenged each other, so we were successful.
So, who's got your back? Who is supporting you? Often, the people keeping an eye out for us are the same people we hold the closest. Our family and friends, who we celebrate wins or life events with, are the same people we can lean on in life's darker moments. It's important for our overall well-being to develop a comfortable, dependable support system, so we can share sharing our story and feelings.
It's never too late to develop friendships and relationships. Even if you find yourself in a new city or far from family, you can seek out community and companionship anywhere; there will always be people waiting with open arms to welcome you.
Hospice of the Red River Valley offers a variety of support through hospice care, caregiver resources and grief support services. Our interdisciplinary team supports terminally ill individuals and their families and caregivers—helping them navigate the end-of-life journey with comfort, dignity and respect.
Hospice of the Red River Valley also offers free community grief support for those who have experienced a loss. Grief support groups are powerful avenues of finding validation for your feelings and deriving a sense of shared experience and commonality.
You can also explore other types of support groups in your community for support, including faith-based, caregiver and more.
My hope and prayer for you is that you will continue to develop and treasure the family, friends and support systems you have or will have in the future. We all need to have someone watching our backs to help us navigate life's challenges and celebrate our good times.
If you or someone you know needs extra support, Hospice of the Red River Valley may be able to help. Contact us or call (800) 237-4629 for more information.
Pastor Randy Spahr is a chaplain for Hospice of the Red River Valley.
About Hospice of the Red River Valley
In 1981, Hospice of the Red River Valley was founded on the belief that everyone deserves access to high-quality end-of-life care. We fulfill our nonprofit mission by providing medical, emotional, personal and spiritual care, as well as grief support to our patients, their families and caregivers during a tender time in life. Our staff helps those we serve experience more meaningful moments through exceptional hospice care, 24 hours a day, 365 days a year, wherever a patient calls home. The organization serves more than 40,000 square miles in North Dakota and Minnesota, including in and around Bismarck, Detroit Lakes, Devils Lake, Fargo, Fergus Falls, Grand Forks, Lisbon, Thief River Falls, Valley City and many more communities. Hospice of the Red River Valley offers round-the-clock availability via phone, prompt response times and same-day admissions, including evenings, weekends and holidays. Contact us anytime at 800-237-4629 or hrrv.org.