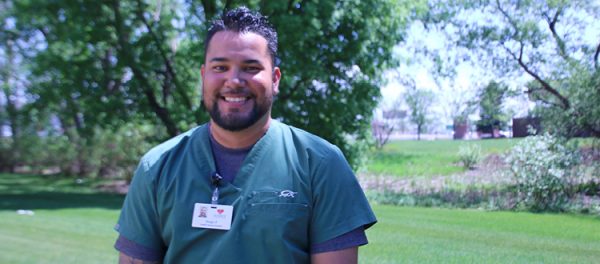 Hospice of the Red River Valley CNAs work with patients to provide individualized care based on each person's preferences.
Hospice CNAs help patients with personal care needs, including feeding, bathing assistance, shaving and nail care. They also provide light housekeeping services for individuals under our care. But perhaps the most important aspect of a hospice CNA's role is preserving the patient's dignity and respecting their wishes for personal cares, as the CNA often spends the most time with a patient while providing the most delicate of cares.
We spoke with Hospice of the Red River Valley CNA Diego Portillo Lopez about the distinct role of a hospice CNA and his experience providing care and support to our patients and their families.
Describe your typical day.
I see about seven patients a day, both in their homes and at facilities like nursing homes. Some people I see every day. You have to keep the visits and care consistent so a strong relationship can be built. Working in hospice care, there is an increased interaction with the patient's family; you get much closer to them. I'm a very caring, open person, which has helped me adapt to any situation.
What interested you in health care?
I like working with people, and I have a soft spot for the elderly. My grandparents are very important to me, especially my grandparents in El Salvador. So, geriatrics and health care really stood out for me. I decided to give the field a try, and I loved it right away.
What brought you to Hospice of the Red River Valley?
I wanted to try something new. I worked at an assisted living facility in Fargo, and it was a great organization. I learned so much, and the people I worked with were fantastic. I gained years of experience, but I wanted to expand. That is when I chose Hospice of the Red River Valley. I have learned that life is short. I approach every day with a positive attitude so I can do the best I can for somebody else.
What do you enjoy the most about working at Hospice of the Red River Valley?
The relationships I get to have with the patients I am helping. Each person and family is unique and interesting. All of the "thank yous" and hugs are priceless. I really feel the appreciation when they take my hand and say "thank you for what you have done." I love making them feel better.
How do you describe the CNA role in hospice care?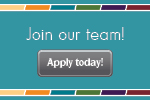 I feel our role is to be a friend to the patient. I know the care and care plan are really important, but I believe developing a relationship goes a long way. It makes our work much easier when the patient can feel the trust.
Each and every one of our CNAs is gifted in their own way, and I can assure you there is always a CNA ready to take good care of our patients. They are all awesome. I'm still learning and look forward to continuing to learn.
How has working at Hospice of the Red River Valley impacted you?
Working here has made me see what's most important. I spend as much time as I can with my wife and we do things we both enjoy. Working here also helped me through my grandmother's death. She was 82.
As a CNA going into a patient's home, we see family dynamics from a different perspective. With my grandmother, I was the family, so it helped me realize what some of our patient's families are dealing with.
What motivates you each day?
Before I go to bed I look at who I am going to see the next day. I check the patient care plans. I pray before I go to bed and wake up with a good, positive attitude to start my day.
What really motivate me are the relationships I have built and the work I do. Every day I do the best that I can to the best of my ability. I really like to look ahead as well. I see myself at Hospice for a long time. I love taking care of people.
What do you wish people knew about hospice care?
I wish people took advantage of it sooner. There is so much we can do to support the patient and their family. We are here to provide support to your loved one and to you as their family.
About Hospice of the Red River Valley
In 1981, Hospice of the Red River Valley was founded on the belief that everyone deserves access to high-quality end-of-life care. We fulfill our nonprofit mission by providing medical, emotional, personal and spiritual care, as well as grief support to our patients, their families and caregivers during a tender time in life. Our staff helps those we serve experience more meaningful moments through exceptional hospice care, 24 hours a day, 365 days a year, wherever a patient calls home. The organization serves more than 40,000 square miles in North Dakota and Minnesota, including in and around Bismarck, Detroit Lakes, Devils Lake, Fargo, Fergus Falls, Grand Forks, Lisbon, Thief River Falls, Valley City and many more communities. Hospice of the Red River Valley offers round-the-clock availability via phone, prompt response times and same-day admissions, including evenings, weekends and holidays. Contact us anytime at 800-237-4629 or hrrv.org.