When you meet Bill and Karen, you instantly feel the love they have for one another. Their faces light up with joy when they sneak a glance of each other. A quick wit and robust laughter are at the heart of their relationship. They take turns teasing each other in a healthy back and forth, always with a chuckle and a smile.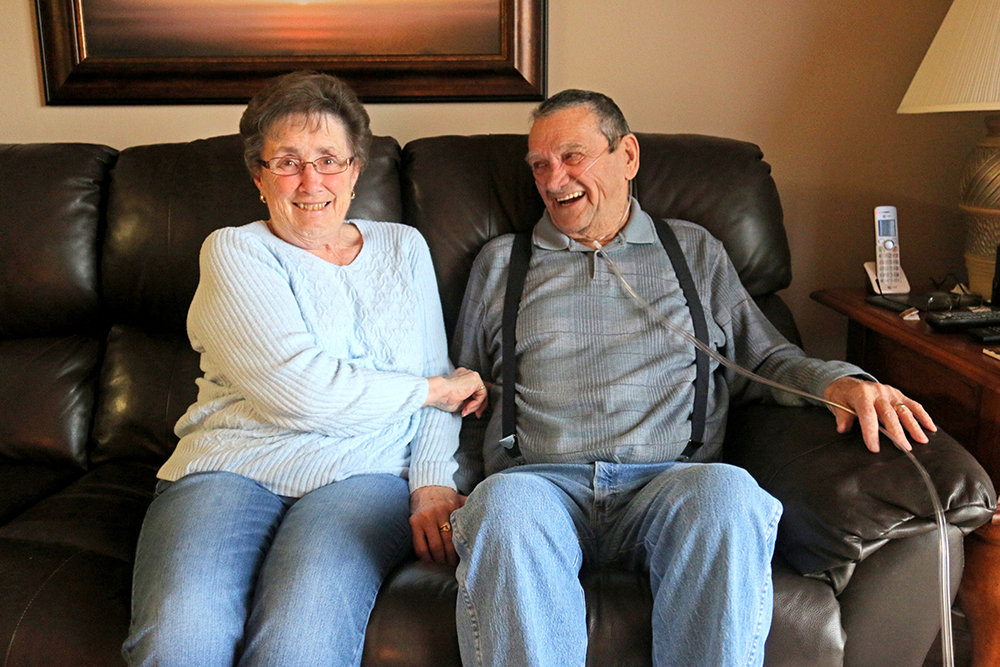 Married for 14 years, the pair has experienced many adventures together, one of which was their initial meeting at a tiny café in Luck, Wis., where Karen says she noticed quite the "character" joking with the waitress one morning. She didn't make much of it at the time until the following day when she returned to the café, and Bill (the character) was there again. He approached her and asked if he could join her for breakfast. "I said I suppose. I got a free breakfast out of it, why not," Karen said with a laugh.
They continued to meet up for breakfast for the following six weeks and quickly got to know one another. "She has not paid me back for one breakfast," Bill added with a chuckle. After about a month, they went out on an official date, and according to Karen, "The rest is history!" Bill razzes Karen, "You lucky kid, you! I couldn't run any faster, you were running after me!"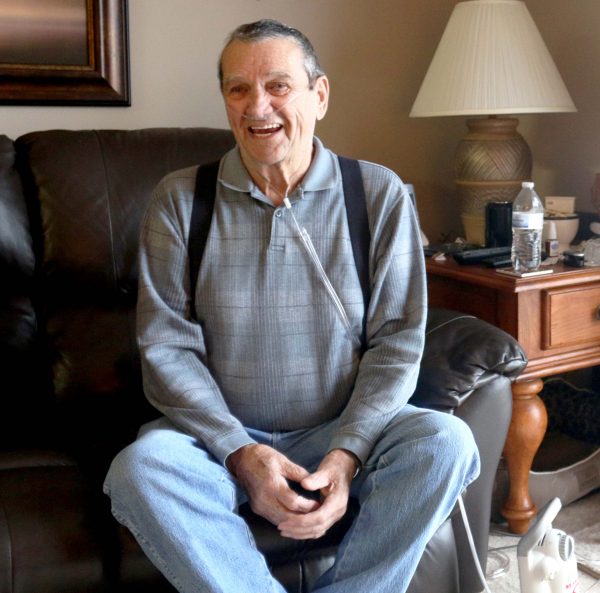 With the same sense of humor and positivity as when they first met, the couple is facing the biggest challenge of their lives together. Bill was diagnosed with lung cancer three years ago. Since then he has gone through multiple rounds of chemotherapy and radiation with no progress, including the last session when he tried a new type of treatment.
"I got sick for about a week and a half. I mean sick–in bed, and when I finally got up, I was sick for another week after that. I couldn't go anywhere or do anything, and then it was time to go back and get another shot. You get them every three weeks," Bill explained. He and Karen talked with his doctor about discontinuing treatment. "I said as far as I am concerned, it didn't do me any good except put me right down," Bill said. "Isn't this kind of a waste of my time, your time and whoever is paying for this? It cost me $1,500 each time, and that's with Medicare and private insurance paying, too."
After encouragement from his doctor, Bill and Karen enlisted the help of Hospice of the Red River Valley in July 2015. "You take the good with the bad. I'm not going to sit around and mope. That's kind of silly to me. They have no cure," Bill shared. Instead, he is focused on living the best life he can with the time he has left.
Staying at home with the assistance of Hospice is something Bill feels great about because he can continue to live his life and his Hospice team is just a phone call away. "Hospice is a good thing to have. If we need something, it's here," Bill said. "They [Hospice] actually do make it better, I have to admit. They give you a sense of confidence. While you're here, they make you as comfortable as they possibly can. As far as I'm concerned, they are doing one heck of a job."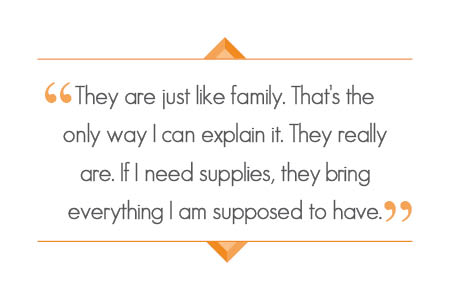 Bill is especially fond of his hospice nurse, Kelcie, and social worker Robyn. Both make regular visits to see him. "They are just like family. That's the only way I can explain it. They really are. If I need supplies, they bring everything I am supposed to have," he explained. Bill jokes that he also gives Kelcie and Robyn a few pointers in their jobs because he is "quite a bit older than them."
"Kelcie is great. With the medicine, you don't worry about anything, and it sure cuts down on the expense. She checks on them every time she comes," Karen said. "She has provided a lot of relief in just knowing everything is getting taken care of. Just to know that everyone is so helpful and friendly, that helps a lot," Karen added. Kelcie also found out that the couple enjoys playing games, and right before Christmas she visited the pair with a surprise in-hand. "I'll be darned if she didn't come in with a game of Jenga," Bill said with excitement. Karen notes with a giggle that Bill did not win Jenga when he played Kelcie, for the record.
"Bill and Karen have hearts of gold. It's enjoyable to visit Bill because even if he is not feeling well, he makes jokes and asks how your day is going. At the same time, he is honest about his symptoms," Kelcie shared. "Karen wanted to be able to keep Bill at home, and she does a fantastic job helping him and keeping track of his medications. It is nice to be able to help so Bill can continue to enjoy life and stay positive."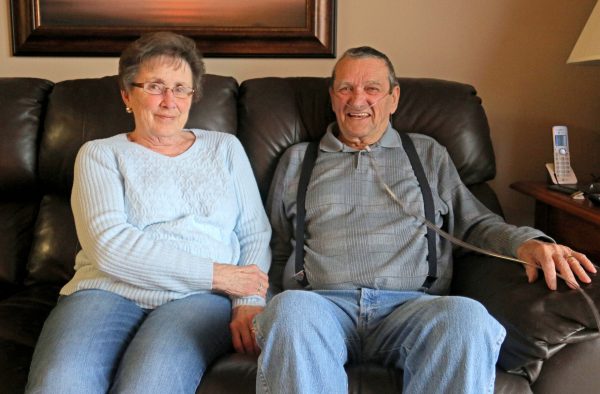 The connection Bill has formed with Robyn is one built on trust and honesty. "Because I know Robyn and Kelcie talk, I asked Robyn one day when she was here, in her opinion, 'How long do you think I got?' I said I knew she couldn't tell me a day or a month. She told me, 'If you're planning anything big this summer, do it by June. By August, you won't be able to.' I thought that was so honest; I liked that. She was honest with me, and that's what I like. That's what I wanted to hear. I mean I could live another three years, but she gave me what I wanted to know," Bill explained.
Knowing this, Bill has spent the past several months making arrangements so Karen is taken care of after he is no longer here. "I made sure all of the bills are paid off so when I go, she'll owe nobody nothing, and I finally talked her into getting a new car," he said. He also made sure she is able to stay in the apartment they now share. "Actually, now I'm happy," Bill said.
"From the first time I met Bill and Karen, I promised that I would always be up front with them. I also promised the end would not always be the focus of all our conversations. I enjoy my visits with them," Robyn said.
Bill points out that he cannot identify just one thing he appreciates about hospice care, rather it's everything about the care. "You can't pick out one thing. You really truthfully can't, at least I can't. Everything I've experienced since I've been in it is great. There's no way I'd have a complaint, and I'd argue with anybody who did," Bill shared.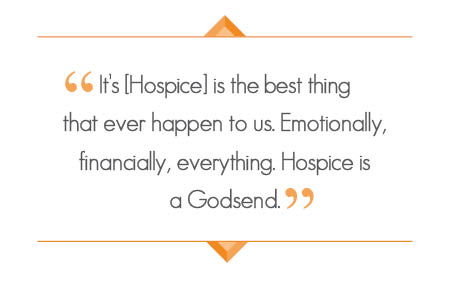 Karen wholeheartedly agrees with Bill. "It's [Hospice] is the best thing that ever happen to us. Emotionally, financially, everything. Hospice is a Godsend," she said. "That's a nice way of putting it, actually," Bill echoed. Initially, both Karen and Bill thought hospice was only for the last days of life. "I thought you started hospice when there was no hope of anything. That's definitely not true," Karen said. "We didn't realize how completely extensive the services were that Hospice offers, including the 13 months of after-death support. Hospice makes the last months or years of your life much better. It's a super organization."
As the days go by, Bill enjoys many of the things he always has, like trips to Sandy's Donuts every Monday, Wednesday and Friday, and visits to his granddaughter's lake cabin near Perham. "I tell Robyn when we go to the lake for a weekend, that way she calls the [Hospice] team down there to let them know I'm in the area in case something would happen," he said.
The couple has also planned a large family gathering in June of this year with 60-plus friends and relatives planning to come, including their five children and many grandchildren and great grandchildren. While they await the summer months, they spend each day appreciating each other and the love they share. "We're lucky to have each other," Bill said with a big smile.
About Hospice of the Red River Valley
In 1981, Hospice of the Red River Valley was founded on the belief that everyone deserves access to high-quality end-of-life care. We fulfill our nonprofit mission by providing medical, emotional, personal and spiritual care, as well as grief support to our patients, their families and caregivers during a tender time in life. Our staff helps those we serve experience more meaningful moments through exceptional hospice care, 24 hours a day, 365 days a year, wherever a patient calls home. The organization serves more than 40,000 square miles in North Dakota and Minnesota, including in and around Bismarck, Detroit Lakes, Devils Lake, Fargo, Fergus Falls, Grand Forks, Lisbon, Thief River Falls, Valley City and many more communities. Hospice of the Red River Valley offers round-the-clock availability via phone, prompt response times and same-day admissions, including evenings, weekends and holidays. Contact us anytime at 800-237-4629 or hrrv.org.