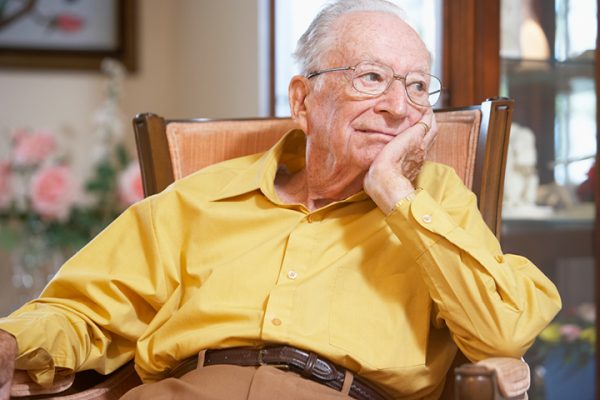 Whether the onset of dementia is caused by Alzheimer's disease, a stroke, Parkinson's disease or a number of other conditions that result in memory loss and cognitive decline, dementia may take away a person's independence and identity. Family caregivers take on a tremendous, often round-the-clock, responsibility. Our specialized services can help patients maintain their dignity and humanity, while providing much needed support and guidance to those who care for them.
How can hospice care help those with dementia?
Hospice helps those in the end stages of dementia by relieving pain, controlling symptoms, improving quality of life, and reducing anxiety and worry for patients and their families. The hospice team continuously evaluates the patient's status and updates the plan of care as symptoms and condition change. The goal of hospice is to relieve physical and emotional distress so patients can retain their dignity and humanity, remain comfortable, and provide relief and support to their loved ones.
Hospice's plan of care for those with end-stage dementia includes:
A plan to address pain, hydration, nutrition, skin care, recurrent infection and agitation, all of which are commonly associated with dementia
Expert symptom and pain management
A comprehensive evaluation by the hospice team
Medications and non-medical interventions to appropriately respond to pain, agitation and other symptoms
Around the clock availability and support via phone
Caregiving support, education and guidance from your hospice team
Durable medical equipment, supplies and medications
Help with dressing, bathing, grooming and eating
Emotional and spiritual support for both the patient and family members
Dementia is a unique experience. No one knows how long a particular stage or symptom will last, so it can be difficult to determine when it is time for hospice care. However, there are general signs the disease has progressed and hospice care may be appropriate:
The person is unable to say more than a few words
The person is not eating
The person no longer walks and may be bed-bound
Complete dependence on others for dressing, grooming and eating
Frequent infections
Weight loss
If you or your loved one has dementia, you can request a hospice evaluation. Your physician may also make this request, although you do not need to wait for a referral from a doctor. You can contact us at any time to learn how hospice can help you.