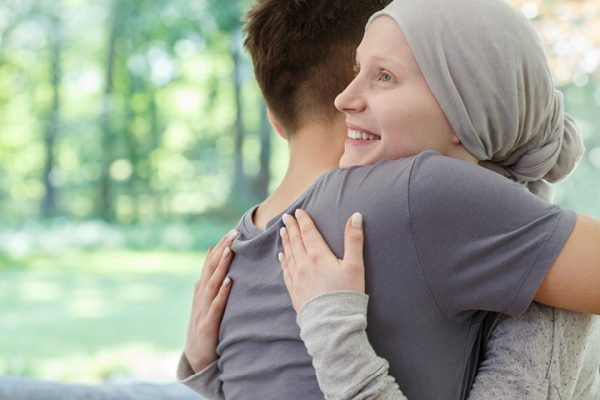 Cancer can take a tremendous physical and emotional toll on both the patient and their family. When cancer treatments become ineffective, a cure or long-term remission is no longer possible, or when the burden of treatment outweighs the benefit, it may be time to shift the focus from cure to comfort. With hospice, the care continues with an emphasis on improving quality of life. Research shows that cancer patients and their families who use hospice services report a higher quality of life than those who don't.
How can hospice care help those with cancer?
Hospice helps cancer patients to be cared for, supported and surrounded by the people and things they love. Hospice care often reduces the need for repeat stays in the hospital. Because we provide care for medical problems and training and education for caregivers in the comfort of your home, hospice patients spend less time in the hospital. The hospice team will evaluate the patient's condition and update the plan of care as frequently as necessary. The goal of hospice is to relieve physical and emotional distress so patients can live as fully as possible, retain their dignity and remain comfortable at home.
Hospice's plan of care for those with cancer includes:
Expert pain and symptom management in the comfort of your home that addresses fatigue, loss of appetite, nausea/vomiting, shortness of breath, loss of sleep and other symptoms of cancer
A comprehensive evaluation by the hospice team
Medications and non-medical interventions to appropriately respond to pain and other symptoms
Around the clock availability and support via phone
Assistance with advance care planning that aligns with the patient's needs, priorities and goals
Caregiving support, education and guidance from your hospice team
Durable medical equipment, supplies and medications related to your cancer
Help with dressing, bathing, grooming and eating
Emotional and spiritual support
Each patient is different, and symptoms vary according to the kind of cancer. There are several signs consistent among cancers that commonly mean the disease has progressed to an advanced stage:
The patient is rapidly weakening, and the malignancy is progressing
Treatment is no longer fully effective
The emotional, physical and spiritual costs of treatment on the patient and the family are greater than the expected benefits
Weight loss
If you see yourself or your loved one in this description, you can request a hospice evaluation. Your physician may also make this request, although you do not need to wait for a referral from a doctor. You can contact us at any time to find out how hospice can help you live well.