"For better or for worse, in sickness and in health …"
This familiar verse, a promise made in many wedding vows, Sherry faithfully puts into practice each and every day as she cares for her terminally ill husband. For Sherry, and countless other family caregivers like her, these words are particularly poignant. For 12 years, she has walked alongside her husband, Russ, and his mysterious terminal illness. With help from Hospice of the Red River Valley, she can deliver on her promise.
In February of 2004, at age 44, Russ suffered a severe seizure and was in a coma for three days. From that point on, his health quickly deteriorated. Throughout the next few years, he would experience more seizures which would eventually rob him of mobility, dexterity, thought process and balance.
"His doctors call it a progressive neurodegenerative disorder," Sherry explained. "It's really a blanket-term for a brain disorder. They don't even know what to call it." Russ' condition causes brain shrinkage, seizures and muscle deterioration. "They told us at the Mayo Clinic, we only know 50 percent about the brain. His condition is very rare." she said. "Russ has outlived all of what they know about his condition."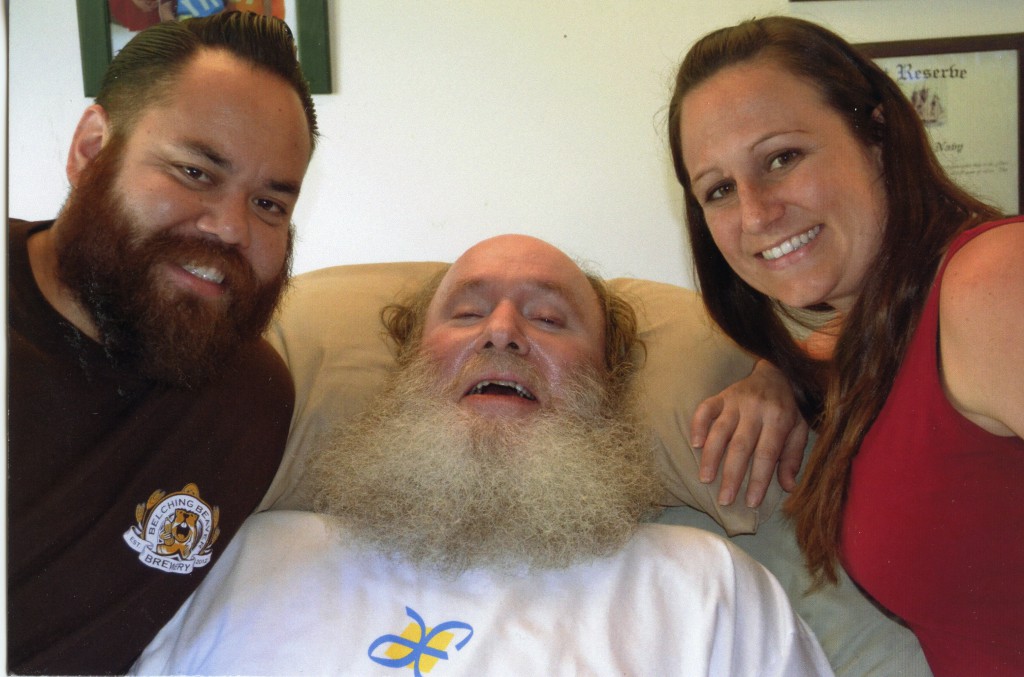 For the first six years of the illness, Sherry cared for Russ in their home. Living on a farm in rural Minnesota, she struggled to find health care resources to help with his every day care. "I had so much trouble," Sherry recalled. "Our son was living at our house, taking care of him during the day. I'd come home at lunch and take care of him at night. I was exhausted and overwhelmed." Sherry's doctor recognized the personal toll caregiving was taking on her and suggested Russ be evaluated for hospice care.
Rather than fearing hospice, Sherry welcomed hospice care with open arms. "When we first called Hospice, he had already been sick five years. I was wore out," Sherry explained. "When they came daily, it was a relief for me. They [Hospice staff] made sure he was bathed. They came around lunch time and would feed him. Every time there was an emergency, I didn't have to call for an ambulance, because hospice came instead."
Hospice cared for Russ at their home for almost a year. All the while, Russ continued to steadily decline and went from using a walker, to a wheelchair, to a hospital bed in the living room. When Sherry couldn't continue to care for Russ at home any longer, Hospice helped her transition Russ to a nursing home.
Being cared for by Hospice has been added relief for Sherry and a benefit for Russ, who has now experienced hospice care far longer than the average person. A member of Hospice's medical team must regularly visit Russ to re-certify that he still meets the medical guidelines for care.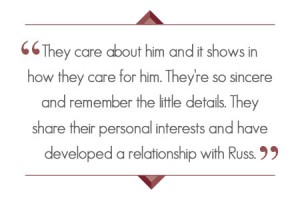 With the luxury of time, Russ has developed quite the relationship with Hospice staff members, particularly Sue and Suz, his Certified Nursing Assistants. He depends on them and looks forward to their visits. "They care about him and it shows in how they care for him." Sherry acknowledged.
"They're so sincere and remember the little details. They share their personal interests and have developed a relationship with Russ." Both Sherry and Russ appreciate the extra effort hospice staff members take to get to know him.
"It has been both a privilege and an honor to be given the opportunity to assist with caring for Russ," Suz shared. "From the first day I met Russ at his home till the present, we have had an amazing caregiver-patient relationship. Sometimes the staff at the facility accuse us of having too much fun! I have enjoyed getting to know Sherry and Russ. The love they share for each other is amazing; Sherry will do everything in her power to keep Russ comfortable and happy at the facility."
With the uncertainties and unknowns of Russ' illness, occasionally people question Sherry about hospice care. "People say, how can Russ be on hospice when he's not in the eleventh hour and dying? And that's not how it is. He's terminal, so I don't know how to answer that question. I just know we need it. I know he needs it. I know I need it," she said.
In addition to providing for Russ' medical, emotional and spiritual needs, Sherry quickly realized Hospice could support her, too.
"I'm still working fulltime; hospice is a big relief for me. They took a big chunk off of me, and I had them to lean on. Hospice made it easier for me to figure this out." Sherry said. "I've had meltdowns, and they're right there to help me. They tell me when I need to take a break. They're encouraging and make sure I'm taking care of myself. They [Hospice staff] fill in a necessary gap for me. I never hesitate to call them."
Recently, Russ experienced an episode where he was unresponsive. "The hospice nurse came in and talked to me about what to look for, what to expect." Sherry remembered. "I didn't know what was going to happen. She actually went into detail about what his breathing would sound like, and other signs to look for, and what each sign meant, and the time he might have left. If you have a loved one who's dying, you have to have Hospice. With Hospice, you have someone go through it with you."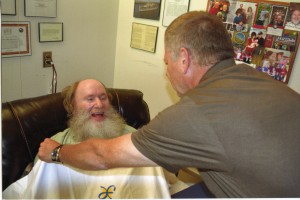 Sherry believes Hospice staff members go way out of their way for Russ. She looks to a recent example as proof: Russ' social worker, Deb, devised a plan to grant one of Russ' wishes through the Dream Foundation, a national dream granting organization for adults who are terminally ill. At first, Deb and Sherry thought about applying for a grant so Russ could meet a Minnesota Viking, his beloved football team. But after talking with Russ, they discovered his wish was much simpler—he just wanted to see his son. Russ is bedridden and can't travel, so together Deb and Sherry applied for a grant through the Dream Foundation to fly Russ' son and wife home from California to visit.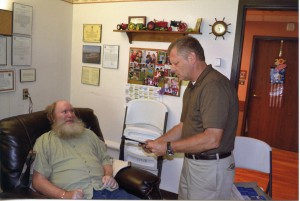 "They are close. Very, very close. I've never seen a kid so bonded with his dad." Sherry shared. "It's been two years since they've been able to visit; Russ is so excited and has been looking forward to it. The whole family will get together. It will be very simple and just awesome."
Russ remains under hospice care even though his deterioration has slowed.
"Medications change and doses change, but Russ' spirit to live does not. I am very thankful to Hospice of the Red River Valley for all they have done and continue to do," Sherry shared.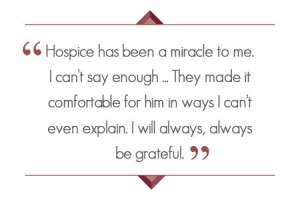 For 12 of Sherry and Russ' nearly 20 years of marriage, Russ has been sick. It is seasons of life such as these when true commitment and devotion are tested. Sherry's dedication to Russ is a picture of lasting love—love that is a conscience, day-to-day decision, regardless of what the future may hold.
"Hospice has been a miracle to me," Sherry said. "I can't say enough. Russ is a 22-year veteran of the Navy, and is very, very proud of that. When this all started, he had no control, and he was always upset. Hospice brings him dignity. They made it comfortable for him in ways I can't even explain. I will always, always be grateful."
Editor's note: Russ passed away peacefully on August 15, 2015.