Growing up on a farm in rural North Dakota as one of six children, Lori Goering pitched in to help wherever she could. As one of only two daughters in the family, Lori often found herself tackling household chores like cooking and cleaning while her four brothers tended to the fields, cattle and horses alongside her father, Robert.
Given the many hours Lori's brothers spent with their dad they naturally forged a close relationship with him as they grew. It wasn't until much later in life that Lori truly bonded with her dad while she cared for him as he neared the end of his life.
In January 2014, Robert became quite ill leading to multiple stays in the hospital, several blood transfusions and eventually the discovery of a rare form of cancer. Because of Robert's age, 82, and where the cancer was positioned—in between the small and large intestines—Robert's doctor believed that surgery and other treatments would most likely be unsuccessful.
So as a family, Robert, his children and his wife gathered and discussed next steps. "We talked to him about quality of life instead of quantity," Lori said. Robert's cancer was terminal, and after the conversation with his family, he decided he would spend his final weeks at home, comfortable. He would have preferred to go to his home near Osnabrock/Langdon area in his last days, but he was too weak to make the trip back home.
"The doctor suggested calling in Hospice," Lori explained. "Dad made the decision to stay with me and my husband at our home in Fargo. We had the space, and he loved being here with us. I think that was God's way of saying, this is your time with your dad." It was an easy decision for Robert to choose to stay with Lori, especially since Hospice was so readily available in Fargo. This also gave Robert the opportunity to spend precious time with his wife, children, grandchildren, siblings and extended family and friends.
Robert was discharged from the hospital and started hospice care in March 2014. "Hospice reacted so quickly when we finally made the decision to begin hospice care. From the time of the hospital discharge to our house was about three hours, and in that time Hospice had already been here and had all the equipment ready to go," Lori said. "And then they came back the next day to see if there were any additional supplies we needed." When a decision is made to begin hospice care, immediately that time and those hours become precious.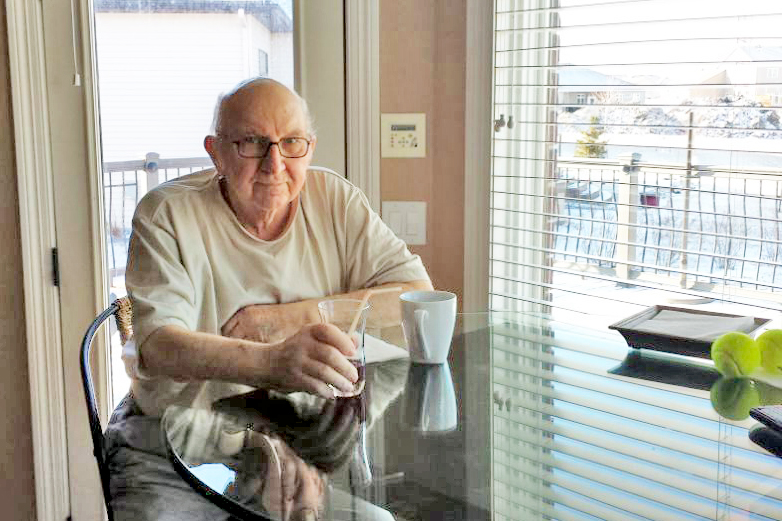 For Lori and her family, it was a relief to be able to keep her dad out of the hospital and instead stay home where they could truly make the most of the time they had left with him. "Having Hospice here was wonderful because everything seemed so comfortable. My family and I understood how lucky we were to have Hospice and to spend that time with dad," she shared. "Dad was kept comfortable the whole time."
In addition to managing Robert's pain and symptoms, the personal cares provided by Hospice of the Red River Valley CNA, Jerry, and the support of registered nurses like Jay, were much appreciated by Lori and her family. "We had someone come in almost every day to bathe dad. Just to have someone else come in and get him washed up every day, to kind of give me a break, was super," Lori said. "Dad absolutely loved Jerry; he was awesome."
On Robert's third night under the care of Hospice, he was so weak that it was hard to get him up and to the bathroom, especially the multiple times he needed to go. During one such trip to the bathroom, Lori could feel her dad losing his footing. Unable to hold him up herself, she gently laid him on the floor instead of risking a fall. Lori immediately called Hospice of the Red River Valley Registered Nurse Jay for assistance. When Jay arrived, he was able to help Robert to his feet. "I was so thankful Jay was able to come during the middle of the night."
Lori was familiar with many of the services Hospice offered because her husband's family had experienced hospice care many years earlier. But one aspect of hospice she didn't anticipate was the support for caregivers like her. "There was one day, a Hospice staff member wanted to sit and talk with me specifically. She wanted to know if I had concerns when the time came and dad did die. I had thought about it, but I hadn't shared it with anybody," Lori shared. "She really put my mind at ease by helping me understand what I could expect. She even told me how he would act the closer he got to that time. That was good for me because when he did start acting a certain way, I had been forewarned."
The two short weeks Robert received hospice care were especially precious to Lori because with each act of love she showed her dad—personal cares, dinners, so on—her relationship with her sweet, funny and loving father grew stronger. "I feel like I learned a lot about how to care for my dad from Hospice," Lori explained.
Even her emotional connection with her father grew through sharing past memories like the shenanigans the kids got into on the farm, and relishing new moments together, including enjoying Robert's favorite meal—a traditional Nordic dish, lutefisk. "There was a lot of visiting done when he was here. We had a lot of food. He came up with the funniest stories, and we laughed a lot," Lori shared with a smile. "I also learned how strong he really was and that he wasn't afraid to die."
"Hospice is not scary at all. I think there are a lot of misconceptions about hospice care. You think when you call in Hospice you are at the end, that's it," she said. "That was one thing I learned from Hospice staff, if dad would have gotten better, he could have went off of Hospice. Hospice isn't a death sentence."
Robert always loved people so sharing his final weeks with loved ones and visitors was the perfect ending to his life story. "We had so much company. To have people coming to see him and doting on him, he was basically in heaven. He said his goodbyes to everyone, and those who weren't here, he wanted to call. He was still cognitively 'there,' and he knew what was happening. He was at peace with everything," Lori remembered.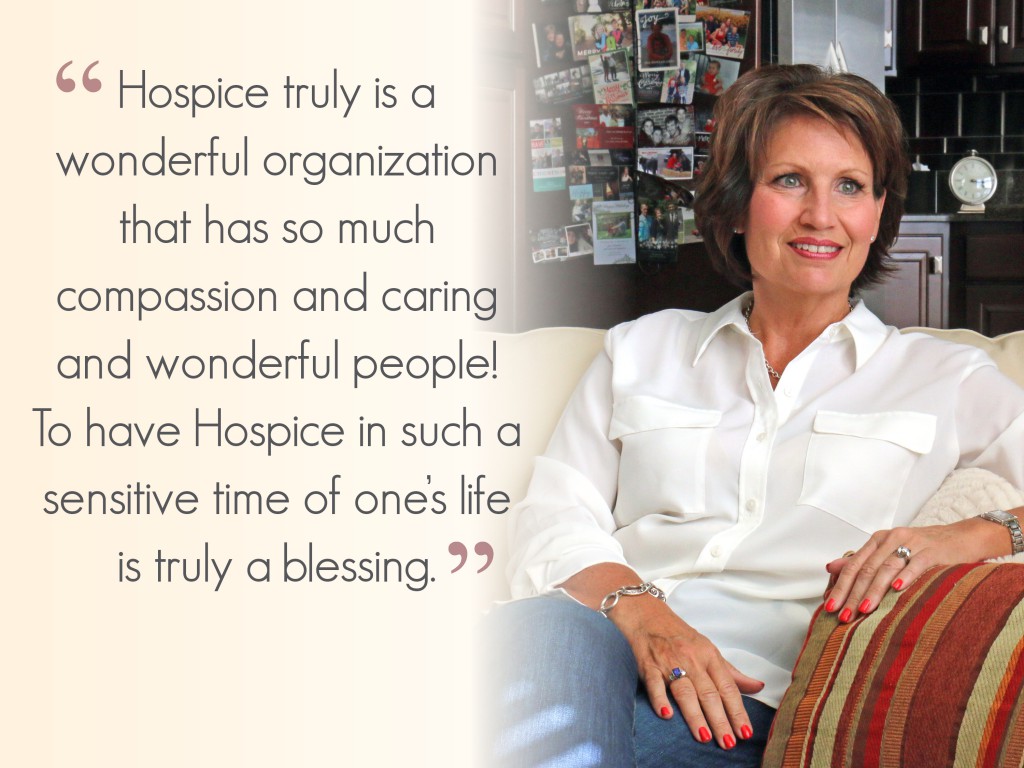 "I feel so blessed and privileged to have been able to care for my dad. Hospice truly is a wonderful organization that has so much compassion and caring and wonderful people! To have Hospice in such a sensitive time of one's life is truly a blessing," she said. "They were such a help. There was always follow up, which was awesome. We were all thankful that dad led a very good life. This experience taught us all a lot about life, humanity and love."