Hospice care is unique in that it provides comfort, relieves pain and offers support to people with a terminal illness and those who care for them. With hospice, the miracle isn't the cure… it is in the caring. And hospice workers, patients and families see miracles play out on a daily basis.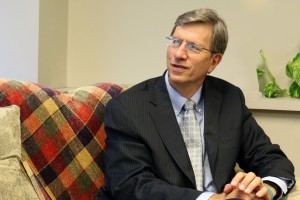 When Roger Greenley's mother Marjorie was living with dementia in the nursing home, it was unusual for her to interact with people whom she wasn't familiar. But according to Roger, something special happened when Hospice of the Red River Valley's Chaplain Tom made a visit, "I said, 'Don't be offended if she doesn't talk with you.' He came in, he brought his guitar, and he started asking her if she wanted to sing with him. She started singing, and they did 'The Lord's Prayer' and totally surprised me and brought things out of my mother that we hadn't heard in a long time." Roger said that his mother smiled during the visit – something she hadn't done for weeks. "I saw what I thought was a miracle when Pastor Tom came to her room."
The visit with Pastor Tom—and other visits from hospice staff and volunteers—solidified Roger's belief in the power of hospice care. "I saw the happiness that my mother experienced with the visits," he said. "You can be lonely at that point in life, and just to have familiar people come see her every week … those visits were very important to her, and it was always a day brightener for her to have a visit from hospice." His mother's health even improved while she was under the care of Hospice—so much so that she was discharged from hospice care for a period of time. "We were able to have our mother in our lives for many, many more months with the help of Hospice." His mother passed away under the care of Hospice of the Red River Valley in 2011, and Roger believes her end-of-life experience was made significantly better by Hospice.
But Roger's Hospice story doesn't end—or even begin—with his mother's experience. His father Alfred was cared for by Hospice in 2000, as was his daughter Nicole in 2011. Roger's father received hospice care in his own home, his mother received care in an assisted living facility, and his daughter received hospice care in the hospital. "We have experienced it [hospice care] three times in my life … it's just such a wonderful opportunity to have Hospice available."
After suffering two heart attacks, Roger's father was admitted to Hospice in 2000. The care team checked in often with Alfred and Marjorie at their home during the six months Alfred was under their care, helping with medication, medical needs and companionship visits. "Having a friendly face come visit you, I know he looked forward to that every week," Roger said. Being able to remain in his own home was very important to Alfred. "Without the help of hospice, my father would've had to go into a nursing home for help," Roger shared. "He was able to stay at home with the aid of my mother and the aid of hospice workers, so that made a much better life for him. There's no question he wanted to be home, and Hospice made that possible."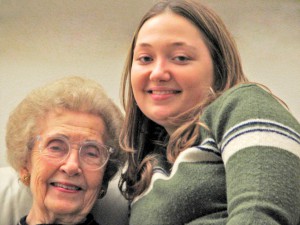 Nicole, Roger's daughter, was diagnosed with a very rare type of cancer at the age of 26. According to Roger, the disease seldom attacks someone so young and is generally a fatal diagnosis. She required physically demanding care around the clock. Roger and his family were given the choice to take her home or to keep her in the hospital. "We would've loved to have her home," Roger said, "but it was better for her to be in the hospital environment."
The family was able to spend time together, sharing memories and having important conversations. Hospice volunteers and employees, whom Roger calls "angels," took care of Nicole's physical needs during the last two weeks of her life. "That's an incredibly demanding job, and it's emotionally stressful," Roger said. "We were spared that. Her doctor at one point had said, 'These are golden times,' and we got to do that. We were able to be a family together with the help of Hospice."
Hospice also supported Roger and his family as they dealt with the grief that accompanies a loss. They received visits from a bereavement specialist each week for a year after his daughter's death. "It was surprising the help she gave us," Roger said. "You might think that somebody wouldn't be able to understand how you're feeling. She did a phenomenal job. It helped us through a great deal."
Despite the losses he has encountered, Roger feels fortunate to have experienced so much of the care that Hospice offers to patients and families, and he wants to make sure other families have the same opportunity. "I'll tell people about Hospice and the things that they can do and make sure they are aware," Roger said. "The people from Hospice are the most caring, loving people. When you have received hospice care, you just want to tell everybody about what a wonderful experience Hospice made for your family."