The year 2014 proved to be a year full of changes and personal transformation for Matt Mastrud, a Hospice of the Red River Valley volunteer. About seven months ago, Matt set two very deliberate goals: get into better shape by starting a Brazilian Jujitsu class and share his time with others by volunteering.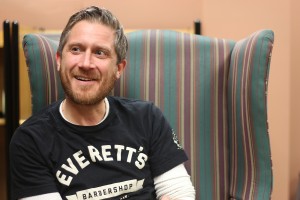 He knew right away he wanted to volunteer with Hospice because his mom received hospice care when she was dying of breast cancer and he remembered being impressed with the care. Giving his time back to hospice seemed like a natural fit.
"I'm trying to do some good stuff in my life," Matt explained. "I knew if I volunteered my time, and I didn't have a person who was depending on me that I'd become complacent and find a reason not to do it. But I knew if I had people who were looking forward to seeing me, I would hold true. It's worked pretty good so far."
Matt's hospice volunteer duties range from typical requests like conversing with patients and taking them for wheelchair rides, to more uncommon tasks like building a wheelchair ramp for a patient's home and folding towels with dementia patients. No matter the task, Hospice of the Red River Valley Volunteer Coordinator Stephanie knows Hospice can count on Matt. "He is always very eager to help patients however he can—even if he doesn't know all of the skills he might be using upfront. You can tell he has a big heart, and he is very warm and giving," she said. "His warmth and compassion are very endearing."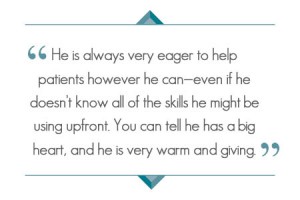 Since Matt started volunteering with Hospice, he has worked with three patients, and he always finds a familiar refrain: a favorite memory is made. One such experience that left an everlasting impression on Matt is when his Hospice volunteer role shifted as his first patient, who suffered from dementia, was nearing the end of his life. "I worked with his family when I came to visit the last couple of times, and they were so open to me," Matt shared. "They wanted to show me photos of him and tell me about all the accomplishments he had in his life. They wanted me to know what a great man he was. That part was a struggle. I felt I wasn't worthy for them to tell me all the stuff about him. I felt like I was just lucky enough to share a little glimpse of this person's life."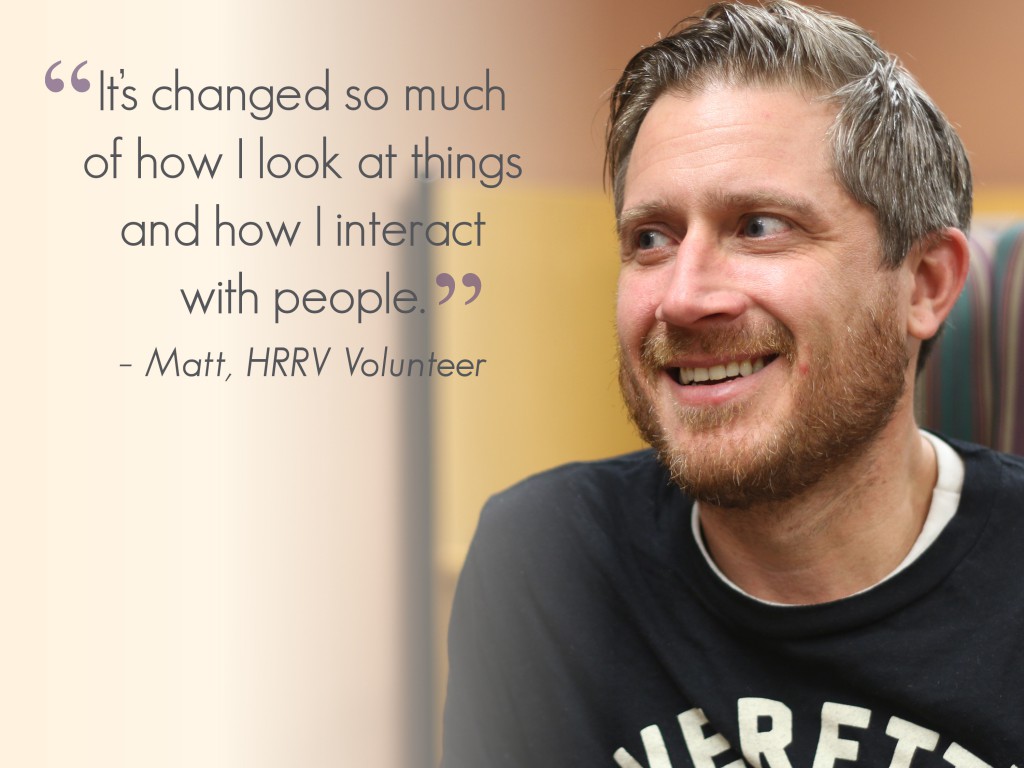 This volunteer experience and others with Hospice, at times, have brought up unexpected but welcome emotions for Matt. "I feel like I'm more positive now. It's changed so much of how I look at things and how I interact with people. I'm not worried about so much, because there are bigger things. You have a higher bar for what's important," he explained.
Just as those he's met through Hospice have touched him, Matt, too, has imprinted on the hearts those he's encountered. "We've heard so much positive feedback from the Hospice nurses and social workers, as well as the patients' families who have met him. He goes above and beyond. He never misses a visit. And he always puts patients before himself," Stephanie said. "Families have actually called and asked how they can send a thank you to Matt. It just speaks volumes to how important his visits are and how big of an impact he's made. We're very thankful for the work he does."
Even though Matt's a busy artist and family man with a wife and two kids, a daughter, 9, and son, 14, he's certain he'll always find time to volunteer with Hospice. "I'm pretty sure it's a forever thing," he shared. "Actually, I'm positive it is."