Woven tightly into the fabric of his life, sports and a sense of brotherhood remain close at heart for Dennis, Hospice of the Red River Valley patient. Even with a prognosis of five to six months to live, Dennis and his partner, Cindy, are determined to make the most of the time he has left by living life to the fullest—embracing each precious moment and new experience.
Three weeks ago, complications from a blood transfusion procedure caused by a weak heart led Dennis to hospice care. "He wanted to go home," Cindy explained. Besides the comfort of his own home, Dennis wanted to spend more time with his family, and have the freedom to go out and about in his small rural town of Walcott.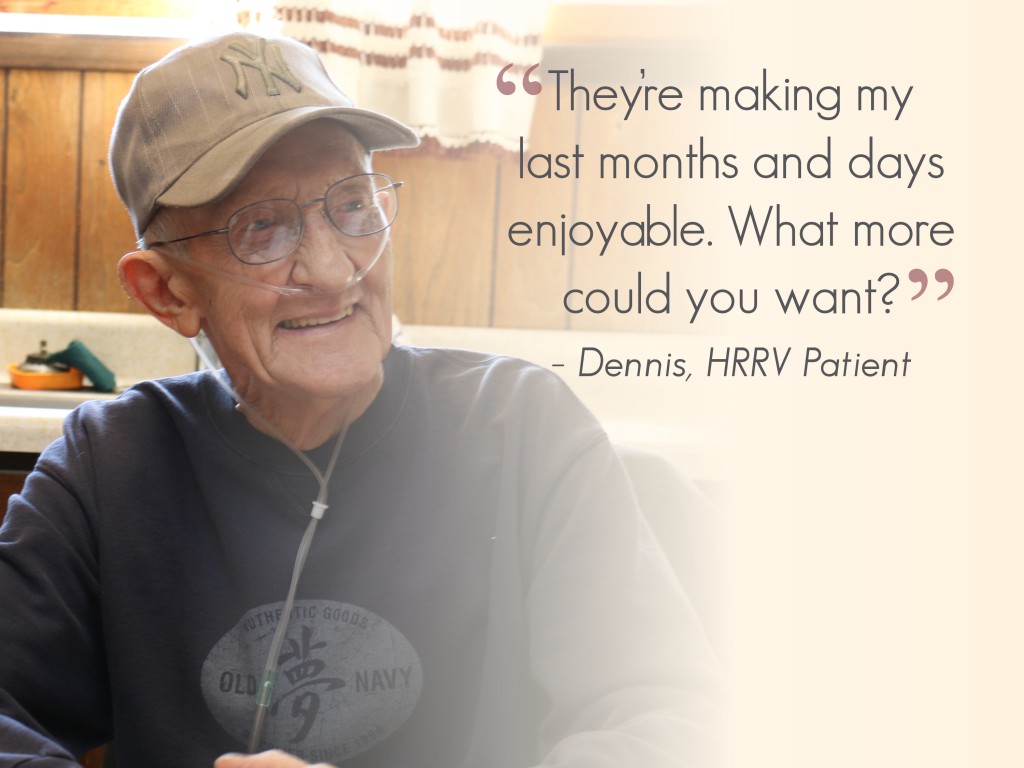 With the assistance of Hospice staff, the past few weeks have been a true blessing, beyond measure, for the couple. Shortly after beginning hospice care, Dennis and Cindy met with Cathy, a Hospice social worker, to determine their needs. Cathy explained that during her first meeting with a patient and family, she always asks the same two questions: "Is there anything you're worried about? Or is there anything you still want to do?" These questions sparked conversation.
"I told her about things I knew Dennis wanted to do," Cindy said. "He's been wanting to go to a Bison game and reunite with a long-lost Army buddy."
"I'm always up for a challenge, and I love to surprise people and make people's wishes and dreams come true. There aren't too many dreams we can actually fulfill," Cathy explained. "Most people have had their diagnosis long enough that they've tried to accomplish all the things they've wanted to do. But I thought Dennis' dreams didn't seem like over-the-moon requests, so we could try."
Cathy worked diligently to secure two tickets to North Dakota State University (NDSU) Bison football game and tracked down Dennis' Army friend, Leo, with some information provided to her by Dennis. Additionally, Cathy requested a small gift of $150 from the Hospice Institute, which Dennis will receive soon, to help offset travel expenses for the trip to visit his friend.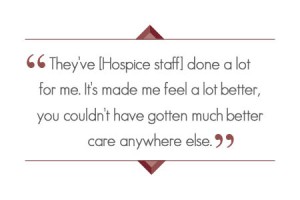 "I didn't know Cathy could help with locating Leo," Dennis shared. "That was just amazing and heart touching. She has been an angel and done a great job."
"There are those people who are just so genuine; being able to do that for him was so great. It's just one of those things that's not about anybody else besides him [Dennis], and he was just so deeply appreciative," Cathy said. "The rewards we experience from the people we meet are the best part of my job."
On Oct. 18, 2014, Dennis attended a NDSU Bison home game with his nephew, Rick. The game was the perfect epilogue to Dennis' decades-long love affair with Bison athletics. Dennis first became interested in the Bison 20 years earlier after taking his nephew to countless men and women's basketball games. "My nephew more or less coaxed me along to get into the games," he said. "And I started to really get into them after a while." As for Bison football, the past three years have been the most enjoyable for Dennis, so the opportunity to attend the recent game with his nephew was especially sweet. "I've never been to a team [game] like the Bison—winning and that," Dennis described. "It just meant everything in the world [to me]."
Just a week later, accompanied by Cindy and his stepson, Dennis was finally reunited with his friend, Leo, in Watertown, S.D. The pair spent two years together in the U.S. Army, beginning with basic training through air defense schooling, an overseas deployment and finally the ride home on the same bus after their discharge. Although 50 years had separated the two, they recognized each other immediately.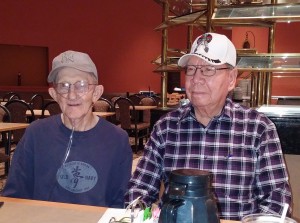 "As soon as Leo came in the door, even from quite a distance, I recognized him," Dennis said with excitement. "I've always wanted to see him again. I don't know how to explain it, [it's] like long-lost family member. He recognized me too, and that's all that counted." Over a warm meal, they shared stories of their Army adventures and made plans to see each other again. "It was touching to see him again," Dennis said. "We're the best of friends."
Both experiences have touched Cindy's heart and solidified her feelings about hospice care. "I think the main stigma people have about hospice is that you don't get on it until the last days," she shared. "You can get on hospice and have some valid times and be active. Hospice doesn't just mean you're in a bed," she explained. She urges others who may be appropriate for hospice care to look into hospice sooner rather than later. "Don't wait to get on hospice care because they can help," she said. When asked by loved ones if Dennis should be so active, she says, "Why not? You've got to do it while you're up and about and able to."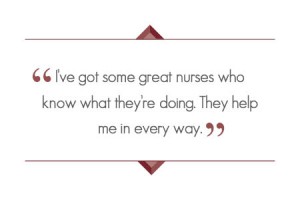 These special moments of life have meant so much to Dennis, but he's most thankful for the medical care he's received. "They've [Hospice staff] done a lot for me. It's made me feel a lot better, and you couldn't have gotten much better care anywhere else. They're up-front with me, and I feel safe with them," Dennis said. "They're sticking right with me. I'd recommend it to anybody."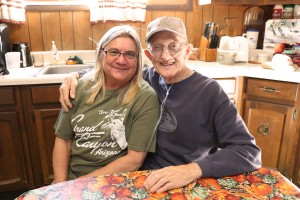 Cindy has found comfort in the care Dennis receives, too, and confidence in knowing she can ask questions along the way. "I utilize the nurses; I call them and they're really good about responding right away. So I don't hesitate to call them to ask what's going on," she said. Dennis is equally pleased. "I've got some great nurses who know what they're doing. They help me in every way. If they can't answer my questions, they will check with someone else. So I always get an answer," he said. "They're [Hospice staff] making my last months and days enjoyable. What more could you want?"