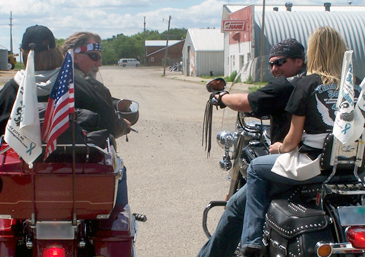 Each July, area motorcycle riders, supporters and community members join together in Valley City, N.D., for the annual Debbie Gabel Memorial Motorcycle Run. Event founder Rocky Gabel, who owns Gabel Masonry Construction in Valley City, said the motivation for the event is three-fold: to memorialize his wife, Debbie, to educate people about the dangers of cancer and to help people locally.
After Rocky lost his wife of 33 years, Debbie, to ovarian cancer in early 2009, he became determined to channel his grief into helping others – and to preserving Debbie's name and legacy in their community.
Rocky and Debbie had not been long-time motorcycle riders. "In fact, it wasn't until Debbie read an article suggesting, 'Everyone should go to Sturgis at least one time in their lives,' that we even considered it," Rocky says. The Gabels made the trip to Sturgis, S.D., for the legendary bike rally in 2006, and it wasn't long afterward that they each purchased a motorcycle and began riding.
Only a year earlier, Debbie had been diagnosed with ovarian cancer. As Debbie grew weaker from the disease toward the end of her battle, she often rode double with Rocky instead of on her own bike, but still they rode. In December of 2008, after undergoing three years of aggressive treatment, the Gabels received the devastating news that Debbie's prognosis was limited. She spent her last weeks at home, cared for by Rocky until the very end, with the support of Hospice of the Red River Valley. Debbie Gabel passed away January 9, 2009, at the age of 52.
After her death, Rocky struggled with how to remember his wife in a way that impacted people in a meaningful and memorable way. "I wanted to increase awareness of ovarian and other reproductive cancers and educate people about early detection, in a way that honored and remembered Debbie," he says. "A motorcycle run seemed like the perfect fit." The first Debbie Gabel Memorial Motorcycle Run was held in July 2009. More than 50 bikers participated.
Rocky chose Hospice of the Red River Valley as a primary recipient of event proceeds. He chose Hospice not only because of the vital support and care they provided for him and his wife, but also because he knew the dollars would be invested locally in caring for others.
Following the 2009 event, Rocky formed a non-profit organization, Thundering Saints, which helped to make the 2010 event even more impactful. More than 150 riders participated.
Supper at the VFW, a silent auction and a street dance round out the event's festivities each year. A highlight in recent years has been the raffle drawing, with the winner taking home a new Harley Davidson Heritage as the top prize.
Thanks to the growing number of participants each year, Rocky is confident the event will continue to honor Debbie well into the future.