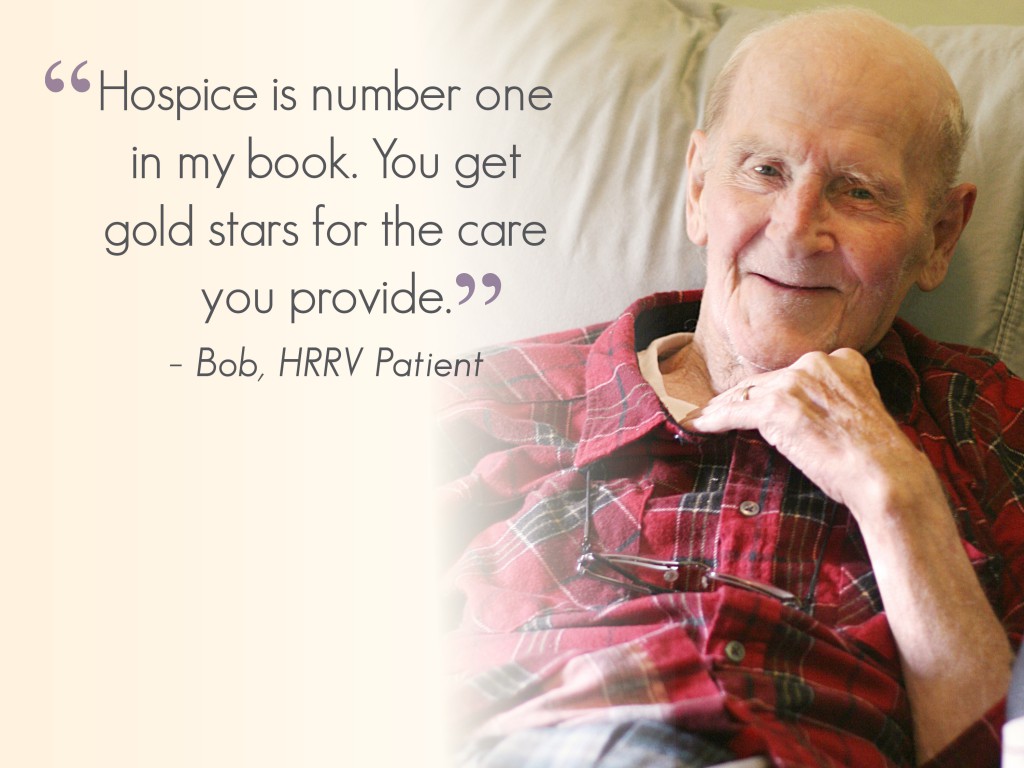 For Bob, Hospice of the Red River Valley patient, the Pledge of Allegiance is etched in the fabric of his life and memories past, as he gazes contentedly out the window at his picturesque farmstead. He sat upright in a hospital bed in his bedroom, watching the comings and goings of life on the farm where he shared his military stories and photo albums with visitors.
After serving in three branches of the military, raising a family with his wife of 54 years, and traveling extensively for his career, Bob now enjoys quiet days on his beloved farm while receiving care from Hospice of the Red River Valley. "Hospice is number one in my book," Bob said. "You [Hospice staff] get gold stars for the care you provide. Everyone at Hospice is so concerned with my care and superlatively friendly."
Always a man of honor and determination, Bob possessed a remarkable work ethic, even in his youth. "After I graduated grade school, I paid my own way for high school because I wanted to go to a Catholic military academy with my friends," Bob recalled. "So I took a paper route six days a week and Sunday— mornings and evenings—for four years. My education was important to me."
At a young age, he also demonstrated a serious commitment to serving his country. In his junior year of high school, Bob enlisted in the newly formed U.S. Army Air Corps. After graduation in 1945, he took a discharge from the Corps as they no longer needed his services. Almost immediately he enlisted in the U.S. Navy Reserve. Following boot camp that fall, Bob was transferred to the Naval Air Station in Norman, Okla., a place with "with no water to be seen!" Bob said. His job was training pilots and gunners to safely escape downed aircrafts in water. He assisted in closing the base, including discharging himself, in the fall of 1946.
Bob enjoyed a short break from military life and enrolled at the University of Minnesota in 1946. There, he met his wife, Joan, on a blind date. "It was all over once we met," Bob recalled. "She was it. Why she picked me, I'll never know. She was a honey."
Bob and Joan decided to marry, and while planning their wedding in early 1949, Bob enlisted in the Marine Corps Reserve. "Our wedding was planned for early September, but we never got to that. The Korean War began, and my entire unit was activated," Bob explained. "We decided we would get married anyway—despite the aggravation of both sets of our parents!" On Aug. 21, Bob left for Korea. He and Joan had been married for just two weeks.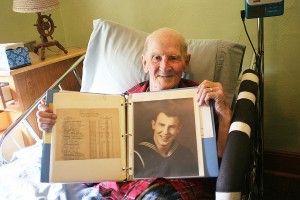 He fought in the Korean War with the 2nd Battalion, 7th Marine Regiment, 1st Marine Division. Despite having never undergone Marine basic training and having received minimal field preparation, Bob faced several battles, including the Battle of Seoul and the Battle of Uijeongbu.
"One evening in November 1950, we were attacked by three divisions of Chinese. Both my buddy and I got hit," Bob remembered. "I had shrapnel up one side—I still have it in my hip. Once we got back to the aid station, I was shipped down to the Yokosuka Naval Hospital in Japan, where I stayed 'til March of '51, when I was sent home. He received a Purple Heart for being wounded in battle—a medal he displayed proudly on his bedroom wall.
"After I was finally discharge from the Marines in November 1951 and went home, that's when Joan and I really started our life," Bob said. He began what was to become a successful career in sales and marketing that took him all over the country, and the couple raised four children—three boys and a girl. Eventually, Bob took a job in Moorhead, Minn., and received explicit instructions from his wife. "Joan said, 'Buy me a farm.' So I said 'Yes, ma'am!'" Bob shared with a smile and salute. "We could raise anything on this farm, and we did."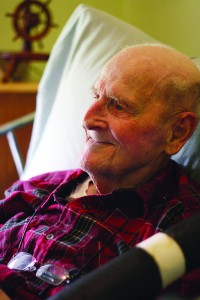 Bob and Joan founded Green Hill Farms, an operation that produces and sells a wide variety of jellies and jams. Bob's youngest son Rick and his wife Kim continue to operate the business from the farmstead.
In 1996, Bob and Joan retired and moved to Detroit Lakes, Minn. They traveled together and with friends, and enjoyed retirement. After Joan passed away in 2004, Bob admitted, "I guess I didn't do so well living alone."
In 2013, after several years of reporting a hoarse voice to several doctors, Bob was diagnosed with cancer of the vocal cord. He underwent radiation and surgery, and in February 2014 was deemed clear of cancer. Despite being cancer-free, Bob's health continued to decline. In May 2014, he returned to his farm and began receiving care from Hospice of the Red River Valley.
"Honest to Pete, you guys are great," Bob emphasized. "Everyone is so concerned and has a friendly attitude."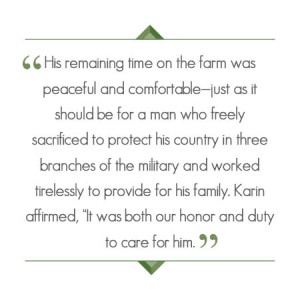 "Bob welcomed all of the hospice staff into his home. He was direct and knew what he wanted—he set the framework for the care he wanted to receive," shared Karin, chaplain with Hospice of the Red River Valley.
Bob passed away on October 15, 2014. His remaining time on the farm was peaceful and comfortable—just as it should be for a man who freely sacrificed to protect his country in three branches of the military and worked tirelessly to provide for his family. Karin affirmed, "It was both our honor and duty to care for him."